Welcome to the Official Website for
Special Event Station

©

©
CF3VEDAY QSL card sample COPYRIGHT. All rights reserved.
CF3VEDAY Special Event Station QSL card, designed and produced by VA3ORP and VE3BDB. V-E Day and Year of the Veteran images property and courtesy of Veterans Affairs Canada. Canadian War Museum (CWM) image property and courtesy of CWM.
CF3VEDAY is the historic call sign of an Amateur Radio special event station operating under the authority of the Canadian Government from May 5 to May 12 inclusive (GMT/UTC). Holder of the call is Robert (Bob) Cooke, VE3BDB of Orillia, Ontario, Canada (44° 50' 59''N 79° 19' 0''W Grid FN04eq) Send ALL QSLs direct to VE3BDB. An SASE (and/or $2US) is required.
Never before has a 5-letter Canadian Amateur Radio suffix been issued!
The purpose of this station is to mark the official opening of the new Canadian War Museum in Ottawa, the national capital of Canada, on May 8, 2005, and, coincidentally, the 60th anniversary of Victory in Europe Day -- VE Day -- which, on May 8, 1945, officially ended the Second World War and finally put an end to the most vicious and brutal regime the world has ever seen. We will operate using the historic CF3VEDAY call sign for the 8-day period. See the link to the Operating Schedule, below.
What's more, the year 2005 has been declared Year of the Veteran in Canada. The sacrifice and determination of Canada's WW II Veterans is hereby being recognized and applauded, with sincere gratitude.
The call sign was kindly authorized by the Amateur Radio Service Centre of Industry Canada and we extend sincere thanks to Jim Dean, VE3IQ, who is Vice President Regulatory Affairs, Radio Amateurs of Canada, for assisting in its issue. In addition, Canadian Radio Amateurs are authorized to use special prefixes during the entire month of May, thanks to RAC. See RAC Latest News.
The station is operated by members of The Wireless Set No. 19 Group, a Canada-based world-wide group of Radio Amateurs who collect, restore and/or operate vintage military communications gear. The Group's own call sign is VA3WSN but during May will be CF3WSN.
This website will support the on-air activities of the CF3VEDAY (Canadian Forces Three V E DAY) station by providing information about station operation, including times, frequencies and names of operators.
The month of May will see the official opening of the new Canadian War Museum and this station will also conduct on-air activities from Ottawa to mark that event, using vintage military equipment! See the WS#19 website for info.
Amateur Radio operators are encouraged to invite a Veteran into their radio shacks to allow contact with other Veterans and to have contact with station CF3VEDAY during its brief existence. They may even hear the "chirp" of a WS#19, renewing old memories for some.
Radio Amateurs should also consider inviting young people in to view and use their radio equipment, to learn more about the selfless and crucial contribution of Canada's war Veterans and to demonstrate what Amateur Radio is all about. This in itself could be a valuable history lesson to those persons under 65 who have no memory of, or appreciation for, the historic contributions of Canadians during a bitter fight against brutal tyranny on the sea, on the land and in the air.
We will be offering an original, colourful QSL card to all Amateur Radio stations that contact and send a QSL card to CF3VEDAY, as well as to SWLs who hear the station and who submit a full reception report. Please be sure to read "How to QSL with CF3VEDAY", below.
This website also offers links to other websites pertinent to these historic events and you are urged to visit them.
We invite everyone reading these words to take part in celebrating the opening of a wonderful new facility and recognizing this important milestone in the history of Canada in whatever way you can.
Join us in saluting and thanking our Veterans!
Please sign the CF3VEDAY guest book and leave your own words of salute and gratitude for those who gave so much.
Anecdotes from Veterans are especially welcome. Who knows? You might find a long lost buddy!
Thank you.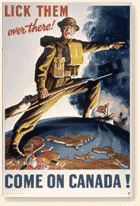 "The Second World War was over. In the six years of conflict Canada had enlisted more than one million men and women in her armed forces. Of these, more than 45,000 gave their lives in the cause of peace and freedom....It would be a mistake to over estimate Canada's contribution to the defeat of the Axis powers, but for a country of 11 million people it was remarkable, and was such as to win the respect of other nations.
With the third largest navy, the fourth largest air force and an army of six divisions, Canada had become a significant military power." - Veterans Affairs Canada
Six Divisions Third Largest Fourth Largest
View the Guestbook
Your comments about this event are very important!
Please Sign the CF3VEDAY Guestbook
CLICK HERE for Deployed CF3VEDAY Contacts Log including those from Ottawa
Please Note: The menu buttons above may take a little bit of time to load, especially if this is your first visit, so please be patient. Should your browser be unable to see or operate the menu buttons above, please use the drop-down menu below.
"We're ALL about Amateur Radio!" -- Tous ensembles pour la radioamateur!
---
© COPYRIGHT by Robert Cooke, VE3BDB. All rights reserved. No part of this website may be reproduced or copied in any form without written permission from the copyright owner. Snapshots or cut and paste of pages herein constitutes violation of copyright. However, portions may be paraphrased for purposes of publicizing, or to circulate information about, this event.
The music being played on this page consists of eight bars of The Maple Leaf Forever, written by Arthur Muir in 1867, Canada's Confederation year, and taken from the St. Andrew's College Highland Cadet Corps website, Aurora, Ontario. The Corps uses the piece as a General Salute. The full tune was Canada's unofficial national anthem through two World Wars, well before "Oh Canada" was eventually adopted by the government of the day. (Lyrics) (Full Tune and Another Rendition)
TIME: GMT/UCT