It was in 1970 that Motorola announced its first 110-watt fully solid-state mobile radio named MICOR, an acronym for "More Integrated Circuits for Optimum Reliability" that contained only 7 wires and no relays. It could be disassembled and reassembled using only a single Phillips screwdriver. In those days Motorola amateurs drove to work talking to their HAM buddies field-testing MICOR mobile radio prototypes. The working distance was about 10 miles. One morning Tony Sokol, W9JXN of East Dundee, a member of EARS of Elgin, IL, on his way to work at United Airlines made the comment; "Maybe we should start a repeater." - VARA was born and Tony became known as "The Father of VARA" the name he coined for the Valley Amateur Repeater Association, the organization's new name.
The first functional repeater was designed, built and tested at the home of Bob Loving, K9JUU. It was in his basement that the three input Squelch Gate was designed and tested by Bob Swoger. This Squelch Gate allowed higher-powered stations running 20 watts or higher into conventional antennas to access the system at 15 db quieting (set on the squelch gate) while hand-helds running 1 to 5 watts using a 1Z PL (100.0 Hz) and Rubber ducky antennas gained access to the repeater at only 6 db quieting set with the receiver's own squelch control. VARA used the call K9JUU/R. Bob Loving went to work on a high performance receiver used for years in Pete's original repeater, VARA 1, that would later find its way to VARA 2. More on that later.
From there VARA was relocated to the workbench in the garage of Bob Swoger's home. Gary Reynolds, W9KBD also of Streamwood provided the exciter and Bob, K9WVY provided first a 25-watt RF Power Amplifier using a layout developed by Gale Hollingsworth, K9MGC and later a 45-watt unit. Bob Loving, K9JUU provided the receiver and Wayne Kramer, K9JHW the receiver audio board. Gale Hollingsworth did a frequency study and came up with our frequency pair, 146.19/79 MHz. The whole thing ran on a car battery with a Sears' car battery charger. Using no diplexer the rig used antenna separation. The transmit antenna was located on Bob's TV antenna tower up about 30 feet while the receive antenna was 50 feet away on a 15 ft bamboo pole. The call sign became K9WVY/R.
Pete Kwitkowski, WA9LEF of Bloomington began his career at Motorola in Schaumburg in 1970. His first task was to make the MICOR mobile radio transmitter more reliable. Pete was one of those few guys that put into practice what he preached. He said he would build the next generation of the repeater and he did. Being a resident of Streamwood he lived about a mile from Bob Swoger, K9WVY. Pete acquired an outdoor rack cabinet from Bob Bingham, K9WMP; and put it into his basement. He and Bob Swoger then assembled the repeater using a 14 volt 30 amp continuous duty power supply with battery backup capability provided by Gerry Manikowski, W9JGV. At the future site that battery would be a 12-volt bus battery.
Bob and Pete designed a circuit board that provided a Polite CW ID and "kerchunk" filter. Voice was required to key the repeater the first time to start a QSO. Also the repeater was designed to operate as a carrier squelch repeater with dual squelch key-up sensitivity for improved hand-held performance and Anti-PL Operation so that we could coexist with our sister repeater located in Pete's hometown of Bloomington, IL without the two systems interfering with each other even thought they were on the same frequency pair 125 miles apart. An article about the system appeared in either QST or CQ magazine.
Brian Cullen, WB9FUE of Crystal Lake, IL, developed the Radio Remote Control package. This part of the system had to control the repeater on both 2 meters and 450 MHz and not use DTMF telephone type tones too easily produced by hackers and frowned upon at the time by the FCC.
In those days the FCC required logging those that used the repeater. That job was taken on by 15 year old Ken Slee, WB9BUQ who did the job from his home in Streamwood using a hand-held to drive a portable tape recorder to record the first three seconds of each transmission from VARA. We often wondered which of our members would be the first to pass. It turned out to be Ken at the age of 18.
Pete acquired a 100 ft run of Phelps-Dodge 7/8" foam transmission line in trade for work he had done. On weekends he visited farms near the second highest ground in Illinois and acquired permission to use two possible sites at about 1065 feet above sea level on which to locate VARA. He then went to work getting the VARA repeater licensed with the FCC using their new repeater rules.
WR9ABQ became the first FCC licensed Radio Remote Controlled completely solid-state 2-meter repeater in the entire country and used the phonetics "America's Best Quality" because at that moment there was a very negligible difference between the audio one heard between the input and the output. At that time everyone else's audio sounded like it had traveled through 50 feet of garden hose.
Pete, who licensed the first radio remote controlled Amateur Repeater in the US with the call letters WR9ABQ (America's Best Quality), became a Silent Key soon after attending a MOTOROLA meeting in Ft. Lauderdale just following the Andrew Hurricane in 1992 at the age of 44.
WR9ABQ is the origonal callsign that was issued to the Valley Amateur Repeater Association (VARA) in the early 1970's, when repeater callsigns were required, and issued by the FCC. Later, all "WR" prefixes were rescinded by the FCC and the Repeater Trustee's callsign replaced the FCC issued WR callsigns followed by /R.
When the Vanity Callsign program was instituted by the FCC, the members of the VARA club voted unanimously to try and obtain our origonal repeater callsign, which was displayed on our club patches.
As Trustee for the VARA Repeaters, Tom Rogers, W9ZS; applied for and received our origonal call, WR9ABQ, as a club call. It is now the current ID on both club repeaters that operate on 146.79 and 444.950 MHz.
Notes by Bob Swoger, K9WVY

WR9ABQ has the distinction of being the first FCC licensed Radio Remote Controlled completely solid-state PL assisted carrier squelch w/Anti-PL 2-meter repeater in the entire country thanks to the leadership role of Pete Kwitkowski, WA9LEF.

Here are the names that come to mind that began VARA.
Tony Sokol, W9JXN - (1st President - coined the name Valley Amateur Repeater Association)
Brian Cullen, WB9FUE - (Radio Remote Control on both 2M & 450 MHz)
Bob Loving, K9JUU - (Receiver modified for best desense performance, sensitivity & selectivity, +/- 20 KHz)
Gary Reynolds, W9KBD - (Exciter-Driver modified for best low frequency PL operation)
Bob Swoger, K9WVY - (CW-ID Anti-PL and 3 input Squelch-Gate for dual repeater key-up sensitivity, 6 db and 15 db)
Don Munter, WB9CBU - (35 lb conduction cooled RF Power Amplifier Heat Sink)
Gerry Manikowski, W9JGV - (Power Supply - 14 Volts @ +/-30 Amps continuous duty)
Bob Bingham, K9WMP (6 ft outdoor rack cabinet)
Dave Patton, W9WXK (Antennas)
Can't Remember (Sinclair e-202g Diplexer)
Herb Cleave, WA9YNH - Russ Boggs, WB9BDQ - Bob Kirkpatrick, WA9SLT - others (Shed on the hill)
Bill Geeraerts, K9IIK - (Shed AC wiring)
Gale Hollingsworth, K9MGC - (Frequency study and selection)
Ken Slee, WB9BUQ - (Logging)
Ken & Jan Doven, WB9DFU & WB9GMH; Charlie Brenneka, WB9DWB - (Constitution & Charter)
Pete Kwitkowski, WA9LEF - (Trustee - Everything else!)
  Everything Else (RF Power Amplifier capable of 150 watt output (turned down to 100 watts) - Site - FCC Station License - Phelps-Dodge 7/8" foam transmission line - Tower - in-cabinet wiring)

2/22/99 - Received from Bob Swoger, K9WVY

Another moment in VARA History remembered...

Another moment in VARA History is remembered now with the passing of Don Munter, WB9CBU. Don became a Silent Key Sunday evening, February 21, 1999 at his Hebron, Indiana home in the presence of his wife Charlotte, his son Alan, his Daughter Sarah and his twin brother David, WB9ULT. Don was 56.

Don was one of the major contributors to the first VARA 2 Meter Radio Remote Control completely Solid State High Power Repeater station, first assembled by Peter A Kwitkowski, WA9LEF, later K9RO, in the basement of his home in Streamwood, IL in late 1970. This station was later referred to as VARA 1.

In 1970 there where no commercially made high power fully solid state transmitters but Pete was determined to make one. A 35-pound aluminum sandbox heat sink casting was given to Don Munter, then a master machinist in Crete, IL, to machine into the first VARA RF Power Amplifier conduction cooled heat sink. When Don was finished, it all fit together perfectly!

Fellow VARA members in the following years worked Don as he traveled to and from work in both Crete, IL and later Oak Forest, IL using his 100 watt 2 meter rig in his company owned van with a roof mounted 5/8-wavelength gain whip, this after a career change to heating and air conditioning. Note here VARA's coverage to the south. Don in those days donated much of his time working in the television booth of the Oak Forest Baptist Temple for Channel 38's Chicago Gospel Hour.

Why this connection with VARA? Don, WB9CBU and his twin Dave, WB9ULT were the Thornton Township High School buddies of Bob Swoger, K9WVY then of Harvey, IL all graduating in 1961. Don joined the Navy, Dave the Air Force and Bob, Thornton Junior College. Dave Munter and Bob were later both residents of Streamwood. They all watched their children grow up together and become as close as family.

Today with the LORD - Donald Munter - WB9CBU

March 2015 - Received from Jim Morrison N9GTM, Todd Miller WB9PHK

The VARA DMR repeater went on line at the site in March 2015 (444.975) on the ChicagoLand c-bridge system.

8/24/2017 - Received from Bob Swoger, K9WVY

Bob Loving, K9JU; moves to Maryville, TN, but before he left ...

Bob Loving, fulfilled a dream many of us had, a super receiver for VARA 2. He first improved the selectivity spec from -100 db @ +/-30 KHz to -100 db @ +/-20 KHz by adding an additional pole of crystal filtering. The result increases the adjacent 15 KHz channel selectivity to better than -70 db, up from about -30 db. Next he added a shield in the area of the mixer for better spur performance. The final improvement was to use a redesigned source follower between the mixer and first crystal filter giving us a total gain of 9 db. The resulting receiver sensitivity is now 0.35

V for 20 db quieting.
During the month of July Permanent Council member Todd Miller, WB9PHK; took on the task of bringing our RF Power Amplifier back up to snuff. It was only running less than 25 watts out. Today it is again running 100 watts output into the diplexer. Good Job Todd.
Also thanks to Silent Key Paul Warnaar, K4FBM of Debary, FL for the several sets of TRW transistors, RF finals in VARA 2. Paul, K9VOR in 1959, was Bob Swoger's "Elmer".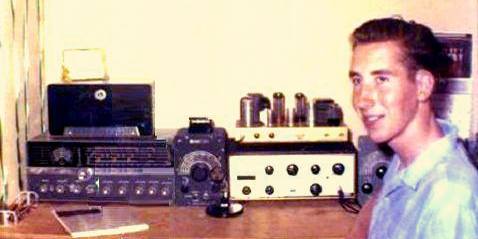 Click the Pix
9/02/2017 - Received from Paul Dumdie, W9DWP

Paul Dumdie asked for an antenna party and got one, we had a good ground crew turn out ...

Todd WB9PHK, Jim N9GTM and Paul W9DWP have spent a lot of time at the repeater site working to solve the de-sense issue. We have done some exhaustive testing and found that the repeater and diplexer have no issues. It was determined to be an antenna or feed line issue.

Testing was done on the 7/8" LDF feed line and it's still in good condition and was not replaced. We did have a 120-foot roll of 7/8" LDF hard line on hand if the feed line was bad.

On September 2nd, 2017 a new 2 meter antenna was installed on the VARA tower. We had a crew out at the repeater site today to put up a New DB-224-E antenna for the 2-meter repeater. The crew consisted of Todd WB9PHK, Paul WD9P, Steve W9SWR, Ken W9ZMR, Jim N9GTM, Bill KA9LFU and Paul W9DWP. The New DB-224-E antenna went up the tower. All connections were weatherproofed and hopefully there will be no more issues with the 2-meter antenna system. The Power/VSWR into the antenna is 58 watts forward and 0.7 watts reflected, 1.25:1. ERP should be better than 200 watts omni-directional. It seems to be working very well. The range has been vastly improved.

We spent 6 hours at the site. I want to thank the members of the tower crew for their fine support on the ground as I was up doing the work on the tower."

The repeater is now performing as it did back in the '70s when we first put it up. Full quieting checkins on Monday included Matteson, Peoria, Rosco, IL and Stevens Point, WI. What a difference an antenna makes! Good choice Paul.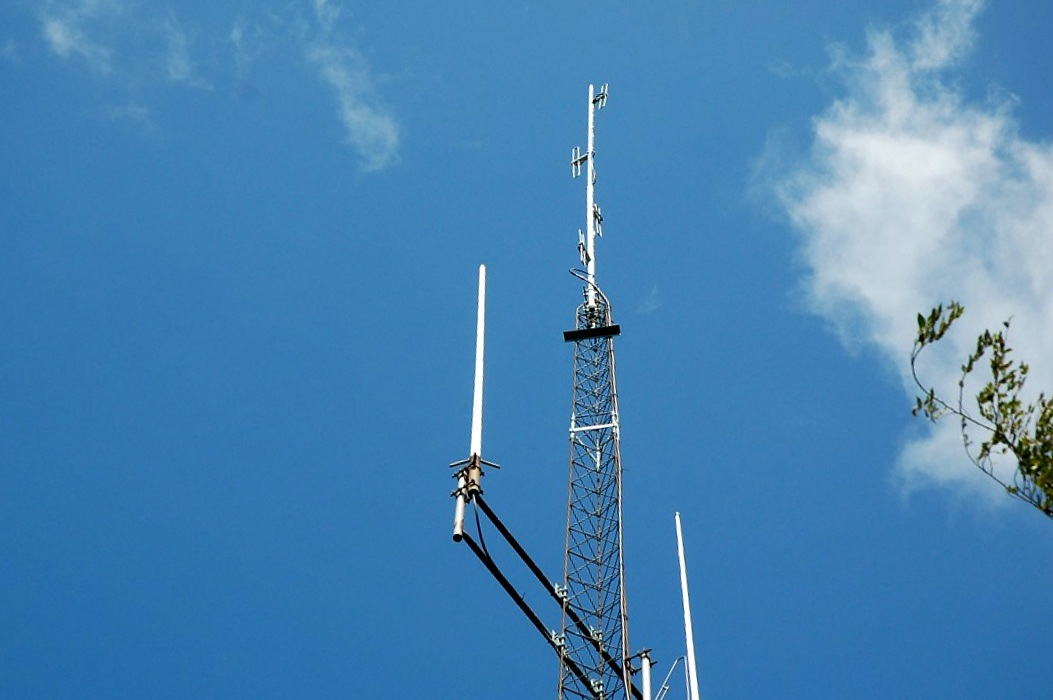 Click the Pix
March, 2019 - Received from Jim Morrison, N9GTM 2020-10-01

VHF Micor replaced with a VHF Motorola Quantar 25w Analog/P25 (APCO) repeater on 146.79 MHz driving a 180w Cresend amplifier 03/19. Old 2m hybrid diplexer is not currently being used, duplexer in Quantar cabinet used in preference. Old 146.79 MHz Micor repeater remains onsite as a backup.




6/11/2019 - Received from Jim Morrison, N9GTM

Former VARA President and Tech Committee head Paul Dumdie W9DWP did a lot of preliminary work, including ordering many parts, for a commercial feedline gasket feed-thru for the VARA shack. Sadly, before the work could be completed, Paul Richard Dumdie, Jr W9DWP passed away on September 12, 2018; a well attended Celebration of Life was about equally split between Paul's ham and car club friends. He will be greatly missed. His son Adam has received Paul's old call, which is a fitting tribute. Many, if not all, of Paul's radio facilities remain on the air.

Todd WB9PHK, Steve W9ELG, and Jim N9GTM finally caught a break in the relentless rain cycle and accomplished the installation. Poor Steve W9ELG spent the day in a full-body protective suit with industrial face mask and goggles, due to the numerous mouse urine and feces droppings which are known to cause several different diseases. The repeaters were cleaned of mouse nests and other fire hazard material, and all accessible surfaces cleaned. Various old unneeded junk was removed to either be recycled or discarded. All repeaters were tested good, minus an old repeater that hasn't been used in some time, and the happy crew headed home.

As of 2019-08-09 Todd WB9PHK tells me there are no signs of mouse incursion, although it's a bigger problem in the winter, so we'll continue to monitor the situation.
Click to embiggen
November 17, 2019 - Received from Jim Morrison, N9GTM 2020-10-01

UHF Quantar DMR repeater networked with a Raspberry Pi on 11/17/19.




May 01, 2020 - Received from Jim Morrison, N9GTM

Due to the COVID-19 pandemic, VARA held it's first online meeting using the Zoom service this evening. Our plans for the August meeting are still up in the air, watch our home page for details as they emerge.

Jim N9GTM stepped down as President, and Will Sperling W9WSS accepted the nomination and was elected the new President. Thanks for stepping up, Will.

The membership voted to donate our unused Yaesu FUSION repeater to the FRRL club in Aurora, IL. VARA has been the recipient of several much appreciated donations and we're happy to share.

We have had one detected instance of a mouse incursion since the installation of our new commercial feedline gasket feed-thru, which is greatly reduced from past times. Pondering for further potential solutions ensues.

Following the deteriorating performance of the DB-224-E antenna installed 2017-09-02, VARA remains on the old late 1980s 2m packet antenna. I don't have the exact date we switched from the DB-224-E to the packet antenna at hand, but my best guess is late 2019 while the weather was still good enough to swap to the packet antenna. To be updated if/when I find more exact details.

VARA celebrates it's 50th year anniversary this year! Happy birthday to us.




September 28, 2020 - Received from Jim Morrison, N9GTM

Following the deteriorating performance of the DB-224-E antenna installed 2017-09-02, VARA switched to the old late 1980s 2m packet antenna (date uncertain) on the east side of the tower.

On 2020-09-28 the professional tower climber VARA hired installed a replacement for our 2m antenna at the top of our tower. The old 7/8ths" feedline was left on the tower (which was probably the original feedline) as a backup, and replaced with new Andrews 7/8" Heliax (LDF5-50). The outer metallic shield was bonded to the tower legs at several points to reduce noise. The replacement 2m antenna is from the retired FISHFAR site, and is a Sinclare SRL-229 (6dB gain). The new antenna and feedline are now in use on the 2m analog repeater at 146.79 MHz.

Based on our Monday Night Net of 2020-09-28, the replacement is working well with no significant noise. Several distant locations checked in with good signals, and stations who received degraded performance from the temporary packet antenna we were using reported better results.
---
Our current VARA Constitution & Bylaws can be downloaded at: VARA Constitution 2002

---