Sometime ago, I picked up a few old Starchoice dishes from a local satellite dealer. When Starchoice expanded their service to a two-satellite system, a number of the round dishes became available, both 60cm and 90cm dishes, often for free, as dealers changed out their customers for the new 'elliptical' dishes.
My first feed for AO40 was a 5.25 turn end-fire helical mounted in front of a 12cm aluminum reflector, feeding a DEMI 13ULNAK, into a Drake 2880. Signals were LOUD, then, about a week after, the S1 transmitter on AO40 went dead. The helical feed still worked OK, but like many others, I've always suspected there were better feeds out there for my offset dish. I decided to try a W2IMU dual-mode feed horn. My work to date has drawn heavily on W1GHZ "Online Microwave Antenna Book", and I would like to thank him for it. I'd also like to thank Arie for his fine 4NEC2 software.
Some useful cans available around the household are coffee cans. 363 gram cans have an inside diameter of approximately 99 mm, whilst, the large "#3" cans have an inside diameter 153 mm. According to Chapter 6.5 of Paul's "Online Microwave Antenna Book", you can't have a dual mode feed unless the larger horn will propagate the TM11 mode. 1.22 lamda is the smallest diameter that will support this mode in cylindrical waveguide and, at 2401 MHz, that about 152.3 mm.
So the first thing I decided to do was to model this two coffee can feed using NEC2. In Chapter 12 of "Online Microwave Antenna Book", Paul provided clear NEC2 examples of both VE4MA and W2IMU feeds, based on the NEC2 files developed by PA3AEF. Using HDLANT.EXE, I arrived at a drift section with a half angle of 36.4 degrees. Using a bit of trig, I was able to come up with cartesian coordinates for the drift section. I couldn't figure out how to properly use the "arbitrarily-shaped" patch to fill the small hole at the end of the can, so I just made smaller circle of patches, until the hole at the end was smaller than 1/10th lambda.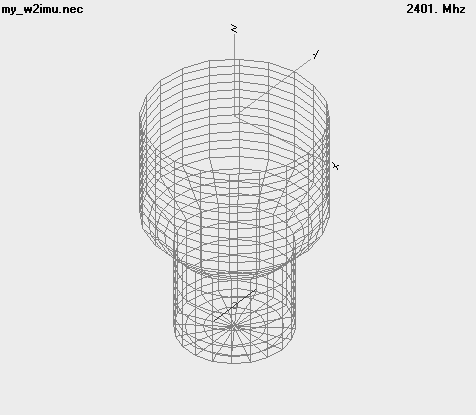 At left, you can see the NEC2 model as viewed by 4NEC2 by Arie. At the right, I extracted data from the NEC2 output file and used phasepatt.exe and feedpatt.exe to calculate the phase centre and efficiency, based on a 60 cm offset reflector. In actual construction, I've deviated from the NEC2 version by using a shorter section of the small coffee can, and instead of a dipole, I've used a CP microstrip patch.
I tried to measure sun noise yesterday with the new horn, but I think I've blown the FET in my 13ULNAK preamp. When I get a replacement, I'll post the results ASAP. Here's some shots of the horn mounted on the dish. I placed small mirrors on the offset dish to help me find the focal point. You can see the reflections converging on the plastic lid of the feedhorn in the 3rd photo.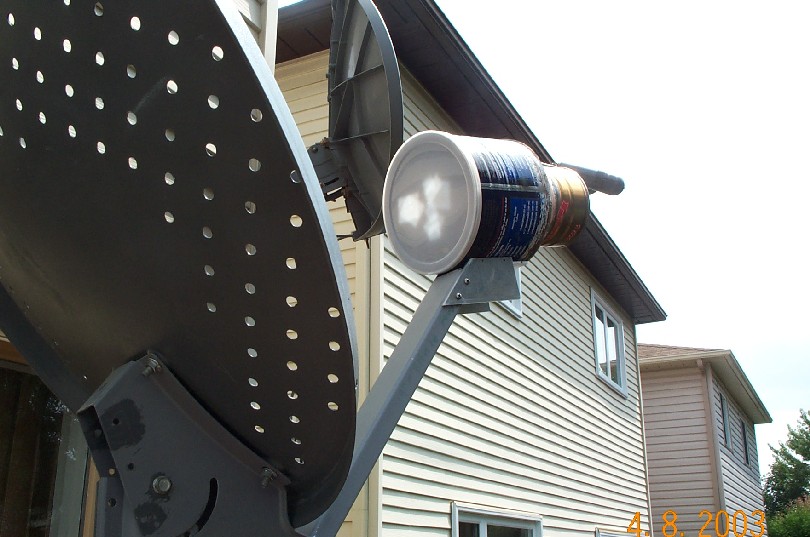 CM Dish-Feed W2IMU.NEC (short version)
CM Dipole feed for test
CM Small horn is 100mm long, closed end 99.9 diameter
CM 36.4 degree increase up to 152.8mm diameter
CM Cylinder 152.8mm diameter, 117mm long
CM by VA3RR from W1GHZ file
CE *********************************************
' Like the coffee-can feed, the W2IMU dual-mode feed starts with a strip of surface patches
' Down one edge
' Start of large aperture 76.4 mm radius
SP 0 3 0.0764 -0.0121 0.253 0.0764 0.0121 0.253
SC 0 3 0.0764 0.0121 0.245 0.0764 -0.0121 0.245
SC 0 3 0.0764 0.0121 0.236 0.0764 -0.0121 0.236
SC 0 3 0.0764 0.0121 0.226 0.0764 -0.0121 0.226
SC 0 3 0.0764 0.0121 0.216 0.0764 -0.0121 0.216
SC 0 3 0.0764 0.0121 0.206 0.0764 -0.0121 0.206
SC 0 3 0.0764 0.0121 0.196 0.0764 -0.0121 0.196
SC 0 3 0.0764 0.0121 0.186 0.0764 -0.0121 0.186
SC 0 3 0.0764 0.0121 0.176 0.0764 -0.0121 0.176
SC 0 3 0.0764 0.0121 0.166 0.0764 -0.0121 0.166
SC 0 3 0.0764 0.0121 0.156 0.0764 -0.0121 0.156
SC 0 3 0.0764 0.0121 0.146 0.0764 -0.0121 0.146
SC 0 3 0.0764 0.0121 0.135876 0.0764 -0.0121 0.135876
' Diameter decreases at 36.4 degree angle 
' both X and Y dimensions change for flare
SC 0 3 0.06976 0.01105 0.126876 0.06976 -0.01105 0.126876
SC 0 3 0.06313 0.01000 0.117876 0.06313 -0.01000 0.117876
SC 0 3 0.05649 0.00895 0.108876 0.05649 -0.00895 0.108876
' To 100 mm diameter waveguide section 
' rest of file is like coffee-can feed
SC 0 3 0.04958 0.00785 0.100 0.04958 -0.00785 0.100
SC 0 3 0.04958 0.00785 0.080 0.04958 -0.00785 0.080
SC 0 3 0.04958 0.00785 0.060 0.04958 -0.00785 0.060 
SC 0 3 0.04958 0.00785 0.040 0.04958 -0.00785 0.040 
SC 0 3 0.04958 0.00785 0.020 0.04958 -0.00785 0.020 
SC 0 3 0.04958 0.00785 0.010 0.04958 -0.00785 0.010 
SC 0 3 0.04958 0.00785 0.000 0.04958 -0.00785 0.000
SC 0 3 0.03966 0.00628 0.000 0.03966 -0.00628 0.000
SC 0 3 0.02520 0.00399 0.000 0.02520 -0.00399 0.000
SC 0 3 0.00101 0.00016 0.000 0.00101 -0.00016 0.000
GM 0 4 0.00 0.00 18.0
GM 0 0 0.00 0.00 9.0
GX 0 110
' GM 0 0 0.00 0.00 -45.0
' Except for dipole feed in E-plane after rotations complete
GW 1 15 0 0.027   0.025 0 -0.027  0.025 0.001
GM 0 0 0 0 0 0 0 -0.253
GE
FR 0 1 0 0 2401.0
' EX excitation at segment 8 of 15 of tag #1, the dipole
EX 0 1 8 0 1.0 0
LD 5 0 0 0 1.0E+07
PT -1
RP 0 37 3 1500 0.0 0.0 10.0 45.0
EN