This page is still under construction, but I have more to report on this yagi.
This yagi is based on a design by JM1SZY for 50 MHz that he developed using YO. On 6 Metres, JM1SZY designed this antenna for good gain, fairly wide bandwidth, and a great F/B ratio.
When I scaled it to 2 Metres, it had another quality, it was just a shade over 11 feet in length! I don't know about the rest of the world, but in North America, wood and aluminum tubing is commonly sold in 12 foot lengths. So this antenna could be built with either a single length of 12 foot AL tube, or, if you can find .058" wall aluminum, out of 4 foot sections of tubing. Waste not, want not!
Here's it's free-space pattern on 144.2. It's gain is in line with the DL6WU formula for gain vs. boomlength. It's front-to-back ratio is quite good, IMHO. The far-field data came from NEC2 and was plotted using MS-Excel.
I decided have the gain peak higher up in the band from 144.2. According to K1FO, antennas designed this way are better behaved in a stacked array. I also hope to use it for OSCAR work, so having good gain near 145.9 MHz was a desirable feature, as well.
VE7BQH has done considerable work comparing yagis for 2 Metres. Again, using MS-Excel, I've taken the BQH data, and plotted a trend line showing calculated gain for various antennas. The boomlength axis is logarithmic in scale. Keep in mind, most of these big boys are used for moonbounce, so you'll find the 9 element antenna plotted at the bottom left corner: it is considerably shorter (and subsequently of considerably less gain) than the examples in BQH's table. The data used in this chart can be found at:
http://web.wt.net/~w5un/144gt1.htm
Here's a graph of gain (in dBi), F/B ratio and VSWR vs frequency that was plotted by YagiMax. I'm using a T-match with a half-wave coaxial balun, and the SWR bandwidth is similar to that shown in the graph. The gain is shown in

yellow, the F/B ratio in magenta, and the VSWR in green.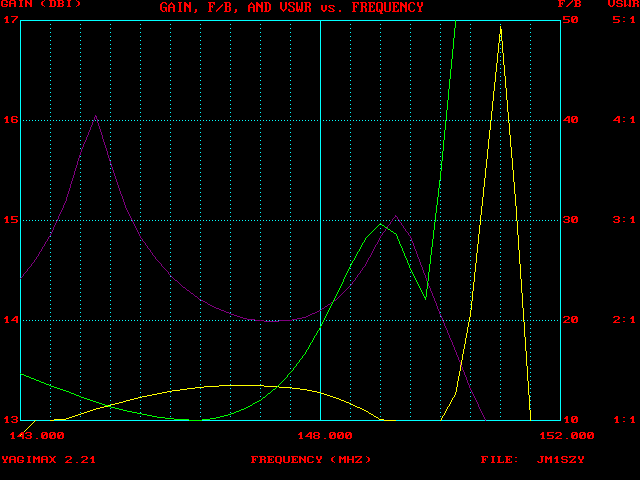 Free Space Dimensions
| | | | |
| --- | --- | --- | --- |
| Element | X axis (MM) | Y axis (MM) | Diameter (MM) |
| REF | 0.000 | 513.584 | 4.76 |
| DE | 279.128 | 499.083 | 4.76 |
| D1 | 424.349 | 478.218 | 4.76 |
| D2 | 783.058 | 467.091 | 4.76 |
| D3 | 1301.530 | 459.510 | 4.76 |
| D4 | 1865.040 | 453.285 | 4.76 |
| D5 | 2376.020 | 442.401 | 4.76 |
| D6 | 2848.920 | 452.346 | 4.76 |
| D7 | 3365.820 | 445.000 | 4.76 |