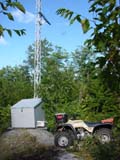 Status of VA3PLA
---
The repeater is operational.
Talk-In sensitivity exceeds the Talk-Out range of the repeaters 20W transmitter. If you have a typical 30W to 50W mobile you will get into the repeater better than you will be receiving it. Portable coverage is limited by the hilly terrain.
An NHRC-2 controller is providing recorded voice and CW id.
APRS OT2 Digipeater has a 25W PA. Telemetry of battery voltage, box temperature and repeater transmitter key-up counter is functional. Suggested path for your mobile is WIDE1-1,WIDE2-1.
Live Telemetry from the site.

---


Click here for a Coverage Plot

---