My QTH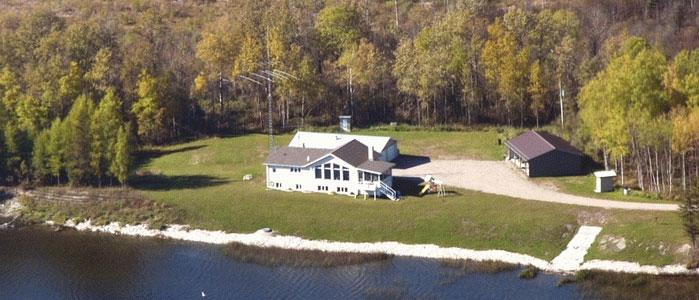 I live 6 miles north of the City of Dryden, Ontario, located in the heart of Northwestern Ontario. Dryden is on the Trans Canada Highway between Thunder Bay, Ontario and Winnipeg, Manitoba and about 90 miles north of International Falls, Minnesota.
My antenna system consists of a Mosley TM-34 M WARC, 20m-10m (5element 5 band HF beam, 21' boom) at 56', a TGM V50-5T(5 element 6 meter beam, 12' boom) at 64', a Comet GP-9, (17'-6" vertical 2m&70cm) at 66', all these are turned by a CDE Ham VI rotor on a 56' Delhi free standing tower.
My wires antenna is a 250' center fed Zep, 55' at apex and 35' at each end (160m-6m).
In the very right of the picture is my 200' Beatty tower for the 2m and 6m repeaters. The 2 meter is VA3YHD, 147.150(TX), 147.750(RX) with a commercial Sinclair 210-C4 antenna at the top. The radio is a commercial GE Mastr II repeater, a 60 watt continuous duty transmitter with 6 can Sinclair pass, reject cavities. It is all run by a Link Communications, RLC-Club Deluxe controller and digital voice recorder. It has two full duplex ports to run both repeaters and can link the two together with the controller. It also homes a 6m, 100 watt, GE Mastr II repeater, 52.150(RX), 53.150(TX) with a 3-phased Decibel Products dipole array at 190'.
I enjoy mostly rag chewing on HF and working DX from my mobile station and working on repeaters. 6 meter is one of my favorite bands, working Sporadic-E and Aurora.