VA3BMC
UHF Amateur Radio Repeater
Toronto, Ontario
Downlink: 442.700 MHz, Uplink 447.700 MHz PL 103.5 Hz
---
Users of 447.7 MHz 2-way car alarms BEWARE: If you have a 447 MHz alarm unit, you may experience interference (remote doesn't work, reduced range, intermittent, won't remotely receive alarm) to it's operation. Amateur radio (HAM) transmitters are licensed to operate at many times the power of your car alarm ON THE SAME 447 MHz FREQUENCY. Amateur radio transmitters can cover an entire city and more! Sorry, HAMs were there first. Consider purchasing a 900 MHz spread spectrum alarm or a 433 MHz version.
---
Latest News: Another South Korean company named INNOSYS Co., LTD has gained FCC approval under Part 15.231 for a 447.7 MHz car alarm. It boasts a range of 3000 feet.

Firstech's new 907 MHz spread spectrum 2-way alarm gets FCC type acceptance. See FCC search below for detailed information on this new product. 447.7 car alarms to stop shipping August 31st, 2001!
---
F Location and technical information


F Status of the repeater (updated March 2, 2001)


F Historical (Since 1991) of this repeater.
< An October newspaper article promoting the Compustar.
< Interference pdf file which is a memo style report suitable for publishing. (June 13, 2000)
< What the repeater sounds like with Compustar in the neighbourhood.
---
VA3BMC has been experiencing interference since winter 1999 from a new car alarm being sold in North America. Firstech, importers of the Compustar 2-way brand of car alarms, has chosen the amateur band repeater input portion, and specifically 447.700 MHz for it's car alarm. Read all about it in the links attached.
l Compustar Car Alarm issue in detail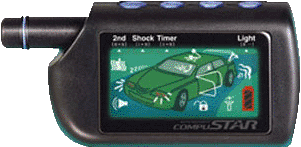 M Firstech Responds and switches to 900 MHz (Updated August 30, 2001)
Associated Links regarding the car alarm issue:

INNOSYS Co., LTD On November 4th, 2003, another South Korean company named has gained FCC approval under Part 15.231 for a 447.7 MHz car alarm. Grantee code RF3.
CompuStar / Firstech the Car Alarm Importer and Distributor. Be sure to see the external antenna that will double the effective range!
FCC Equipment Authorization Web Page where you can look up the Grant Certificate, photos, schematics, test reports, and manual of any approved radio device. CompuStar / Firstech Grant code is N99. See the new 900 MHz Compustar!
Industry Canada Certification Lab web page. Enter COMPUSTAR for model or YOUNGSHIN for manufacturer
Industry Canada RSS-210 License Exempt Low Power Device document
Industry Canada Frequency Search where you can look up other LICENSED devices operating in the amateur band.
ARRL Part 15 Web Page that discusses the complex issues surrounding Part 15 devices.
MagiCar Car Alarm which is similar to CompuStar, but 433 MHz
Another Korean manufacturer of similar Car Alarms, but 433 MHz
Yet another Korean manufacturer of similar Car Alarms, but 447.6750 MHz

+ For more information, please contact VA3PLA at qsl...net
Link to VA3PLA Solar Powered Repeater

You are visitor number
since 05/17/00