Baycom modem
The famous "PMP" (Poor man packet!)


Few years ago, the packets-BBS was very famous between Radio Amateurs and the Baycom was a "Best-seller".
Nowadays with Internet Network, the "slow" 1K2 Bps packet its unusefull and the Baycom seems to belong in the past... but sometimes is still usefull, i.e. if you want a cheap-system for the new APRS (or as DX-Cluster monitor).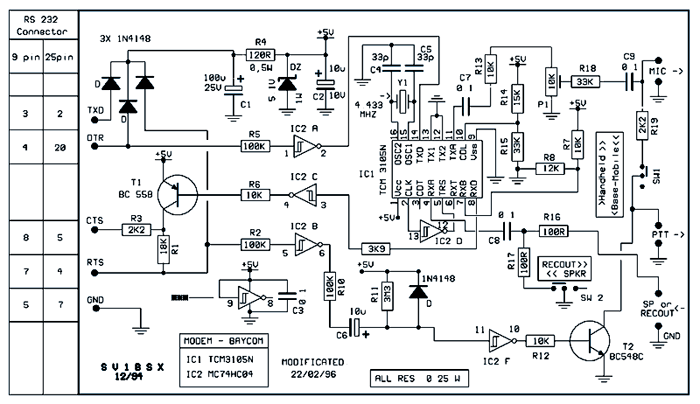 FIG. 1



FIG.1 shows the electronic diagram of Baycom modem. My circuit is slightly different of the original and working perfect. The circuit has 2 switches, for easy configuration with base-mobile transceivers or a handheld (separately PTT output (SW1) & switchable input for Speaker or Data-in (SW2).
There is only a "preset" trimmer (P1) for the deviation adjustment. If you havn't a deviation meter, just set the P1 on the middle-position.




FIG.2 shows the PCB of Baycom and FIG.3 the components layout.

---


The Baycom-modem basicaly designed for the Baycom-program running under DOS O/S. Nowadays DOS is out of duty and the Baycom-modem primarily has some problems with Windows 95/98 drivers.
Just the SV1AGW Packet Engine its an acceptable software for a Baycom modem uder Win95/98/Mill with an easy configuration. BPQ drivers its another solution but its more complicated than AGW drivers and both are lower-class of the original "Baycom-program". In any case, for the most applications like APRS & DX Cluster, the combination AGW-Baycom its absolutely acceptable.



We' ve tested the Baycom modem with AGW drivers and several programs:
("click" for "Link")



WinPack: an excellent program for packet radio, with Speech-Announcments option for the DX-spots through Sound Card, but needs a good PC (it is not a small program). Just if you have a Pentium 200MHZ or better try it with Baycom-modem! Additional options like PMS (Personal Mailbox System), FBB forwarding System to download selected messages of your Home-BBS, filters, alarms and hundreds of tools are available for this profram. It works directly with WinLog32 logging program as DX-Cluster monitor. The "No 1" program for Packet-radio and Baycom-modem. (FreeWare)

RX Cluster:..it monitors the DX-spots without a connection! Just receiving the other users and the DX-cluster traffic! With filters, alarms, IOTA, log data-base, DX-spots search and more! Excellent-excellent-excellent and "light" program !!! Working also on my Old 486/100 without problem !

UiView: APRS program, working perfect with Baycom + AGW ! A great & cheap solution for the QTH !

SV2 AGW Packet Engine: Drivers under Win95/98/Millennium for Baycom-modem.

LOGGER + Baycom ! Excellent job from IK4AFW: its a Telnet - software Interface program which allows to be using a Baycom-modem with LOGGER program! Additional the SV2AGW packet engine drivers is necessary. You can connect to local DX-cluster or just monitor it without connection, through Logger logging-program !



Good Luck.

Makis SV1BSX



---