Libra
"Libra" is another project of QRP singleband CW transceiver
Many months passed and finally new rig appeared to be ready. When Aquarius project ended many colleaques still asked for CW QRP transceiver project. Being involved with Taurus project I was looking for the new CW trx concept in parallel. My workbench fired up and here you can see the product off...
Libra is build based on VXO experiments which I have done couple of years ago along with Wayne NB6M ( thank you !). Eventually, I discovered why VXO are so unstable when pair of crystals are pulled down (using serial choke and capacitor trimmer) more than 10-20kHz. However the VXO could be tuned far below crystal's fundamental freaquency but stability was unacceptable. The reason was simple - the temperature sensitive typical chokes have a great impact on stability. When SMD was installed into the circuit everything became promising normal. In the project typical bandwidth of CW portion of the bands is around 70kHz, and designed VXO covers this span with fine stability and signal look. That was achieved.
VXO diagram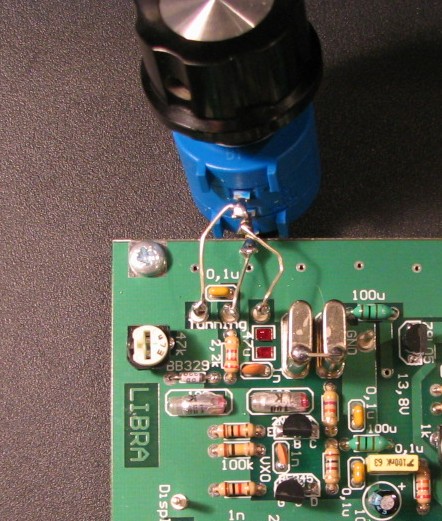 VXO top mount
VXO bottom look
See SMD choke mount
VXO signal look at the edge of working frequency
No comments...clear sinusoid
I have found three convenient frequency combinations for VXO and BFO giving easy concepts for 80m, 40m and eventually for 30m bands. Be aware, that each band ( except 30m) is "equipped" with single frequency birds which I couldn't avoid. That's the price of low cost and simplicity.
Table below shows relevant setup of popular and cheap crystals.
| | | | | |
| --- | --- | --- | --- | --- |
| Band (CW) | VXO pair of crystals | BFO ( IF frequency) | Bandwidth | Remarks |
| 80m | 7,680 MHz | 4,096 MHz | 3,574 MHz - 3,495 MHz | Stability better than 100Hz/30min |
| 40m | 11,059 MHz | 4,000 MHz | 7,056 MHz - 6,995 MHz | as above |
| 30m | 14, 000 MHz | 3,840 MHz | 10,157 MHz - 9,995 MHz | Under development, but stability O.K. |
Samsung chip MC3361C is the "Heart" of the Libra. Internal circiut gave me additional opportunity to build AF filter with movable peak. However this suffers little higher background AF noise level, but was worth to implement. The rest of the rig circuits are conventional, nothing new. Crystal ladder filter was calculated on the basis of 1,8 kohms internal input and output resistance of MC3361C internal blocks. Works better than expected with the satisfactory unwanted sideband rejection ratio (not measured).
Libra 80 - schematic
---
Libra - Day after day development
Using protoboard easy gives you the answer to follow or not (the project)
February 2006 - simple breadboard - RX circuit
Still typical chokes are used red, near crystals) - unwanted frequency drift, project halted for months
"Spider" look of Libra
By the March of 2006 Libra "produced "150mW RF output on 80 meters
The year after the project was resumed
Unexpectedly, I have started with mechanical stuff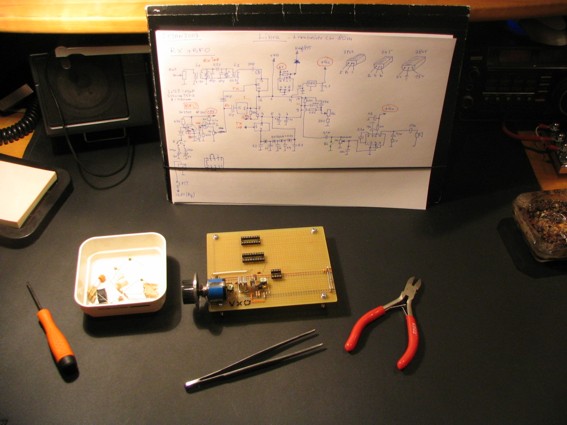 Another breadboard mount
That was important to place main blocks on the right spot.
VXO is doing well with 47uH SMD choke
Completed Libra 80 prototype
The circuit contains 4053 MOS key, which was finally changed into good quality relays.
First contact on 4th of February 2007
Good RST from Switzerland and fine signal quality
Libra #001 assembly begun with silkscreen project
"Mechanical part" is ready
This is my first project using double sided PCB - handmade
Soldered PCB #001 for 80 meters
First run was very promising then I have ordered some PCB's from friendly factory
Libra #001 - top view
Libra #001 front view
Once again I made front look a'la Drake style (See Taurus 40)
Libra #001 rear view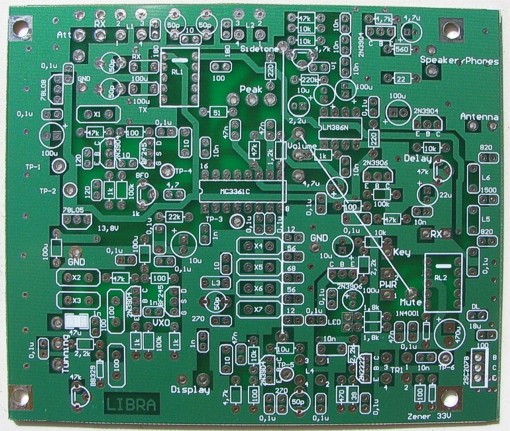 Double sided excellent quality PCB
Couldn't avoid two clearly marked jumpers...
PCB's are available
Working "Libra 40"
Need some spare time now to put into case
"Libra 80" proudly stands in my radioshack adjacent to QRP+
Index Labs radio was shortly on the shelf and long enough to sell out ....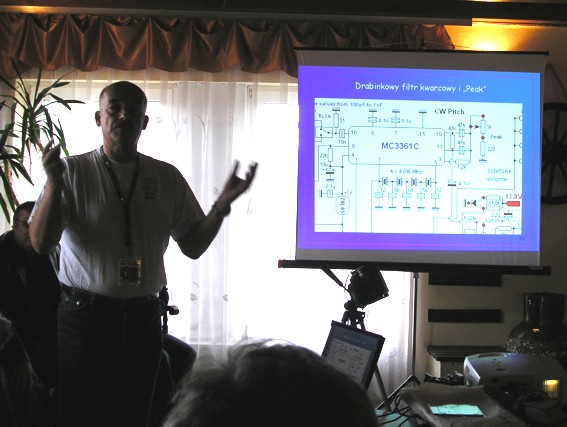 (fot.Alex OM3TY)
"Official" Libra project presentation during QRP Workshop in September 2007
I could managed to prepare assembly manual on CD along with PCB for the very first QRP Hams.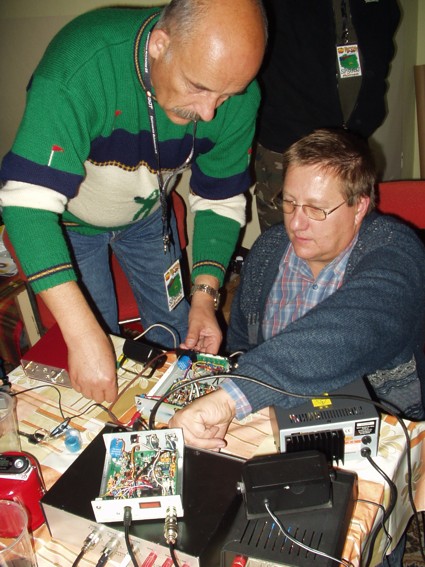 Three Libras were assembled before Workshop
Tests and checks proved that the concept is easy duplicable
L2R - Wim SP5DDJ and Peter SP9LVZ
Libra 80 recently built by Kazik SP9LLA
Kazik accomodated power supply, electronic key and speaker. His quality of homebrewing is unbeatable !
********************
Did you like it ?
PCB is available at VLC - send me an E-mail