The Nordic DXpedition to Sao Tome & Principe in West-Africa
"From a boys trip to a big Dxpedition"
<![if !vml]><![endif]>

LA7THA Rune Egil Öye, Team Leader

It was LA7THA Rune Egil Öye, which had a dream about going on a big Dxpedition to a place into the far away latitude. It started with Laos XW, but there were problems to get a licence, and meanwhile it appeared to be very difficult, Rune checked about licence and Stein Roar LA6FJA, got the visa application papers from embassy of Laos in Sweden.

Later on did LA5QKA, Öystein, LC3EAT, Svein Jarle and LA6FJA, Stein Roar " Rag", enjoyed for full. The ball starts to roll. Stein Roar and Rune had over 2000 pieces of e-mail there and back between them, and severals of hours on the telephone line. There were actually two more hams on the same team, but we are sorry for that they had to drop out. Stein Roar was in contact via telephone with about 50 Norwegian DX'ing radio-amateur's to listen to how the attitude were to enjoy a Dxpedition to Africa, Sao Tome. Mostly of them had a doubtful attitude and we were in middle of October 2001. The departures were 2nd February, and the flights and ticket were ordered in the summer of 2001.

Stein Roar & Co. was worried with a view to the visa and licence. Anyway we had putt he target as Sao Tome & Principe Island, into west-Africa CQ –Zone 36 and IOTA AF-023. We had established contact with CT1EAT, Fransico Costa, from Lisbon, Portugal; he had been operated from Sao Tome twice.
We kept also good connection with SM0AGD, Erik and SM5DJZ, Jan, which had been travelling and operated from Sao Tome a couple of times, so they had some advices. Else had most of the DX'ers across Norway backing us with ideas and other kind of support.
We had the process going on with the visa and licence, so that part was almost ok.  
The licence application had to be written in Portuguese, and we were fortunate in that
Rune's job is on board a ship, and he got to boys from Sao Tome on board as workmates.
These two boys were asked about information, and they helped us with translating the licence application from English to Portuguese, so CT1EAT Fransisco were not needed for this job.
Stein Roar, got finally SM5COP, Rune Wande, as earlier President of SSA (Svenske Sender Amatörers forening) , A Big DX-er and a skilled  CW operator. So Rune and Stein Roar exchanged a few e-mail and afterwards two minutes on the telephone, oh yes, he enjoyed us.
But that wasn't the top of the cake, he got with him Dan Hultgren, SM5IMO, a Big DX-er,
Contester, a skilled CW Operator, and participated in WRTC 2002 in Finland, World Radiosport Championship.
So after a while it appeared some answers from the telephone call job from Stein Roar, Jörgen"Joe" Hoel, LA5UF, did got some days delay, before he said yes to the offer. So there we were with 7 hams.
<![if !vml]>
<![endif]>
Well, we had lost some operators from the start, and finally we made it to add so many peoples that we actually were as planned from basis, but it didn't stop here. We had had some contact with LA6EIA, Ole Forr, Mr. 80 meter DXer, while he not about he could manage to fix a successor for his farmyard. Ole's participation went ok after he had said no first time some days before, and gave us a tip about Arne Haugseth, LA7WCA , that he had also plan and interested about enjoying the team. So suddenly after the weekend, we had managed to be a real big Team and we could count 9 peoples.
The Pilot stations and supporter Team for our DXpedition :
Pilots:
<![if !supportLists]>- <![endif]>LA3WAA, Tor Pettersen. 6 m / Europe & Africa
<![if !supportLists]>- <![endif]>LA9VDA, Trond Johannesen. North/South- America & Low-Band
<![if !supportLists]>- <![endif]>JM2HBO, Terunobu Hashimoto Japan , Asia & Oceania
<![if !supportLists]>- <![endif]>LA9FG, Norleif Bjørneseth. Contact person for our families
<![if !supportLists]>- <![endif]>LA5VM, Otto Norhagen. The Cassier/ Bank
<![if !vml]>
<![endif]>
LA9VDA Trond
<![if !vml]>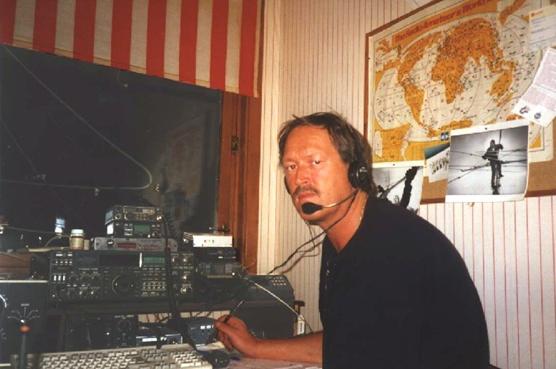 <![endif]>
LA3WAA Tor
<![if !vml]>
<![endif]>
JM2HBO Teru
In this way we had built up network so fast, and this was actually ment to be a boys trip changed to a big DXpedition suddenly. The webpage was made by Stein Roar LA6FJA, Rune Ö. LA7THA organized the travel, hotel, stay, Equipment list w/weight, Visa, Licence, Insurance, Svein Jarle LC3EAT was the Technician which had the mission for logging, interface for digitale modes, and Rune W SM5COP organized the extra weight for all of us. Actually from the beginning we had only 20 kg + 5 kg hand luggage. Finally we got 40 kg per person ++. That will say in practice 360 kg totally, and we left a Butternut HF6V and a amplifier AL-811 Ameritron.
There were many hard weeks of work to make a complete equipment list which had to be correct into each corner, that is one and another had to bring the right things into their suitcase. LA7THA and LA6FJA had over 2000 e-mails and hundreds of hours in telephone during this year of planning. We saw the video VK0IR and written down all details and picked up compliments from other LA station which had very important things for us to think about. LA6FJA Rag, made a operation manual which contained band plan, routines around changing a band (bandpass filter etc.), propagation charts, how to tune the amplifiers, labels for each antenna. Each operator had to train personally with CT by K1EA in good time to train the procedure into their fingers, and the CW operators had to train with the CW program RUFZ and JA Pile program JA PED. We had to be trained to meet a wall of pile-up in any situation.
So all the small and bigger things had to be weigh, and we had the final meeting at LA6FJA's QTH on Friday for the whole team (without the SM stations) and we tried to match each suitcase the right way to match the allowed weight for the flight. So in basis we control weighed each suitcase and boxes. Well, all of us had tried to weigh and sort out after the personally equipment list which Rune Ö LA7THA had made. Rune had marked each their name with which parts each had to bring. Three weeks before departure we had sent some coax and wire for radials for the hotel into Sao Tome. And finally we had to let the Swedish hams to bring things we hadn't room for, so we had to cut down different items, like tools and antennas tuner. So they take care about that stuff.
And finally we found out at Oslo Airport, that we had brought to less equipment, and we had weighed with Rag's two bath room weight. We were agreed, we could had brought the HF6V and the linear.
Finally, anyway we had made big sponsors from around the big world, from DX groups like Northern Californian DX Foundation NCDXF, European DX Foundation EUDXF, German DX Foundation GMDXF, Clippertion DX Club, LA-DX-GROUP LA1DXG, Lake Wettern DX Group SK6WW, Chiltern DX Club. Other sponsors; Permo Electronics AS ( Norwegian Hamshop www.permo.no ), DL8YHR a F9FT 6m Yagi , welding wire from Veidekke ASA, LA5UKA Björn borrowed us his Bandpass filters, LA6MP John borrowed us his suitcase linear a broadband transistor linear Finnfet 1KW, LB1HC made a portable professional 6m 3el. Yagi, Titanex Antenna gave us a huge price discount on a vertical V 160 E, a 160 80 and 40m antenna with tuner 27m high, and Manta Reiser in Oslo gave a good price and a good DXpedition. Of course all of our supportes made our dream come true!!!!
We kept also good connection on e-mail with Tom S92TX (S9TX today), and he had a HF Yagi which wasn't in use. Unfortunately he was back into USA when we reached Sao Tome.
So we didn't managed to meet him or to get the yagi, but anyway he helped us with different amenities and he works at Voice of America Broadcast station at Sao Tome Island.
We had the final and last meeting at home at LA6FJA Rag's QTH before the departure, without the SM's and we had brought LA4GHA Roger with us. We went downtown to Gjövik, earlier Olympic arena for Lillehammer winter Olympics games 1994. There we had a beautiful dinner for celebrate our upcoming DXpedition.
Next day we left Rag's home around before and the flight was departure into the afternoon from Gardemoen, Oslo Airport. We spent a few hours at the airport, but the time fly with lots of amenities like complete customs documents for all the equipment and enough time to get out the flight tickets. We had to tell the woman behind the desk that we had brought too many kilograms after agreement with the TAP Air (The Air Portugal), and we found that we had left to many kilos at home at Rag's house, too pity and we could managed to drive back 45 min. with car and pick it up, but……
We made it J
| | |
| --- | --- |
| <![if !vml]><![endif]> | While others were relaxing with reading newspapers and take a cup of coffee, some others got abstinences. Rag LA6FJA had been to long with his radio, and into the middle of the departure lounge he picked up the Schurr Telegraphy Paddle and the Heil Headset from his hand luggage. He sat the paddle upon the table and took the headset on him, he started training a pile-up. He made da-dit-da-dit  da-da-dit-dah sounds, and the other fellow travellers kept their eyes away from the newspapers from a moment. While Rag made the CW noise the other on team laughed. Ole LA6EIA and Rag LA6FJA, their kept a QSO over the tables with loud cw. |
The departure had been taken, the trip went via Switzerland, Zürich, and there we sat down some hours until we left for Portugal. Well, we had to stay into Zürich Airport for a while. But John LA6MP's amplifier got vacuum cleaned by the customers (excellent service!!), because they could understand and had to ask many times what this box actually was, so we can recommend this people if you have dusty amplifier at home hi hi.
Well they also tried LA6FJA's CW paddle and really wonder why he had glass tube a 3-500Z into his suitcase. Well, he told them; "I'm a radio-amateur and this is a hams stuff, he showed them his licence from PTT of Norway etc. "
There were few minutes before departure for Lisbon, Portugal. We kept our eyes on the trolleys which drove fast in and out from the hangar. And we walked aboard on the plane and followed "all" of our stuff carefully, and saw that the ground personnel loaded the plane. Suddenly, Arne LA7WCA and Rag LA6FJA, watching that the ground personnel are stopping loading of our stuff suddenly and return with the trolley inside the hangar.
And what happens? Well, the Captain aboard says; "Welcome aboard, we are finished with the loading of all luggage. We will departure into few minutes!"
Oh, yes, with wet eyes LA6FJA watches his suitcase, amplifier and radio and tour back into the hangar…….  Well, the plane is keeping moving reverse and the team starts laughing. Yes, we laughed, what else could we done into this moment?  Arne and Rag sat there into their seats with big eyes, and Rag had big lump into his throat after this scene.  We tried to tell the cabinet crew, but they just told us to sit down. All your stuff is aboard. So the departure was a fact, on our way trough the cloud pointed to Portugal.
"Oh, yes I can surly work some radio with a paddle, headset and tube 3-500Z and my lap top too!, said LA6FJA."
While the flight kept going on we spoken to the cabinet crew at least 20 times, and finally after they had given a plenty of beers each and wine. We still speak indistinctly about our stuff; the Cabinet crew Chief came back into our seat with a notebook to write down our names and ticket number. Well, we were far away on our way to Portugal, and the others of the cabinet crew didn't believed in our story, because we laughed too much when we told her what we had seen happened at the ground in Zürich. Normally, other people had got angry and damn of this sort of happenings. We laughed and she didn't believe in our story. We promised to send her a postcard to tell her who had right J
Finally we got some action, the captain for the flight sent a facsimile to the airport of Zürich, and some minutes before arrive into Lisbon, he came to the backseat and apologised that we had right. And he promised that TAP Air brought the stuff to Lisbon with their first flight.
So finally we were arrived into Lisbon, Portugal, and there were a good long queue for the passport control. A publican waved with his hand for attention while he stood along the wall, and he pointed at the European Union flag and ask we were Norwegians. And we said yes we are. Norway is member of the EEA contract, and we could just walk through the passport without any further questions.
We had to enter the airport, and we were stopped again by customers for checking our luggage. We had to bring the paddle, the glass bulb and the amplifier upon the table for inspection again, but this was easy game. The most important thing for us was to get access to TAP Air and to find out any information about out luggage which we believed were left in Zürich. And we had guessed right of course, for on the system they found out that mostly all of our stuff were still standing on a hangar in Zürich. So the woman at Lost and Found reception told that our stuff appeared there 1400 o'clock at Sunday. Our departure for Sao Tome were 2030 o'clock, so we mentioned that were ok for us if they managed that.
So then we were happy that we had planned a day in Lisbon if worst case happened.
We went to hotel Rex in Lisbon, and there we were enjoyed by Rune W. SM5COP and Dan SM5IMO. We talked about the flight and all the things which had happened to us that day.
Rune W and Dan had arrived Lisbon some hours before our arrival. So now we got our first eye ball QSO with the Swedish hams also. We relaxed and enjoyed for several hours. At Sunday we had a deal with Fransisco Costa CT1EAT, he came to our hotel and was taking us for sight-seeing into Lisbon and started our walk into the city before we took the subway to another part of the city. Fransisco took us to a shopping centre and we had a beautiful walk on the EXPO 2000 beach which there was lots of restaurants on long line. We enjoyed a good dinner together with him, and he told a lot about Sao Tome and his experience about his earlier operations from that position. We sat down for a few hours and had pleasant stay together, the team relaxed a lot and rested to keep up the energy for the dxpedition. He called up the airport for checking out if we had got our luggage from Zürich to Lisbon, and it had arrived 1400 o'clock, and so again a cheerio! A beer for everyone.
Our worst case ideas had been the truth for some hours…… So we had this extra day into Lisbon. We had only this chance to come together with our luggage to Sao Tome, since there only are flights once a week. It had been a bad experience to get your radio that day you leave.
<![if !vml]>
<![endif]>
LA5QKA(back), LA6FJA, CT1EAT, LA6EIA and LC3EAT.
Then our pleasant stay with CT1EAT Fransisco was over, and he followed us back into the hotel. We wished him all the best and thanked for all the support during planning for our DXpedition and the visit into Lisbon.
The time for the taxi trip to airport was 1800 and we needed the time to get our stuff out of Lost and Found,
And when we appear into the reception for security we need our passport for access and a special application paper for getting into the Arrival Hall. Yes, inside to that place our "Lost" equipment was kept. So LA5QKA Ôystein and LA6FJA Rag, got the access card and went the long way to Lost and Found. Little bit pessimist they got a helpfully service of the lady and she asked us to come with her to a backside room. There were all the nine lost boxes staying and waiting for us. It was kept inside a locked room and everything was into good shape.
<![if !vml]>
<![endif]>
            Some happy travellers! The Team Hot Coil has got their stuff back.
But time to hurry, we were actually going to Sao Tome, so we needed the time we had left to check in the complete stuff, so the rest of team were waiting and a great big smile appeared when Rag and Öystein came back with a complete luggage.
We started the in check for our Sao Tome flight, but we got very disappointed because it was cancelled and a new setup later and later. So the actual time 2040 changed to 0430 next morning……
<![if !vml]>
<![endif]>
We are sleeping; LA6EIA, LA5QKA, LC7WCA, LA7THA, LA5UF and LA6FJA. The Zzzzleping crew…..
They added a hour every time it was close to the departure, so we got used to it. This meant that could not work with antenna setup from morning time as we had scheduled. We could not work hard into this hard sun and high temperature. Well, finally after some meal and some kind of service, the departure was a fact. Africa here we come.
Final we was standing into the door of our plane and with the hot temperature hitting our face and humidity pressed our body while we walked down stairs to the ground of Sao Tome airport. The clock was 1045 before and we walked inside the airport. We had to show our passport at first, and then one of the crew from our hotel came inside the custom reception and he took care of all passports and talked to them. Easily we could only carry our luggage on trolley out to the cars. We was meet also by one of S92LB Luis's boys which had was driving Luis's car, so we had good room for all of our stuff and the team.
We arrived Hotell Miranmar and the hotell manager wished the team welcome, and the hotel manager was a German gentleman with the name Manfred. At first he showed us the room and the main shack. So then he showed us the garden which he told us that we could use the whole areal as we wanted. Well, we found out fast that we had brought to many antennas, and we had believed that we could use the second garden too J
<![if !vml]><![endif]>

The Hotel Manager Manfred are meeting us into the reception of hotel. Then he shows us the 4 rooms and the front garden which is made for our antennas setup.

<![if !vml]><![endif]>

Here we are checking the conditions. SM5COP, LA5UF, LA7THA and LC3EAT.

<![if !vml]><![endif]>

LA7WCA, LA5UF and LA6FJA, are wiring the 80m radials for the Titnaex.

<![if !vml]><![endif]>

The 6 meter yagi with a water pipe mast on ground.

<![if !vml]><![endif]>

The Titanex to the right behind the flowerbed and 6 meter behind the HF6V Butternut.

<![if !supportMisalignedColumns]>
<![endif]>
<![if !vml]>
<![endif]>
SM5Cop up on the roof
<![if !vml]>
<![endif]>
Ole LA6EIA are having the tip of the 27 meter high Titanex in his hand while the lowest part of antennas is still vertical, the material is quite strong!
Equipment assembling
Anyway, we had our lists which showed which part of the team which were going to work with a concrete exercise. Svein Jarle and Dan rigged all the equipment inside the Main Shack #1 and also the shack # 2 and # 3.
Two people worked at the Butternut HF9V, one at the 6m Yagi while the three other guys worked hard at the Titanex antenna. The last member of the team made dipole for 15 meter, and then we had one antenna for each shack that day. Rag was finished with the F9FT yagi for 6m very quickly so he started with erect a half square wire antenna for 30m.
The most of the team worked hard, the was a hard nut to erect a 27m vertical into the garden, but Rag was smart slept 2 hours before he came out again and told how to erect the Titanex antenna. Well, the tip worked and the antenna went up after some work with cutting down some palm boughs. After a lot of work the Titanex was erected into the garden, and we had got some help of the gardeners and an electrician from the hotel.
We had a lovely dinner at the restaurant at the hotel, 1900 o'clock and we had pleasant relax. Well, some of the team at rested while the others had been working had with antennas. You can guess why?
The start of Operation 4th of February
We started the operation 2056 UTC 4th of February, LA6FJA worked cw on 20m and LA6EIA worked 80m SSB. The pile-up just exploded as a wall when we hit the bands. Well we had plans to just run two stations, mainly one for CW and one for SSB. Well, we had not any action 6m as well, so we decided to QRV also shack # 2 with a IC 746 and 100 Watt to a dipole 17m dipole. At Shack # 3 we had a IC 706 MKII with 100 Watts with a 15 meter dipole.
| | |
| --- | --- |
| <![if !vml]><![endif]> | <![if !vml]><![endif]> |
| LA6FJA 20m CW | LA6EIA on 80m SSB. |
In shack # 1 we used a Kenwood TS2000 DSP and a AL80BX desktop amplifier 1KW for SSB. And a Yaesu, FT-1000MP, with a Finnfet, a suitcase amplifier 1KW for CW.
And antennas were the HF6V Butternut for 80 to 10m incl. WARC and Titanex 40 80 160m. Plus the dipole antennas from other shacks were also accessible.
So suddenly we had four stations on the air. People were very tired, but we kept on for many hours. While the team slept without one, LA6FJA which kept on the pile for 14 hours almost continuously. Then he slept another 10 hours.
Day 1 of Operation 5th of February
Tuesday were time for adjusting the Titanex for 160m, because at Monday we didn't reached to add any radials for top band, because when you are into Africa the darkness are coming so fast. Well, we didn't understand too much when we connected the MFJ 259 antenna analyser, the meter were tuning right and left into high speed. Hmmmm.. what happened?
We take a look around into the horizon and we could see some big towers about 800 meters away from our hotel. We found that this must be the voice of America broadcast station on 1530 kHz with about 600 Kilowatt output transmitting which played a game to our MFJ 259. Finally we got this antenna working after some work with the radial system and tuning after we had resolved the distortions from VOA.
We assembled two set of dipoles, a kombi 20 and 40 meter dipole up on the roof for use in shack 1 and 2. For shack 3 we added a 10 meter dipole.
Rag he slept until evening and he were quite surprised that evening over how many thousand contact that we had made the first 24 hours, we had reached 2724 QSOes.
Tuesday evening we kept up the good work, we work lots of JA on 80m SSB and we worked America and Europe on 15m CW, America Japan & Europe on 30m CW and Europe and Asia on 17m CW. So 4 stations on the band at one time J later we went from 80m SSB to 40m SSB, there we worked Asia, JA and north-western Oceania.
So there was time for 160 meter, and Rag tuned up and made 13 contacts on 160. He worked LA3XI as strongest station in the QRM from Voice of America. Their signal was peaking over 599 + 20- db's. So there were incredibly conditions to receive a signal at all on this band, and we had hoped to give VK6HD and the other Top band people a new one…..hmmm….
Well, this ones were the lucky guys; LA3XI, OH2WI, 4N7ZZ, HA0NAR, YU7BW, YU7JDE, GM3POI, PA2DZN, PT7BZ, IK7MCJ, OK1XUV & DJ5BV. We hope people see why we broke up the 160 meter works, since there was almost impossible to catch a call sign through this splatter from V.O.A. BC station.
<![if !vml]>
<![endif]>
So we had better condition into 40m CW working Asia, NA and Europe, so we worked here continuous next hours for the night and we used the Titanex on 40m , until the morning while we QSYed to 30m and let the 80m SSB use the Titanex for operation in our sunset.
Day 2 of Operation 6th of February
Wednesday morning we started with working Oceania, EU & NA on 17m SSB. 15m CW for JA and EU. Later on we also went active on 20m SSB for EU and 12 m CW for JA & Europe.
During the morning we lost most of propagation but we still kept QRV on 12m and added a operation on 10m. That we could expect during the first time of day. We found out that the Titanex for 160 80 40 worked great on 12m to JA +EU J
On 10m SSB we worked JA, Asia and EU.
We were QRV on 15m CW for EU again on the , and now NA coming through on 12 meter also.
The second full day of operation with activity had passed and we had reached a score with 6344 QSOes 2100z.
We kept going on radio and after the dinner in the evening. From Shack 1 we were QRV on 40 meter SSB for EU Asia and JA, later also South-America come through. We were QRV 80m CW for EU, Asia and JA. After the propagation went down 22z we QSY from 80 to 20m for the EU, Asia, North-America and JA. We also got good opening to South-America 2240z with few QSOes from shack 2 or 3, so we qsyed from 10 meter to 17 meter and we appeared on cw for NA.
<![if !vml]>
<![endif]>
Three happy children says hello to the crew on safari.
<![if !vml]>
<![endif]>
LA7WCA Arne on 40m SSB.
Day 3 of Operation 7th of February
Past from day 2 we were active on 40 m SSB and 20m CW, and 0100z we changed mode for the bands so we appear with 20m SSB and 40m CW. We had got a lot of questions from NA for SSB 20m, but we had also lots of good conditions to northern east Oceania, Asia and Central America.
The signals dropped at 40 meter 0130z and we went to 30m for CW and worked EU, Asia and NA. But now the coil on the HF6V Butternut blowed up with a band, the isolater and the connection had burned up, so now we could say " Team Hot Coil".
So Rag had to use the 40m dipole for a while….The crew fixed the antenna later on the morning.
0500z we had our sunrise and we QSY back to 40m CW. We got a huge opening to EU, NA (west coast) and South America.
From Shack 3 we got a nice shot to JA on 15 meter CW 0516z.  We went closed down on 40m 0628z.
0719z we appeared on 17m CW for EU, JA. JA, VK and ZL coming through on 20m SSB too. 0853z signals dropped out on 20 and we QSYed to 12 meter SSB for EU and SA.
0945z we QRT on 17m CW and QSYed to 10m CW for good opening to EU.
Around 1130z NA coming though on 12 and 10 meter.
<![if !vml]>
<![endif]>
Joe LA5UF QRV from shack #3
1451z we gets a nice opening for JA on 17 meter SSB, later on EU and Asia also comes through.
Through the day we worked 10m CW, 17m and 12 m SSB. We went QRT for dinner 1800z.
2026z we were finished with the good African dinner at the hotels restaurant, and we hit the band on 80 meter for EU on CW. And 17 meter were quite good for EU CW: J later on NA/SA comes easily through. 2141z JA are coming through loud on CW 80 meter.
Around 2100z we had worked about 10
Right before we got a nice signal from whole NA on CW 80 meter.
<![if !vml]>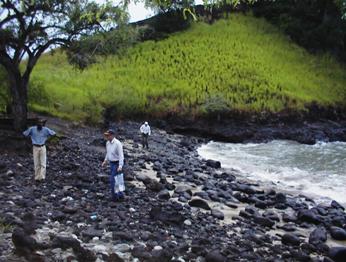 <![endif]>
Sao Tome laguna
 <![if !vml]>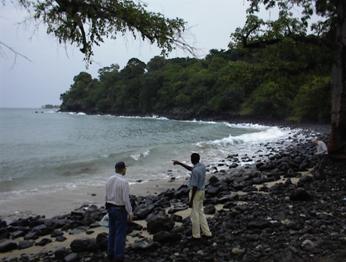 <![endif]>
Day 4 of Operation 8th of February
On 80 meter the signals from both South and North America rocking the band, and the same situation on 17 meters cw, we have only two stations active because of the sightseeing trip later that day. Most of the crew went to bed early.
0344z we are QSYing to 20m SSB for NA and 40m CW for EU/SA and sooner we change mode on 40 to SSB and we are again getting again a huge pile, we close down 40 m 0612z.
0635z we are having our 10 meter conds for EU on CW right after our sunrise.
ZL, VK and JA are coming as a shot on 20m SSB, also a station from Hawaii also booming in.
0714z; There are morning time and people wakes up, we gets on 17m CW for EU and Asia.
And we worked on 20m and 15m SSB for EU, Asia and JA.
People are living for the trip around 0900z.
LA6FJA and another operator are left, and we are working JA still on 15m SSB and a EU coming in also. We are also active on 17m CW for EU. 1000z it's time for EU and Asia on 12 meter CW.
1540z LA6FJA starts to work PSK31 on 15 meters, we got 43 QSOes with HS0ZBS as first QSO with S9 on first PSK31 from that island? OK2WED the 2nd and ON7GB as 3rd. DJ6TK first DL, SM3AFR first SM, PA0VHF first PA, SP9UPK first SP, IZ1BII first I, LX1DA first LX, G4YVV first G, OK1AMB first OK, F5JKK first F, LA7AJ first LA, 4X6UU first 4X and EA2BWM first EA.
<![if !vml]><![endif]>

Well we were very sorry for our or LA6FJA promises with digital operation, but our TNC went QRT on the flight and something had also happened to our soundcard interfaces. But finally we had managed to work a few QSOes on a digimode.

We worked afterward 10m SSB for EU, SA and NA and also on 12 m CW for EU and NA until 1621z. The Team had a break until 1751z, the we had our sunset opening on 40m CW for EU and JA, we went QRT 1832z for our dinner.

1953z we hit the band again on 40 meter, but this time for SSB. We having fun with a good JA and EU pile up.

2100z; the QSO score had reached 13100 QSOes.

2102z; we also being back, the others of the team have had their little break after the good dinner. Now also active 17m CW. A few NA and later on JA's coming through with EU.

2234z; also 12meter SSB open for EU, SA and NA. Good signals.

2317z; we move on 40m SSB to listen for NA, and we gets a good pile from America.

2342z; we appears to 20m CW for them also, great signals from NA.

We still want to work the NA on 40m but little heavy QRM on the receiving QRG, and we manage to work a couple.
<![if !vml]>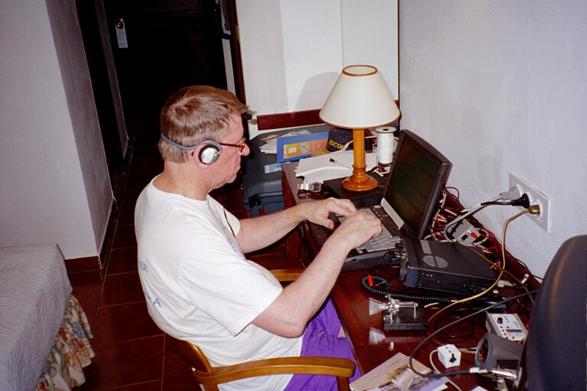 <![endif]>
SM5COP Rune W working from Shack# 3
Day 5 of Operation 9th of February
We still keep up the pile up and we are going to our almost last day.
40m SSB now for EU, 12m SSB for NA and 20m CW for NA.
During the night we tried 12m CW for JA and NA, still 20 CW for EU/NA, and 80m SSB from 0137z for SA/NA. it's seems to be good openings and that the lowbands conds were better than it had been last days, because our first night into the QTH seems to be the best low band night. But we had not any antennas for all of them. And we got messages from our pilots that the Aurora had made it difficult for Northern EU and other parts like ZL/VK.
0320z; we have gone QRT on 12m and now active on 40 meter for NA, EU on CW.
Now 0626z QRT 40m CW, and we QSY to 30m CW 0635z and QRT 30m 0654z.
0645z there a good opening to EU and NA 10m meter.
0716z; we goes from 30m to 17m CW. Lots of JA booming in,  and we QRT 0817z.
0825z; 12m CW for JA.
0935z; we got a acticity on 10m SSB and worked a lot of ZS stations and also lots of Scandinavians like LA, SM and OH's. Afterward some others EU come through with a good signal.
Then we changed modes on 12 and 10 meter, 1031z we works 10m CW and 12m SSB.
It's was time for also doing other thing which we haven't mentioned before, everyday we went to the market and to supermarket for buying water and beer.
We spent a lot of much time into the pool during the pile ups…..
The temperature were about 28-35 ْC and the humidity was quite high, if you walked a few meter you felt the heart started pumping faster and that the you got a quite wet t-shirt.
<![if !vml]><![endif]> LA7WCA Arne and LA6EIA Ole into the front of PTT licence office of Sao Tome, and to right the The Aeroplane bar and Arena,

A flight with medicine and emergency treatment to Biafran into 70's had to make a emergency arrival at this place.

On the market place we could take view of this large area with yellow taxis and the technical shop had tv and etc on a sinlge table into the centre of their shop.

Well, back to the hotel and for our operation we had kept working the whole day. We had been concentrated about 12m CW/USB, 10m SSB/CW, 17CW/USB and a few 20m SSB.

Into the afternoon there were show time on 80 meter CW from JA, Asia, EU, Middle-East…Yes, we knew that people had their weekend and a big chance for the week workers to get a new one.

 And we were on 30m CW for EU since we had been QRT for some days…. As extra we had good pile on 17m SSB and also 20m CW at first and so SSB.
2100z ; We had climbed up to the score of 16673 QSOes +(Digitale J ), some of the operators wake up and saw the possibility for maybe reach up to 20,000 QSOes ?
 Well, some one speeded up, specially had SM5IMO done that the whole Saturday.
So we all CW guys fumbled little since we had worked more QSOes than the SSB gang. Hi hi
"Like LA5HE said, SSB is a parrot mode", well this time we had some extra good skilled CW operators with us and that is a must, but it also needs to have mixed crew.  Often is there
<![if !vml]><![endif]> SM5IMO Dan and Luis S92LB, working S9LA on SSB, local DXing !!

Day 6 of Operation 9th of February

The bright morning comes closer and closer to us, but we fights the last battle and many of us have getting tired of this operation and while other have not.

We knew we had to do some activity on RTTY and we had some desperately SM's and others J which needed S9 for a new one on SSTV. Well,LA6FJA, I can remember that the propagation during sunset were extremely though on 80 meter, you could almost see the s-meter signal come up and down, like you see the the greyline moves across North America on Sunmap on the computer quite fast.

Well, last morning we spent a good time to help the SSB guys to fill up with some QSOes for them. The CW ops had worked too much J

We filled up the top frequencies, 12 15 10 17 and 20 meter where runned all the morning during the day.

We had a nice shot to Scandinavia and we did use lot of time to give all a chance since they had been fighting due the Aurora the whole week.

Lot of people we had worked from up there sent us congratulations and it was very nice to hear all this good comments.

Well, like a USA station said to us;" This is one of the best DXpeditions since VK0IR!"

And that is quite a big word to get on our first DXpeditions.

After the breakfast Rag also had to QRV on SSTV as promised!!!!

We announced a time on 15 m SSB, and then QSYed this QRG and picked up a SHORT list. We worked about 11 stations.

SM5EEP, SP4KM, DL5ZB, G0WHP, ON7GB, S53X, IZ5BAM, SM3AFR, HA1ZH, IK5GOK, OM7PA.  While we did our QSOes the staff from the hotel watched the "online" Slow Scan Television from EU.

After this Rag was quite happy to have been the one which had a chance to operate SSTV from S9LA. We had not expected that this week should be so short and that we got out problem with interface and the computer. Finally had the SSTV fan also got a piece of our operation.

<![if !vml]><![endif]>

Here LA6FJA and LA6EIA working RTTY. Rag is operating and Ole is writing the log. Here we have a little break, because we went QRT because lot of southern EU don't listen too much while we work others. We didn't had time to setup too much macros in Zakanaka, so we did a good hand writing during 1 ½ hour with pile-up. We worked 110 Qsoes on RTTY.
So next target was this RTTY problem, we had brought a PK232 for RTTY with WF1B, but our laptops would not run this program and either would this Interface do it's job either. So no FSK , but we equipped the IC746 with this soundboard to radio interface made by LC3EAT Svein Jarle, our own technician which we har with us and had made this boxes. All greetings to him, because he is had made all the stuff for digimode.
LA6FJA was operating with typing directly on the keyboard without any macros from the beginning. Ole LA6EIA was the logger on A4 paper sheet.
But during the wild wild pile up we announced to QRT because we had some broad band station on RTTY with very wide and distorted signal. We asked him to QRX while we worked many other stations, but he had 6 QSOes before he did understand that we had worked him. But again he pushed down the northern European stations signals. We went QRT and our group photo was taken outside beside the swimming pool.
While we continued the RTTY operation, the others started with deassembling the antennas, The Titanex had to be lowered and all the dipoles were taken down, also the halfsquare for 30m and the 6 meter yagi as well.
We worked on the butternut HF6V until 2100z. Then we had a score about 2100 QSOes,
And now we had to take this antenna down and the last QSO was KC1F on 20m SSB.
So, now the game was over this time. People stand around the teamleader LA7THA while he runned the last few QSOes from S9LA.
<![if !vml]>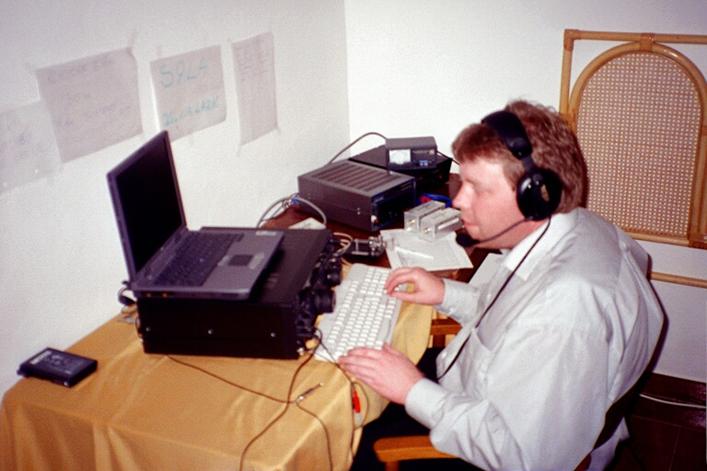 <![endif]>
Someone had to take a walk out to take a smoke to load up to attitude for the last minute.
The KC1F booming trough, and Rune Ö. He is announcing on the frequency that he is going QRT and what the reason for why we made this trip. He told to the people on the frequency that he had seen the movie by the VK0IR Heard Island DXpedition crew, and that he was happy for that his friends and the other operators had let him make his dream come true.
This is S9LA QRT.
Then we rigged down the HF6V and slept for some hours.
<![if !vml]>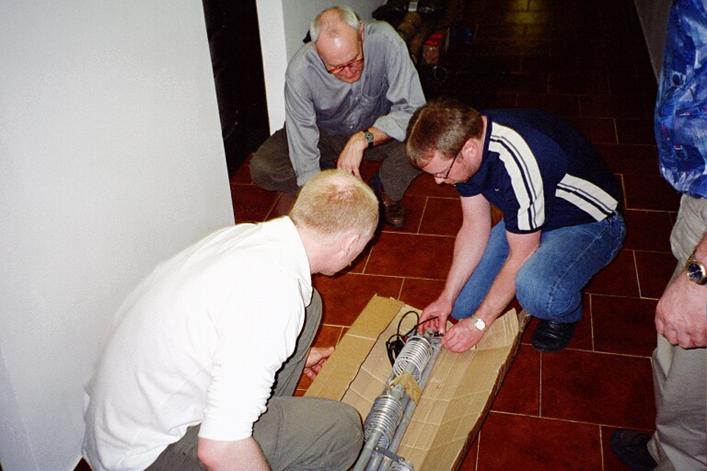 <![endif]>
Here is the last action of S9LA.
<![if !vml]>
<![endif]>
Front: LA7THA, LA6FJA,LC3EAT Middle: SM5COP, LA7WCA, LA5QKA Rear:LA5UF, LA6EIA, SM5COP
Continent Statistics

S9LA DXpedition 4-10 Feb 2002

| | | | | | | | | | | | | |
| --- | --- | --- | --- | --- | --- | --- | --- | --- | --- | --- | --- | --- |
| Continent | 160 | 80 | 40 | 30 | 20 | 17 | 15 | 12 | 10 | | All | % |
| Mode: CW | | | | | | | | | | | | |
| North America | 0 | 132 | 339 | 295 | 914 | 497 | 336 | 252 | 343 | | 3109 | 15.6 |
| South America | 1 | 16 | 29 | 8 | 58 | 23 | 27 | 27 | 20 | | 209 | 1.1 |
| Europe | 12 | 352 | 382 | 465 | 431 | 288 | 1004 | 1623 | 1997 | | 6553 | 32.9 |
| Asia | 0 | 133 | 30 | 167 | 330 | 352 | 278 | 361 | 111 | | 1762 | 8.9 |
| Africa | 0 | 4 | 2 | 4 | 6 | 3 | 8 | 9 | 16 | | 52 | 0.3 |
| Oceania | 0 | 1 | 0 | 0 | 18 | 4 | 4 | 2 | 1 | | 30 | 0.2 |
| | | | | | | | | | | | | |
| Mode: SSB | | | | | | | | | | | | |
| North America | 0 | 131 | 170 | 0 | 915 | 186 | 58 | 411 | 129 | | 2000 | 10.0 |
| South America | 0 | 36 | 41 | 0 | 79 | 24 | 13 | 32 | 48 | | 273 | 1.4 |
| Europe | 0 | 201 | 493 | 0 | 587 | 375 | 1010 | 690 | 1419 | | 4775 | 24.0 |
| Asia | 0 | 79 | 61 | 0 | 319 | 145 | 196 | 106 | 50 | | 956 | 4.8 |
| Africa | 0 | 5 | 15 | 0 | 19 | 10 | 12 | 13 | 23 | | 97 | 0.5 |
| Oceania | 0 | 1 | 5 | 0 | 69 | 1 | 3 | 0 | 5 | | 84 | 0.4 |
| Totally | 13 | 1091 | 2658 | 939 | 4684 | 1908 | 2949 | 3526 | 4162 | | 19900 | +dig |
| | | | | | | | | | | | | |
| Mode: RTTY | | | | | | | | | | | | |
| North America | | | | | | | | | 4 | | 4 | 3.6 |
| South America | | | | | | | | | 3 | | 3 | 2.7 |
| Europe | | | | | | | | | 103 | | 103 | 93.6 |
| | | | | | | | | | | | | |
| Mode: PSK31 | | | | | | | | | | | | |
| Europe | | | | | | | | 42 | | | 42 | 95.4 |
| Asia | | | | | | | | 2 | | | 2 | 4.5 |
Words after the DXpedition
160 and 80 meter QRM from Voice of America txing 1530 Khz with 600 KW
*We had not expected this, because we had planned a lot of activity on low bands, a separate RX antenna didn't manage to get the QRM lvel any better but worse.
* We got later QRV than expected, expected arrival : 0545 z , our arrival : 1045 z
So it was very hot and high humidity during and we got delayed with many hours
Operators
* One of the crew was very ill, so in the fact we was only 7 operateurs, one ill & one technical licenced who had a lot jobs to do. From the start, later into the week we had another two which wasn't into good shape. So finally we was only 5 to run the radio mostly.
*We was QRV most of the time with 4 rigs, and we had expected
Operation finished 10 february 2002. The final QSO total was just over 20 000 after 6 days of operation.
A big thank you to all that have contributed to the S9LA DX-expedition. The sponsors and everyone who worked us. Hope you enjoyed it. We certainly did.
Where do we go next? You will find us on the band soon….. We will promise that. All of our QSL direct are answered and most of you will soon get the bureau cards if you don't have got it.
73 de Rag LA6FJA for the Team Hot Coil.
I'm sorry for the long delay for our story and that my english isn't that good, but I hope people can find some interesting stuff in this long story.