In the summer of 2005, Pete, AA1PL, through his contacts at work, found an ideal, centrally located tower site in Exeter RI on the Exeter/Richmond town line. Owned by a ham, Don Dorson, W1GBO, Pete secured Don's permission for RIAFMRS to put a new 440 repeater antenna on the top of the 180 foot tower and to use his building to house the repeater electronics.

In the meantime, again through his professional contacts, he was negotiating the donation of three Motorola MSF-5000 UHF repeaters to RIAFMRS. These had been removed from service during an upgrade to the Warwick Fire Department radio system. Finally, the City Council approved the request and he took possession of them in late summer 2005. One of them was placed in service at our Scituate site by Peter in late November and is running very well.
Pete organized a work party for the Exeter repeater & antenna install to take place on December 3, 2005. It consisted of Pete AA1PL, Roland N1JOY, Steve WA1POX, Dave W2DAN, Don W1GPO (site owner), and Rick K1KYI. A sunny, but cold and windy day greeted the volunteers that morning…not exactly ideal tower climbing weather.
The five hams spent roughly 7 hours putting up the antenna, feed lines, and link antenna on the 180' tower. The 6dB gain repeater antenna is at the top of the tower and is fed with
1-1/4" Heliax which was donated by the SEMARA club. The link antenna is a small Yagi mounted around 90 feet and fed with 1/2" Heliax to the GM-300 mobile link radio. AA1PL and N1JOY were on the tower almost five hours in the cold and wind. Talk about dedication! The last part of the project was linking Exeter and Scituate together, which went off smoothly. Signal reports indicated the system is working just great, and after a minor audio adjustment on the link radio, it's even better.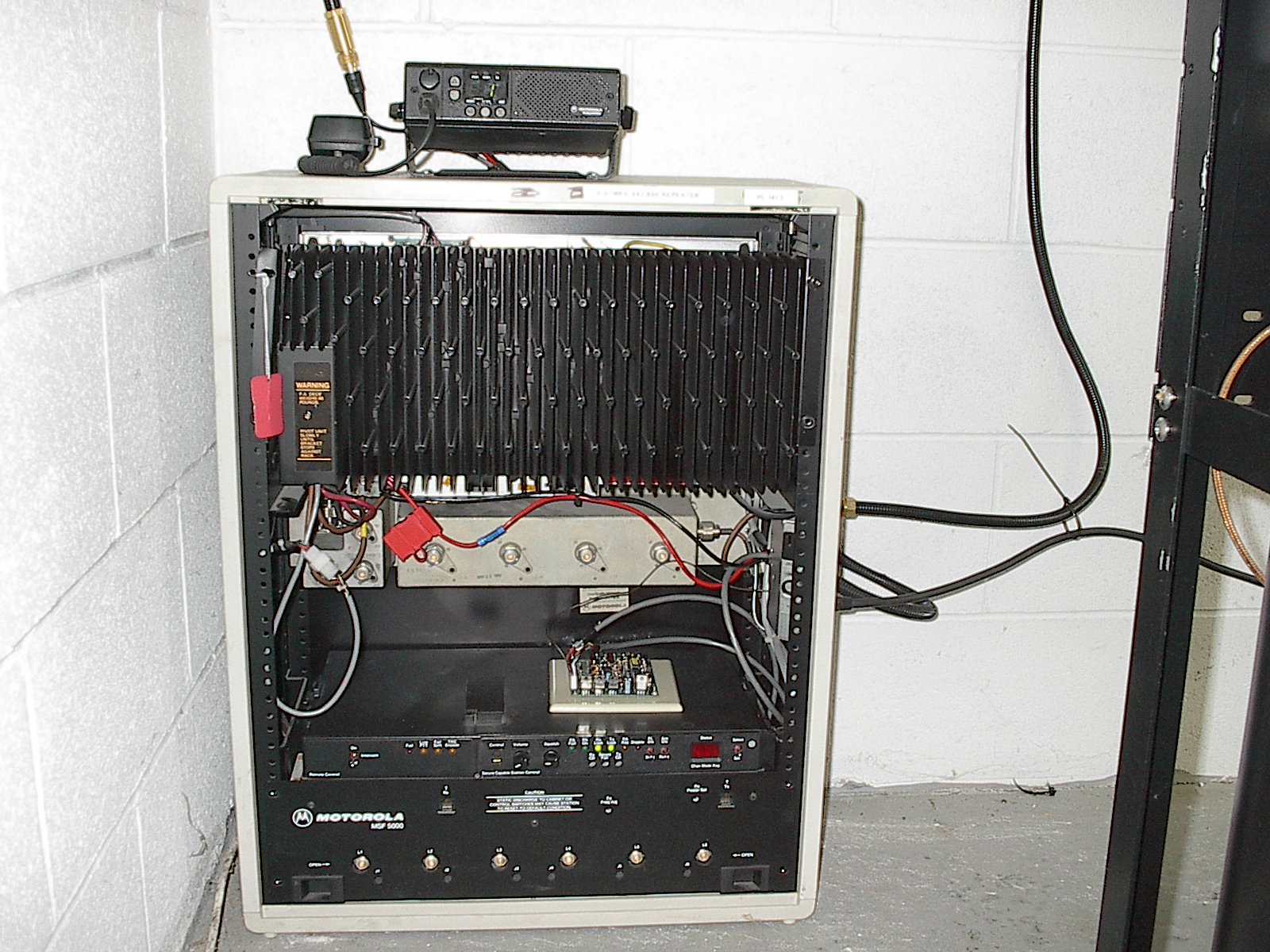 This is the Motorola MSF-5000 repeater and the GM-300 link radio.



This package makes a neat and simple installation.



Our repeater antenna is at the top mounted to a tower leg. The view from up there is incredible!
You can also see our Yagi mounted half way up the tower.