RH1A, RH1B, RH1C, RH1F, RH1H, RH1J
are special callsigns issued with the occasion of the IIHF Ice Hockey World Chamionship 2000, which took place in St.Petersburg, Russia between April 29 to May 14. If you want to learn more about this event, please visit the official site of the championship: http://www.wc2000.ru/en/index.htm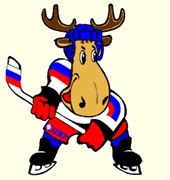 This Elk, named 'Hockosha', is the mascot logo of the championship. Actually, it is the second version, since first one was not agreed upon by the IIHF officials. They said that the Elk has a too spiteful smile and too big horns. I suppose at that moment they thought of themselves, hihi.