Thailand's flood situation: the big picture
(Updated on November 30, 2011)
There are many good resources on the Web with information about the flood situation in Thailand that are updated frequently and we thought it would be helpful to provide a one-stop summary, with pictures and links, here.
This is a satellite photograph, dated October 17, 2011, showing the huge volume of floodwater that is on its way to the Gulf of Thailand.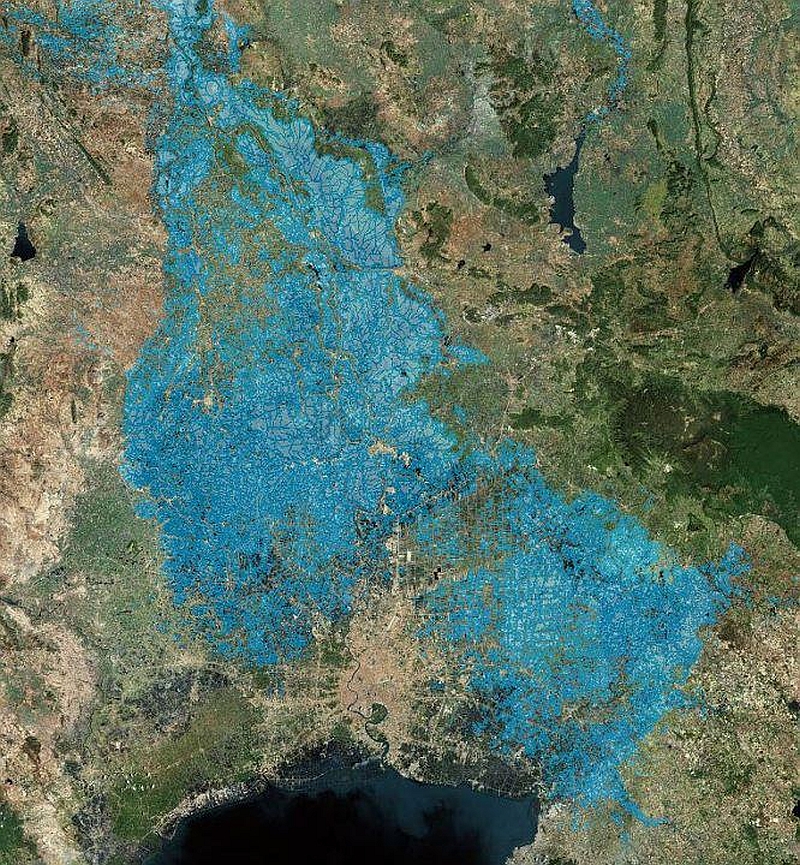 From the HS4AK.net weboard
In contrast, here is the image for October 30, 2011:
Finally, here is an animation that shows the advance of flood water over the period from October 3 until November 21, 2011. It was compiled by Thailand's Geo-Informatics and Space Technology Development Agency (GISTDA).
The images above help us to visualise the scale of the flooding that stretches as far north as Sukhothai, Tak and Uttaradit while the image below, from Thailand's
Geo-Informatics and Space Technology Development Agency web site
, also helps provide a proper perspective:
By all means follow the link above and browse the GISDA web site which provides this information on Google Maps (if you click on the image above, the web site will open in a new page). In the image below (screen shot made on October 17, 2011) we can see just how Bangkok was virtually surrounded by the water that is making its way to the Gulf of Thailand, with three outlets, the Tha Chin River in Samut Sakhon, the Chao Phya through Bangkok and the Bang Pakong River to the east of Bangkok.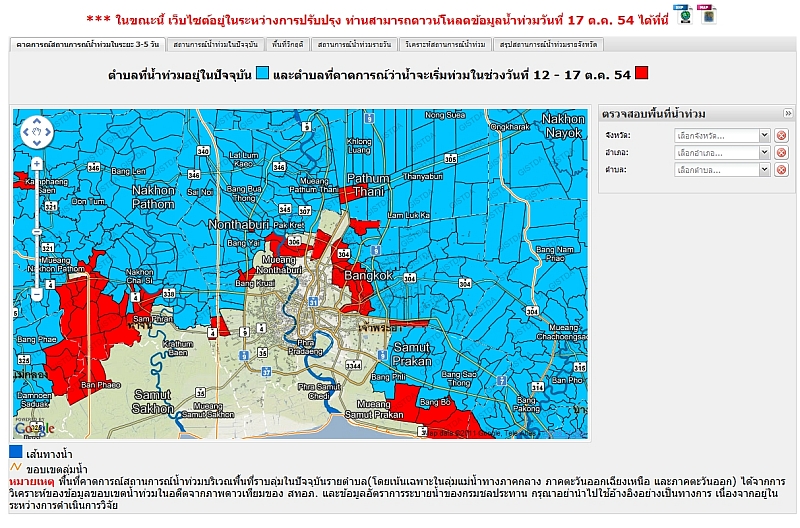 The big question that many people have been asking now is will Bangkok be inundated, or flooded. (That sentence was written in mid-October, and some six weeks later (November 14) this question is still being asked in parts of Bangkok). So far, government and Bangkok Metropolitan Authority officials have expressed confidence, albeit with reservations. To track the situation around Bangkok on the web, you can check out the
Flood Monitoring System
of the BMA which is interactive and has pictures, images, maps and charts that you can study. Here is an image of the site:
The BMA also has another website with a
"Water Measurement System"
(below) where you can explore the water levels interactively of various canals in the city as is shown in this image below: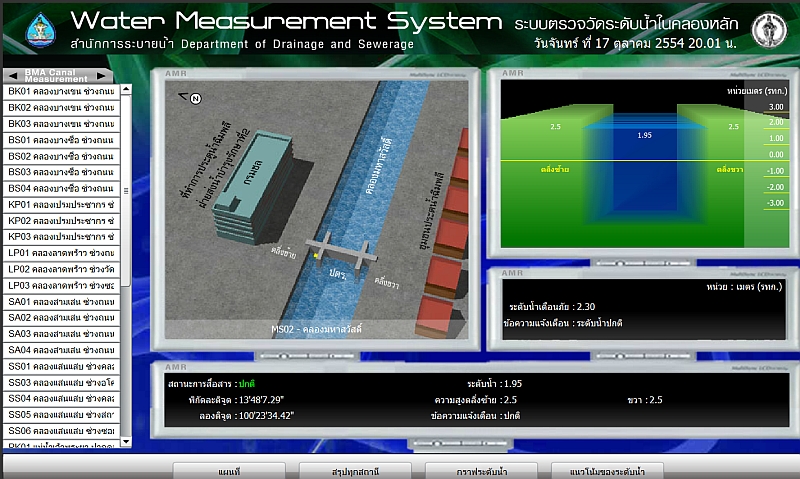 Click on the image above to open this web page in a new window.
If you are driving on a highway in Thailand, you now can find
a good implemetation of Google Maps by the Highways Department
. For flood or other highway information, call the hotline at 1586.
This is shown below in a screen shot and you can zoom in or out and navigate, of course, at the site: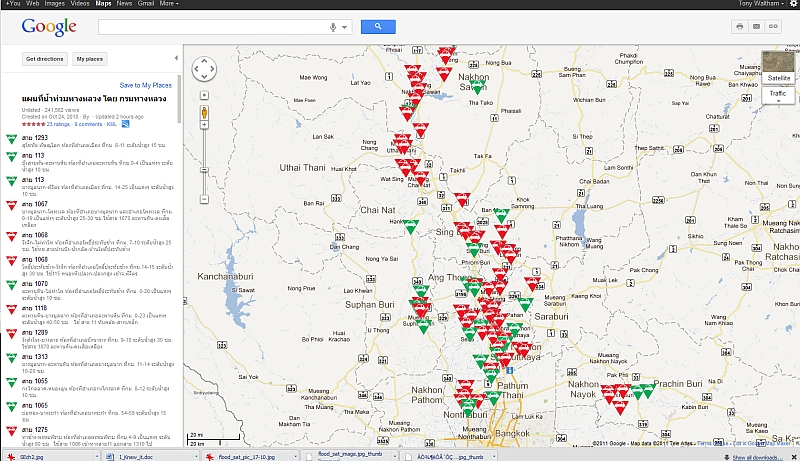 If you live in Bangkok, or know the address of a friend who does, then
this map
(shown below) shows the relative heights of the city and its suburbs in terms of metres above sea level.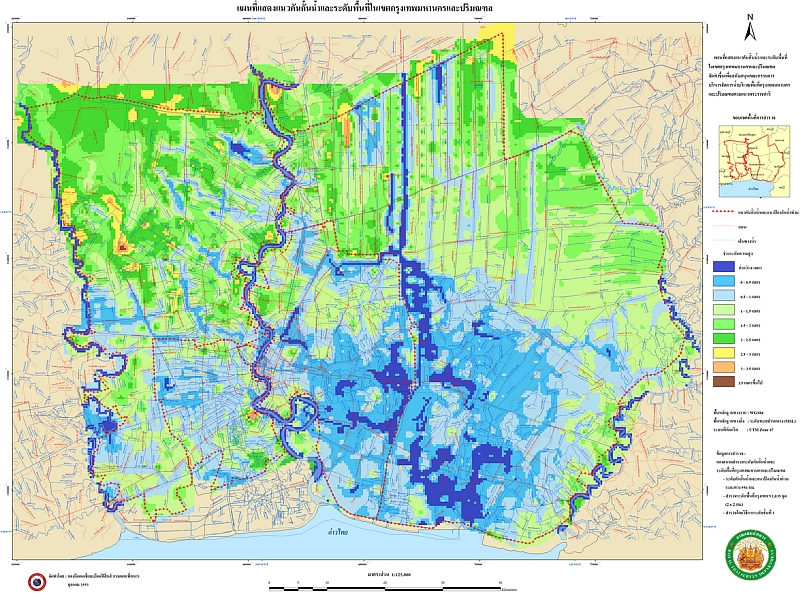 And here is an excellent dynamic flood map,
"Longdo Flood"
that appears to be up-to-date (as of November 30, 2011) and which presents data from many sources.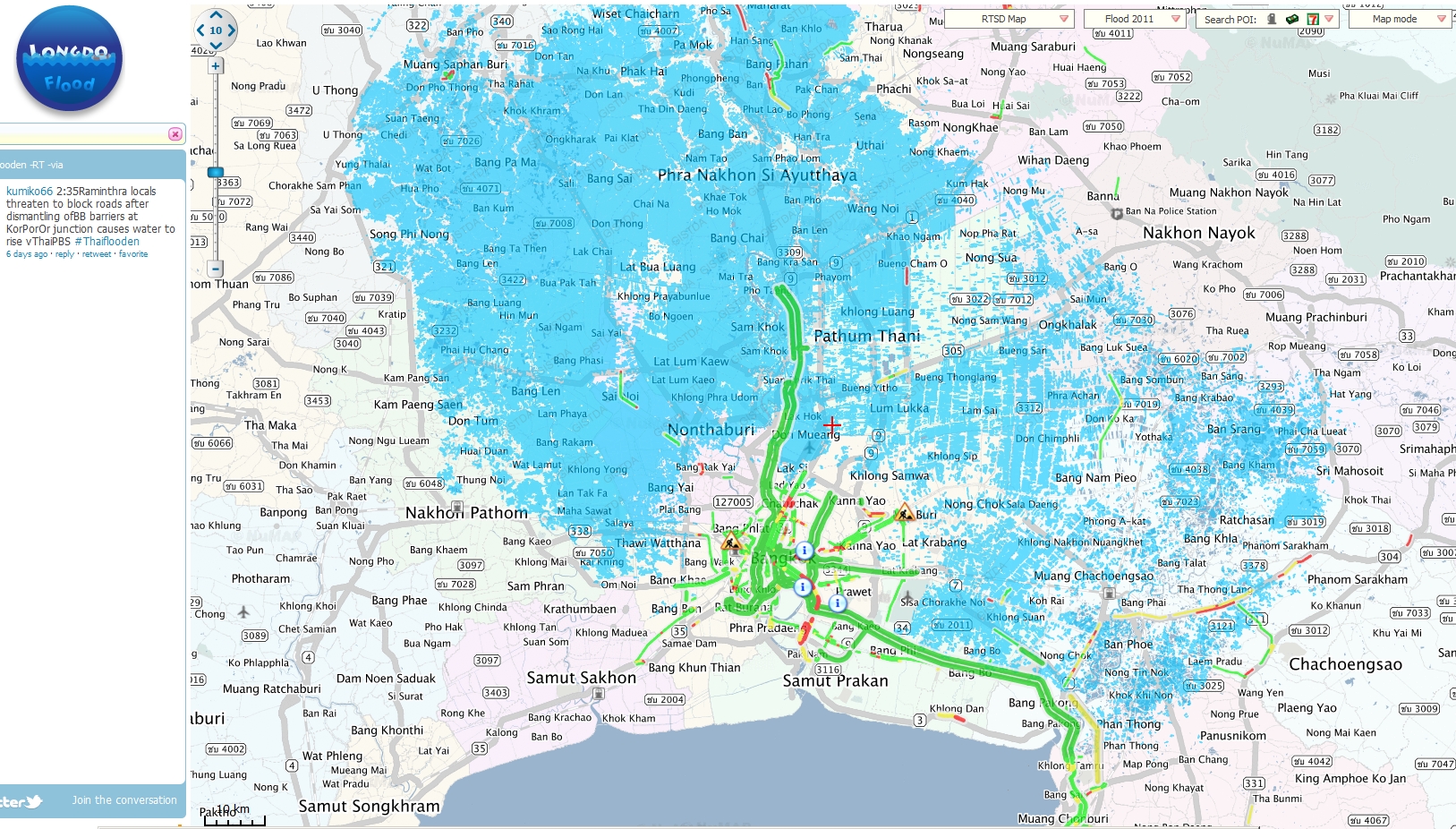 (The above image is a screen shot made on November 30.)

Bangkok has not seen any rain, except for a brief shower here and there, for over three weeks now, but it is often useful to check the latest satellite images for Thailand, such as the one shown below, where you can keep an eye on possible approaching storms.




This image is updated by the Thai Meteorological Department every hour or two and the site may be accessed directly by following
this link
Here are some other links about the flood situation:
(Click the link to open in a new window)
Google Crisis Response page (Thailand Floods 2011)
Useful links and contact numbers from the Public Relations Dept.
Excellent simulation of floodwater advancing on Bangkok by a student at Japan's Hydraulic Research Laboratory
This video is best viewed in full-screen mode.
Thai Travel News
In this blog, Richard Barrow maintains an excellent update in English about the flood situation in and around Bangkok.
Here is a view of the flooding from a helicopter
. This YouTube video was taken on October 25, 2011 from a Thai Army Bell helicopter as it flies from central Bangkok north and west over the Chao Phya River, showing flooded areas of Nonthaburi and Ban Bua Thong and on further out to Ayutthaya. Then the helicopter heads back on the east side of the river, where it's much drier. (The video is just over 14 minutes long and provides a good perspective).
Traffic cameras across greater Bangkok
(188 available when last checked), (not live but with time exposures every five or ten minutes covering the past half hour or so). Keep an eye on traffic and flooding here. In Thai and English
There is also a link at the traffic camera site to this Twitter page (in Thai) of the flood situation
here
. Or you can search Twitter by using the hash tag #ThaiFloodEng to look for the most recent tweets in English.
The ARRL web site has coverage of the response by Thai amateurs to the floods
here.
A superb collection of flood images can be viewed here at The Atlantic
here
. (But their headline may be a little optimistic!)
A good article in
Time World
with the headline "Bangkok's Pain: Floodwater Surges Into the Thai Capital" dated October 29, 2011
Bangkok Metropolitan Authority (BMA) map of
flooded areas in Bangkok
(Place names in English and Thai and detailed information in Thai). Click the link above to open in a new browser window or use the embedded version below.
(More than 30 centimetres of water is denoted by red)
CNN maintains good page on the Thai flood crisis with updated information for tourists
here
If you have any links you would like to recommend, please send an email to Tony.waltham(AT)gmail.com.
This page was created on October 17, 2011 by Tony, HS0ZDX. Last update: November 30, 2011