RAST Archive: New Year Party January 2010
Big turnout at RAST's 2010 New Year party
The annual New Year party on Sunday, January 10 saw a big turnout with more than 70 members and guests attending the gathering at Maj Narissara's (John, HS1CHB's) Vibhavadi Rangsit Soi 60 QTH and over 40 wrapped New Year gifts were exchanged during the evening.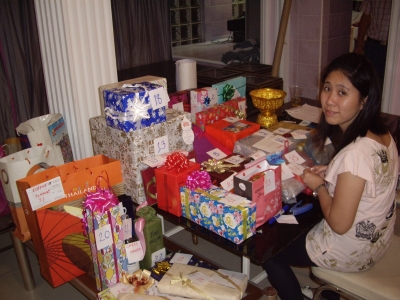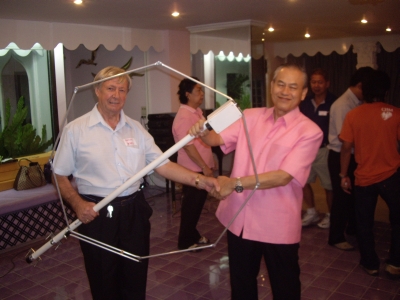 The party kicked off at around 3 p.m. when the first guests arrived and the numbers steadily swelled as the evening approached. There were items on sale and some ham equipment available on a swap basis, while later on there was a raffle for a two metre loop antenna (the winner, Derek, HS0ZJH, is pictured above right with RAST President Chaiyong). The highlight of the day was the donation of a Kenwood TS440S HF transceiver (complete with power supply, microphone, SWR meter and coaxial cable) that Lyle Greeno, W4OMK/HS0ZAM, made to the society.
RAST President Chaiyong Wongwuticomjon, HS1QVD, accepted the transceiver on behalf of all RAST members and HS0AC station manager Finn, OZ1HET, took custody of the equipment that will be installed at the society's club station at the Asian Institute of Technology where there is regular activity in contests, including multi-single and multi-multi operations.
Prior to the donation, Sam, HS0ZDY, had checked out the rig and he verified that it was in good working order.


Lyle, W4OMK/HS0ZAM, hands his TS440 over to RAST club station manager Finn, OZ1HET in a donation to RAST.
Standing at left is RAST President Chaiyong, HS1QVD and at right is Lyle's XYL Orn, KC0BVH.
Kamol, HS1DG, silent key

But it was not all good news that was announced during the party, and those present learned from Gen Prasit, HS1DN, of the passing on January 6 of Kamol Choosri, HS1DG, a long-time member of RAST who had been formerly employed by the Voice of America where he oversaw the 1-megawatt transmitting site north of Bangkok near Ayutthaya. On January 11, RAST was to sponsor the funeral rites at Wat Prasi Mahathat in Laksi and many of those present at the party made donations. Gen Prasit said that RAST had sponsored a wreath on January 6 and the cremation was to take place at the temple on Tuesday, January 12. Everyone stood for one minute in silence after this announcement to mark Kamol's passing.
RAST car rally to be staged in April

Other announcements were brief but included word from our president that the car rally to the Sri Nakharin dam in Kanchanaburi Province was now scheduled to be staged in April, and that RAST had obtained a 30 percent discount on accommodation there from the Electricity Generating Authority of Thailand (EGAT). Chaiyong also looked back at the past year, saying it was one where RAST had worked more closely with the NTC and he said he felt that relations between the national regulator and the society had improved, adding that he hoped that this would continue to be the case through the coming year. On this positive note, Chaiyong also recalled how the NTC had authorised an additional 100 KHz in the 40-metre band last year.
A VHF and an HF station was set up in the party area and there was much interest in operating HF, while the station also checked into SEANET (the Southeast Asia Net on 14.320) shortly after 7 p.m. There was much interest in the HF operations, including the working of some DX stations while propagation was good (SFI=84, A=0, K=0.) These photographs below capture some of the excitement and enthusiasm.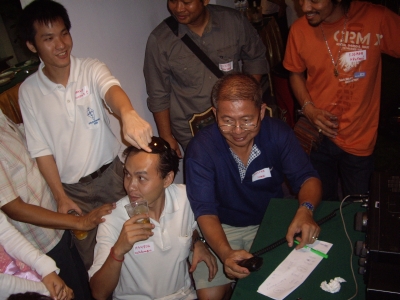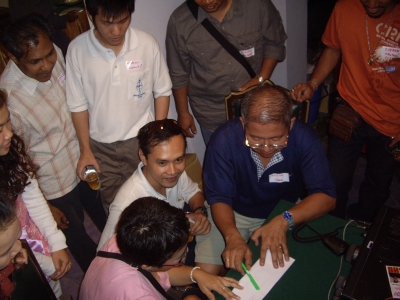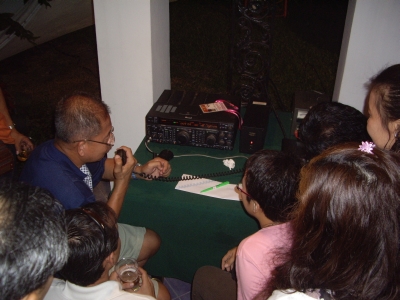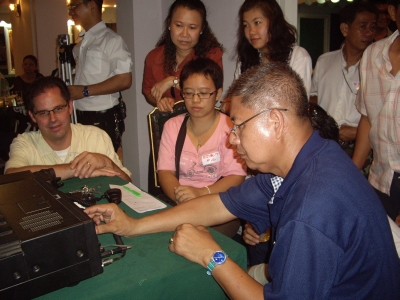 CQ.. CQ.. A demonstration of HF operating on 20 metres proved to be a big attraction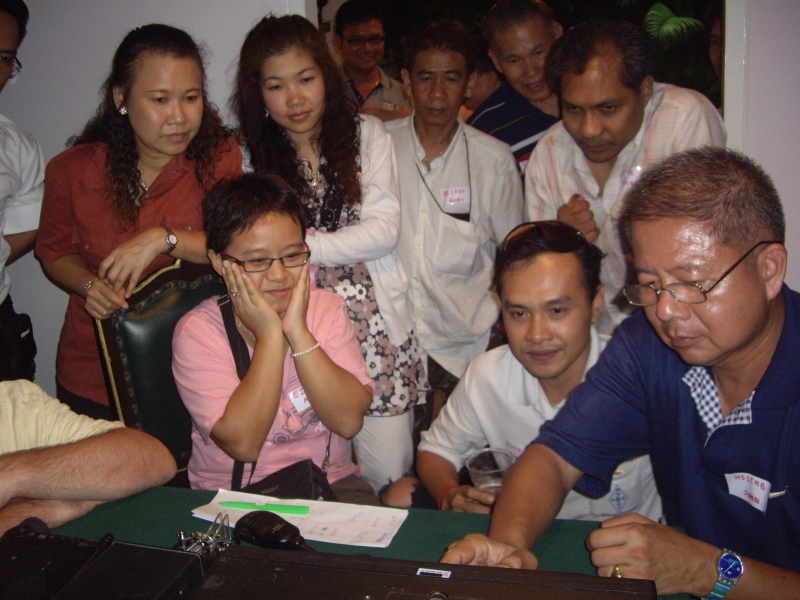 An excellent selection of food and refreshments

A display of delicious food was unveiled before the sun went down, and which lasted the entire evening. Prasit, HS1DN, and Yanee, HS1LCC take stock.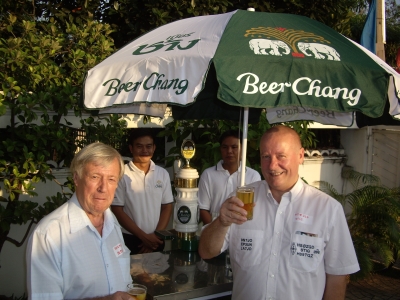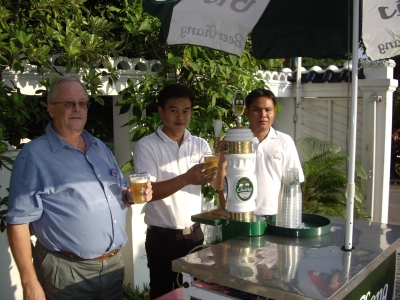 Cheers... Derek, HS0ZJH, (left) with Stig, HS0ZDG/LA7JO, and, in the picture at right, Sam, HS0ZDY/SM3DYU.
An excellent buffet spread was provided by the chefs of the Nonthaburi Palace Hotel with many delicious Thai dishes to go with steamed rice, including Panaeng, Kaeng Karee Gai, deep fried catfish, mixed vegetables, spicy sour salad, Tom Yam and a western-style salad, while there was choice of a selection of fresh fruit or pumpkin stewed in coconut milk for dessert.
To wash things down there was a wide selection of sodas, while for many the highlight was two kegs of draft Chang Beer, thanks to ThaiBev which has generously supported RAST during special events such as its New Year parties and the Lampang SEANET convention in 2007 and Tony, HS0ZDX, reminded everyone during the announcement period of the brewery's support, thanking them for this.
Fun was had by all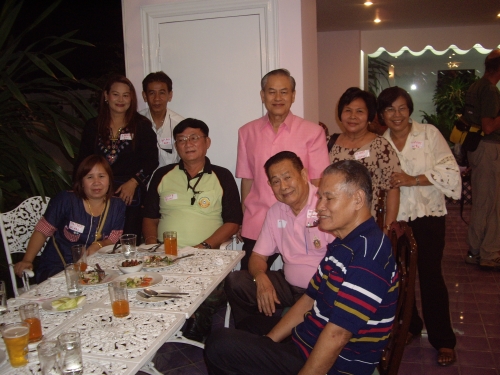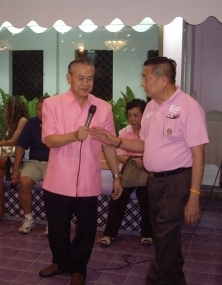 Both OMs ...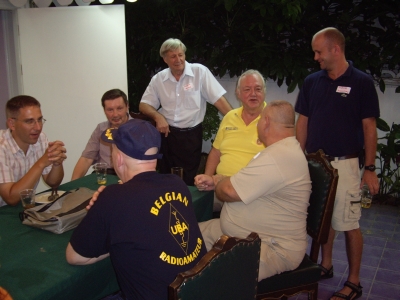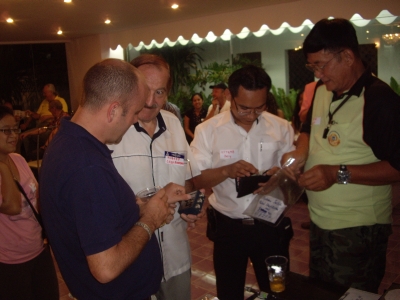 ... and YLs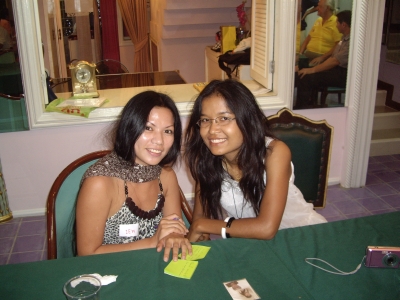 Here's wishing everyone a very Happy New Year 2010. The next meeting will be on Sunday, February 7 at Sena Place Hotel at 11 a.m.
RAST New Year party report and photographs by Tony, HS0ZDX

To view earlier archives about RAST's activities (August 2009 to December 2009) click here