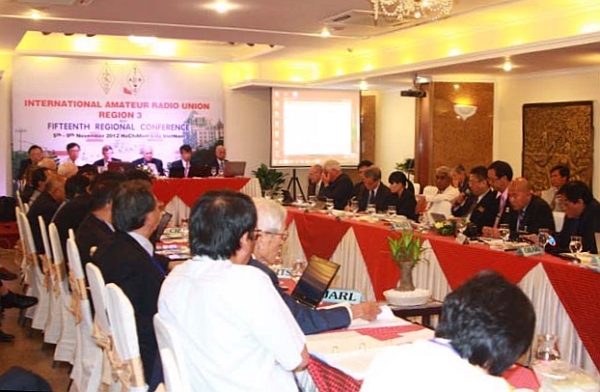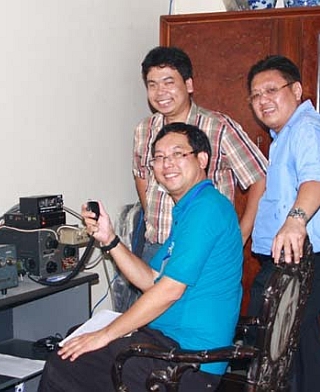 RAST takes part in IARU Region 3 conference in Ho Chi Minh City
Four RAST committee members attended the 15th IARU Region 3 conference held from November 5-9, 2012 in Ho Chi Minh City when the event, held once every three years, was hosted by the Vietnam Amateur Radio Club (VARC).
During the conference, delegates from 16 IARU member societies along with IARU officials agreed to increase the number of directors from five to six and voted to increase annual subscriptions from member societies by 20 percent, appointed regional co-ordinators.
They also made provisions for IARU Region 3 officials to attend meetings of the Asia Pacific Telecommunity (APT) conference preparatory group for WRC-15 and introduced an annual award for the highest individual score in the annual IARU Radiosport contest in memory of the former IARU Chairman Michael Owen, VK3KI-SK.
Attending the conference on behalf of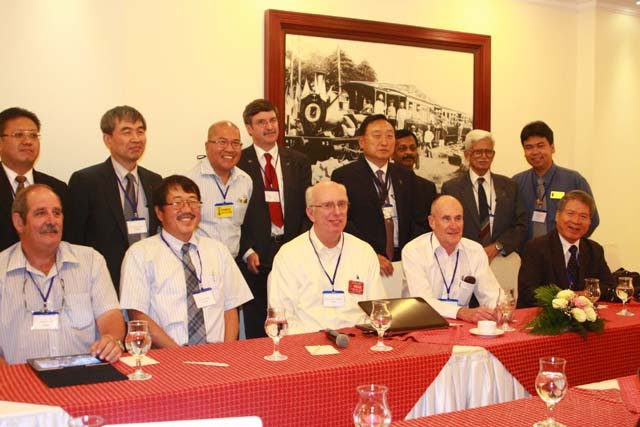 RAST were the society's secretary Dr. Jakkree Hantongkom, HS1FVL/KJ6TJO, QSL Manager Chalermpol (Champ) Muangamphun E21EIC/KY1A and his wife Neeranuch (Goy), E20NKB and RAST Club station manager Dr Noppadol Narupiti, E20MIO.
Other participating societies were the ARRL (USA), ARSI (India), the BDRA of Brunei, China's CRSA, the CTARL representing Taiwan, HARTS (Hong Kong), Japan's JARL, Korea's KARL, MARTS (Malaysia), PARA of the Philippines, SARTS (Singapore), Vietnam's VARC and the WIA of Australia while the Pitcairn Island Amateur Radio Association was represented via proxy by the JARL.
Representing the IARU were President Tim Ellam, VE6SH and IARU Secretary Rod Stafford, W6ROD along with representatives of the two other regions, with Region 1 President Hans Blondeel Timmerman, PB2T and Region 1 Secretary Dennis Green, ZS4BS along with Region 2 President Reinaldo Leandro, YV5AM and Region 2 Secretary Ramon Santoyo, XE1KK.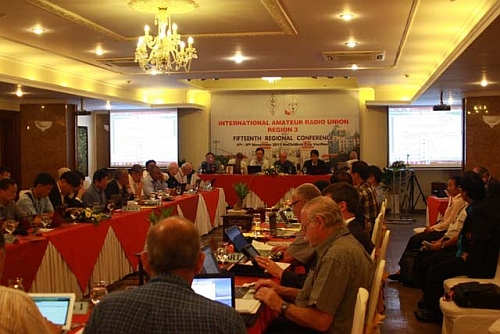 The conference was declared open by VARC Chairman Nguyen Minh Duc, 3W2REH while IARU Region 3 Chairman Peter Lake, ZL2AZ and IARU President Tim Ellam took part in the opening ceremony when a minute's silence was observed in the memory of former chairman Michael Owen who had passed away in September. Chairing the conference was Terry Carrell, ZL3QL.
Two working groups were established, with one to discuss policy matters that included education, training and the development of amateur radio while the other group discussed operational and technical issues, including emergency communications, the IARU R3 Award and band plans. A total of 61 documents were reviewed and discussed, including two submitted by RAST, and recommendations were submitted to the conference.
One issue was the decision to increase membership dues which had been first discussed three years ago at the previous conference in Christchurch, New Zealand since revenues now barely covered expenses and a 20 percent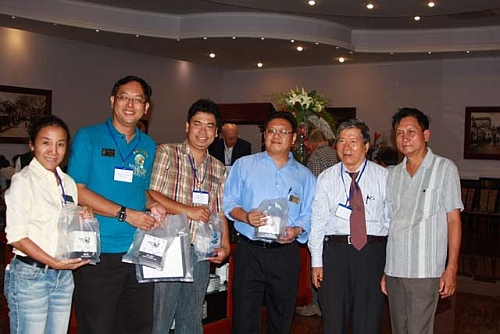 increase in fees were agreed on and voted for.
Two member societies had proposed that the number of directors be increased from five to six and this was agreed upon with the following nominations being received and declared elected unopposed: Peter Lake, ZL2AZ, Joong Guen Rhee, HL1AQQ, Shizuo Endo, JE1MUI, Geoff Atkinson, VK3TL, Wisnu Widjaja YB0AZ and Gopal Madhavan, VU2GMN.
The newly-elected directors then elected Gopal Madhavan as chairman while Katsumi (Ken) Yamamoto, JA1CJP was returned unopposed as secretary and the auditor was reappointed.
The Organisasi Amatir Radio Indonesia (ORARI) announced that it was preparing to launch an amateur radio satellite from India while most regional co-ordinators we reappointed and Onno W. Purbo, YC0MLC was appointed to be the EMC co-ordinator. Meanwhile, while another position, that of EMR co-ordinator still remains vacant following the death of Keith Malcolm, VK1KM.
The conference accepted a proposal from the WIA to make an annual award to the operator in the IARU HF Championship contest with the highest score in memory of Michael Owen, VK3KI-SK.
Following the conference sessions a special event amateur radio station with the callsign XV2IARU was established permitting delegates to get on the air.
The next IARU Region 3 conference will take place in Indonesia at Jogjakarta in Central Java in 2015.
(Report by Tony Waltham, HS0ZDX with input from Champ, E21EIC and additional information on the ARRL website. Photos by E21EIC.)