A charitable entity (No. 555) pursuant to a Ministry of Finance announcement
RAST would like to thank everyone for support already received and encourages donors to notify RAST International Liaison Officer Tony Waltham, HS0ZDX, by email at tony.waltham(AT)gmail.com with details of donations made to help us in recognising where our support comes from. Thank you!

Here is a summary of donations received by the Radio Amateur Society of Thailand (RAST) since mid-October, 2011.
Initially, the donations were to help us assist in flood relief activities by distributing supplies to people marooned by Thailand's worst flooding in almost 70 years, but following the disaster when our contest and club station on the campus of the Asian Institute of Technology (AIT) was inundated for five weeks by two metres of water, the appeal became much closer to home.
This summary is to recognise those who have supported the society, for which we would like to sincerely thank our donors for their contributions.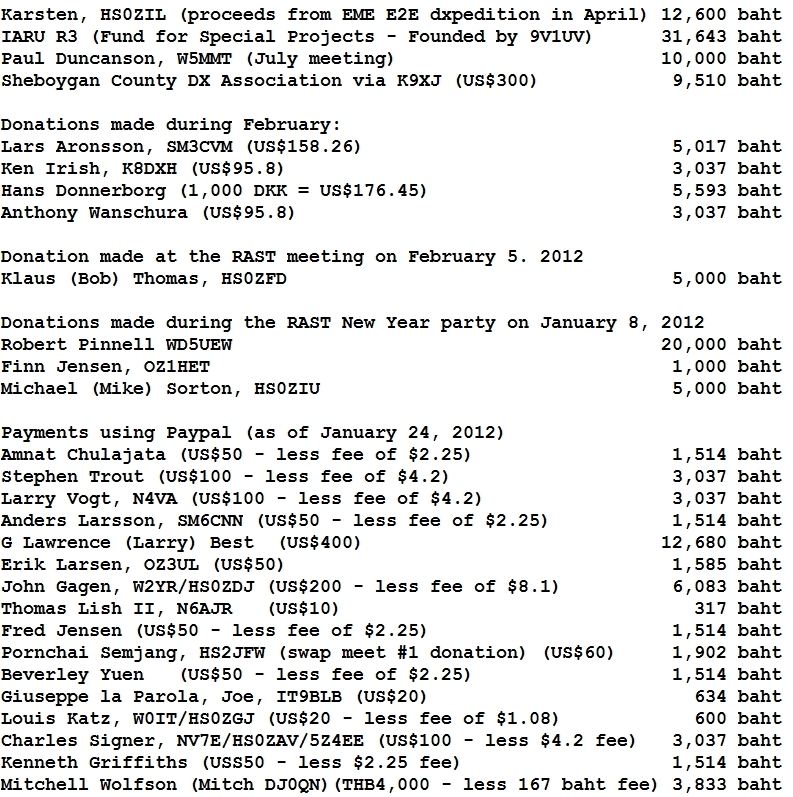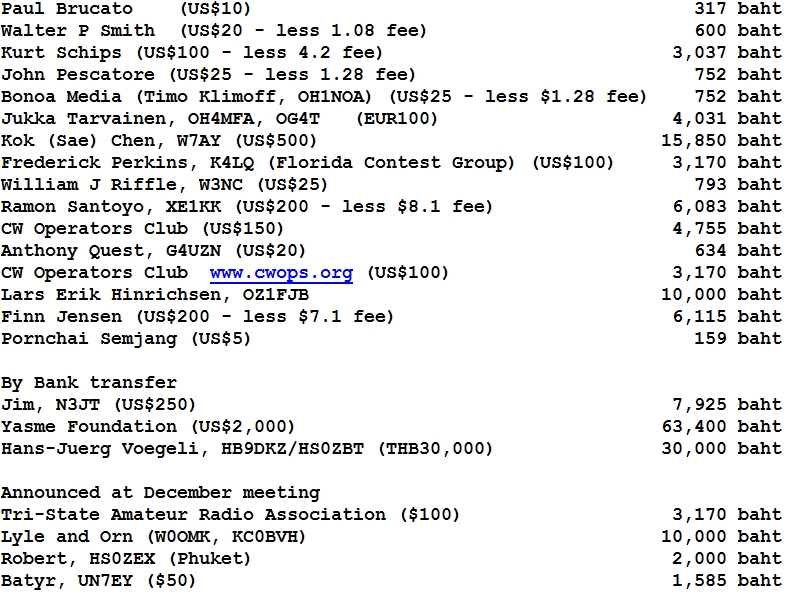 These figures are as of August 6, 2012 (although the PayPal details are not current and date back to January 2012 and the figures above also may not include some bank transfers made since January 6, 2012). Since donations are still being received, we will update the web site with details as and when this information becomes available.
In November RAST assisted flood victims by supplying and distributing survival kits and the expenses involved in this activity was 37,000 baht while other flood rescue expenses amounted to 15,000 baht (to reimburse RAST officers Narissara, HS1CHB and Wacharapol, HS4DDQ for their expenses).
At the December 2011 meeting it was decided by the RAST committee that all remaining donations and future donations would be devoted to the recovery and the re-equipping of RAST's HQ station that uses the callsign HS0AC on the Asian Institute of Technology campus.
* conversion at rate of 31.7 baht to US dollar on January 7, 2012 (rate at www.xe.com).
note that this rate will vary on a daily basis and that amounts donated have been rounded to the nearest baht.
* all requests made by any donor as to how their contributions should be spent will be closely adhered to.

Donations of equipment

Yaesu Musen -- 2 Yaesu FT2000D transceivers
(Presentation made by Yaesu Musen's Executive Vice President for North America
Dennis Motschenbacher, K7BV at September, 2012 RAST meeting)

Offers of equipment

Dan, K6IF -- TenTech 565 Orion, no 6 metres
Dick, K7VC -- Kenwood TS940S/AT
Doug, N6TQS -- Elecraft K2
Mike Hooper, ex-VK7CCX -- Yaesu FT1000

RAST would like to thank all donors sincerely for their generosity and support. If anyone would like to help us with further donations of either funds or equipment, our society would be most grateful for any additional support and the funds received so far are insufficient to restore the station to its former glory.
We still have a big, uphill task to get everything back in order -- but we are determined to do so as soon as possible. We thank everyone for their help.