A group photo taken after the presentation at the HS5AL club station at Doi Khamor. Photo by HS0ZIE.
RAST donates HF equipment to Lamphun Club Station HS5AL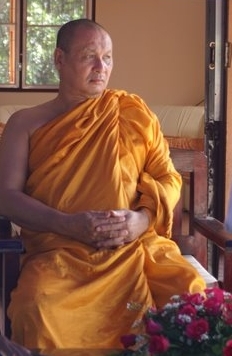 Lamphun
The Lamphun Amateur Radio Club Station (HS5AL) which is located next to the Buddhist temple at Doi Khamor Bor Nam Tip some 650 kilometres north of Bangkok in this northern province now has the capability to contact radio hams around the world on shortwave frequencies.
This follows the presentation of a licensed amateur radio HF transceiver and amplifier by the Radio Amateur Society of Thailand (RAST) under the Royal patronage of His Majesty the King to HS5AL on Sunday November 7, 2010.
The equipment had been donated to RAST by the wife of long-time Chiang Mai resident, Edward Rose, HS0ZAN in accordance with her late husband's wishes. Edward Rose had passed away on August 10 and his wife Malee (
they are pictured together some 20 years ago at right
), who joined in the presentation ceremony, said she strongly supported RAST's decision to present the equipment to the club station at Doi Khamor.
She joined Tony Waltham, HS0ZDX, an officer of RAST, in handing over a Yaesu FT101E transceiver and a Yaesu FL2100 amplifier along with a microphone and a dummy load to HS5AL representatives on behalf of Thailand's national amateur radio society.
The HS5AL management has designated one room in the clubhouse for HF operating where the equipment was installed after the handover ceremony; the station also has a separate operating room for VHF communications as well as boasting a mountaintop VHF repeater station and other facilities.
Also present at the handover of the equipment on November 7 was RAST life member Svante (Sam) Nordenstroem, HS0ZDY, who had travelled up from Bangkok with Tony and had restored the equipment to working order, along with Kurt Klement, HS0ZIE, and Barry Kirkwood, ZL1DD, who are also both RAST life members living in Chang Mai.
Presiding over the proceedings was the abbot of the temple at Doi Khamor Bor Nam Tip,
Jao Awart
Sanguan (
pictured above left
), who is also a licensed radio amateur, along with Khun Thiradej, HS1LCI, serving as emcee and Khun Wittaya HS5EXL accepted the equipment on behalf of the HS5AL club station.
Many members of the club were also present for the early afternoon presentation, which was followed by a buffet lunch and other activities, including antenna work and other maintenance as well as operating from the station.
How the donation came about
Shortly after learning of the late Edward Rose's desire to make the donation to RAST, the national society had been notified that Lamphun amateur radio club members were looking for ways to gain HF capabilities for their new HS5AL station.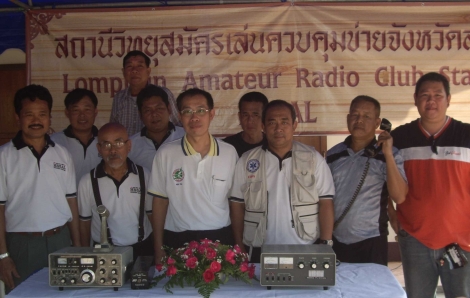 Considering the opportunity to help and in the light of this donation and HS5AL's ambitions, the RAST committee headed by RAST President Chaiyong Wongwuticomjon, HS1QVD had agreed in its October meeting that it would be most appropriate to donate this equipment to the Lamphun club.
Tony and Sam had driven up from Bangkok two days earlier for the occasion, which had been set in motion by Kurt, HS0ZIE, who is a Chiang Mai resident and also a member of the HS5AL club. Kurt had been the one to inform Sam, HS0ZDY of the desire of the Lamphun club station to have HF capabilities and this had set the ball rolling.
Both Tony and Sam had been close friends of the late Edward Rose, a former secretary of RAST when he lived in Bangkok in the late 1970s and early 1980s. They had both felt that his wishes would be best served if his equipment were to be operated from an amateur radio station in the north of Thailand and with RAST's sanction.
Edward had moved to Chiang Mai in the early 1980s when he had taken up a teaching post at Chiang Mai University as well as starting up a highly-successful cattery that had had, at its peak, over 100 cats in residence, being mostly Korat, Siamese and Burmese pure-breeds. (See below for more details in an obituary).
Pictured, above left: A group of HS5AL members after the handover ceremony on November7: from left, in the front row, Khun Thiradej, HS1LCI, Khun Manoo, Khun Wittaya, HS5EXL, and E28PX with others (HS0ZDX photo).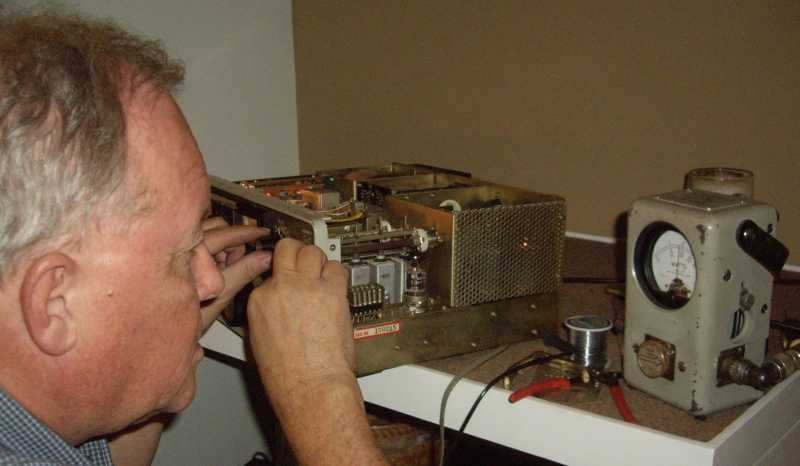 Getting the equipment into shape
Prior to the November 7 ceremony, Sam (
seen here at left working on the FT101E in his hotel room
), who is an electrical-engineer by profession, had closely inspected and worked on the transceiver and amplifier, both of which are more than 30 years old.
He found them to be well-preserved and spent over 10 hours cleaning and refurbishing them, replacing defective or potentially unreliable components -- mostly capacitors -- and ensuring that both the transceiver and amplifier were working well by the time it came to the presentation.
In addition, dozens of amateur radio reference books that had belonged to the late Edward Rose were also generously donated by Mrs Malee Rose to the Lamphun Amateur Radio club for the benefit of its members and the club intends to display these in a bookcase at the station.
A perfect DX location for HF operations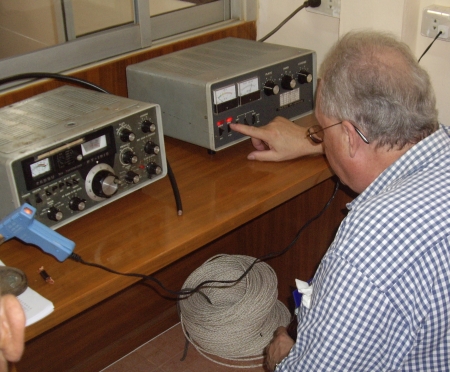 The HS5AL club station has a new clubhouse and 60-metre tower built and erected by its members and its driving spirit is Abbot Sanguan of Doi Khamor Bor Nam Tip temple, which is located just 30 kilometres from Thailand's highest mountain, Doi Intanon.
The station itself is in a quiet location on a mountain slope some 350 metres above sea level looking down on ricefields and woods and where there is no QRM, according to Kurt.
The station also has a repeater powered by solar cells on a nearby mountaintop that is more than 700 metres above sea level and can be accessed by climbing over 1,700 steps.
The temple, now has the status of a
samnuksong
although it is anticipated that it should be upgraded to a
wat
within two or three years, and it has several Buddhist statues and stupas while a new main temple building or
viharn
is under construction.
The clubhouse at HS5AL, located next to the temple grounds, was completed in July this year and, according to Kurt, HF operations will begin using dipole antennas, but directional arrays are envisaged later on.
Kurt, will also be the QSL manager for HF operations and cards would be printed up as soon as funds became available, he said.
That's Sam at right at HS5AL with the FL2100 linear powered up.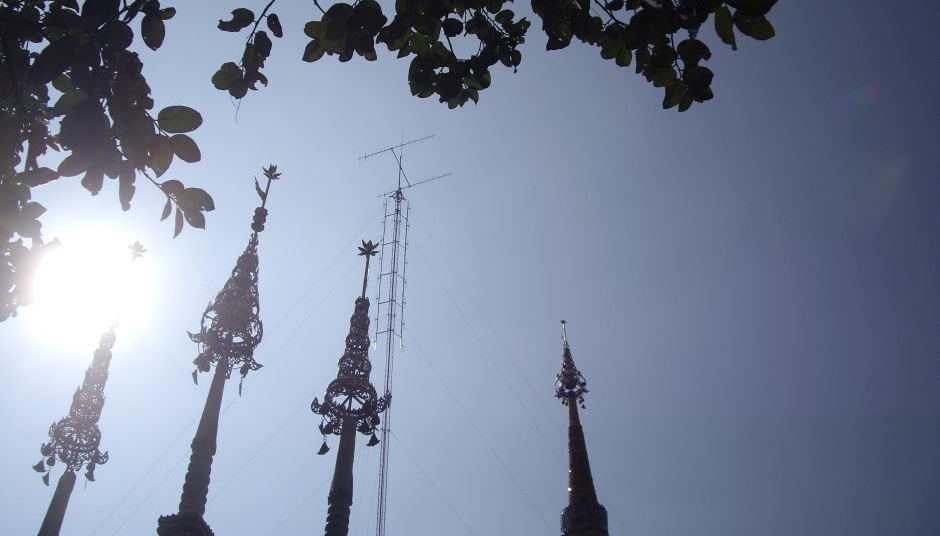 The afternoon sun, the tops of stupas and HS5AL's 60-metre tower seen shortly before the handover ceremony. Photo by HS0ZDX
***
Additional resources
Kurt, HS0ZIE, may be contacted at sm7wgp(at)hotmail.com
Links
HS5AL website
Photos of construction of HS5AL clubhouse and merit-making
Photos of erection of 60 metre tower next to HS5AL clubhouse
Obituary
Edward Rose: An ajarn with a passion for cats and ham radio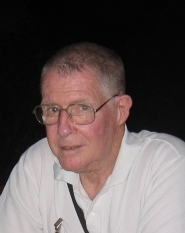 Life member and a former secretary of the Radio Amateur Society of Thailand (RAST), Edward Rose, passed away early in the morning of August 11, 2010 while suffering from pneumonia in a Chiang Mai hospital.
Beside him at the time of his death was his wife of over 30 years, Malee.
Ed, who had held the callsign HS0ZAN (he formerly had the call HS1ALF) had been 78 at the time of his death.
Before moving to Chiang Mai over 25 years ago, where Ed would establish a world-renowned cattery with, at one time, over 100 cats, he had served on the committee of RAST and had held the office of Secretary of the society for the years 1977 and 1978.
Born in Philadelphia, Pennsylvania in the United States on November 10, 1931, Ed also held the amateur radio callsign W3IMH, and he had first visited Thailand while he had been based in Vietnam during the US involvement in the war there over 40 years ago.
It was his study of Mandarin for a year as an introduction to Asian languages that had brought him to Southeast Asia and he arrived in Saigon in 1967. After three years there as a civilian applied mathematics teacher he took up a position of a US government monitor in the USAID land reform programme, where he stayed until the enforced evacuation of Saigon in the face of advancing North Vietnamese troops in 1975.
"I was (in) the fourth last helicopter to leave the embassy roof," he reminisced in an article published in the Chiang Mai Mail in 2003. Ed then travelled to Bangkok and after studying Thai for 12 months and assisting the US Embassy processing Vietnamese refugees, he started teaching English at the Thai Military Academy and then, later, at the Chulalongkorn Univerisity Language Institute for three years.
It was during this period that Ed was active in RAST, which was then under the leadership of the late General Kamchai Chotikul, HS1WR-SK, and this was also when Ed met his wife-to-be Malee, a Thai-language teacher at the AUA in Bangkok. She taught at the AUA, both in Bangkok and then later in Chiang Mai after Ed and Malee moved north in 1983.
In Chiang Mai, Ed began teaching at Chiang Mai University (CMU), where he would continue to teach until his retirement age, 17 years later, in 2001. He then continued his instruction at the Chiang Mai University's Faculty of Medicine at Suandork Hospital.
Shortly after arriving in Chiang Mai, a stray cat had made her home at Ed and Malee's house, and soon gave birth to a litter of kittens. One thing led to another, including the death of a friend of Malee's who had owned a cattery, and Ed and Malee's Chiang Mai Cattery grew and flourished, when at one point, 108 cats -- including many Siamese, Burmese and Korat pure-breeds -- were living there.
Indeed, the cattery would become well-known throughout the world and Ed and Malee's cats even featured on a set of Thai postage stamps while many of them would win awards around the country.
Sadly, in his later years Ed suffered from bouts of cancer, including cancer of the jaw, and he underwent operations to keep this malignancy at bay.
According to Ed's brother Bill, on the night of his passing his wife Malee had been "in his hospital room when he passed away, and she said that she noticed he was having difficulty breathing and then stopped altogether.
"The doctors were unable to revive him; she told me afterwards that pneumonia was the cause of death, and I gather that this occurs frequently with older patients -- they pass away quietly in their sleep," he wrote in an email message.
On August 12, funeral rites for Edward Rose were performed at the Buddhist temple in the village on the outskirts of Chiang Mai where he had made his home for the best part of the past three decades.
After the donation of his amateur radio equipment and books to HS5AL on November 7, Ed's wife Malee observed that her late husband was probably watching the handover from above -- and with a broad smile.
May Edward Rose, HS0ZAN-SK/W3IMH-SK, rest-in-peace.

(This obituary was written by Tony Waltham, HS0ZDX/G4UAV, from personal memory and incorporates additional information contained in an article in the Chiang Mai Mail (link here) and from email messages.)