ENGLISH begins after portuguese...please look down
MARITAQUINHA TRX 40m 10W DSB
Esta é a nova versão do Maritaca, com o mesmo desempenho mas com mais simplicidade.
Blocos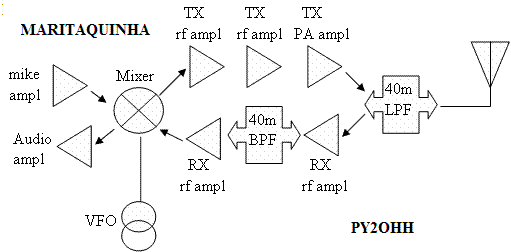 O circuito é muito simples, derivado do BITX e do ARARINHA.
Esquema
O circuito tem como ponto central o misturador a diodos (BITX modificado), este mixer é usado em RX e em TX sem comutação direta somente pela alimentação.
O VFO é na frequencia de transmissão e foi empregado um com ressonador ceramico de 7,15MHZ, mas poderia ser usado VFO LC, VXO, ou ainda o VXO a ressonador de 3,58MHz 80/40m.
Os transistores empregados podem ser os BC547 ou BC548 tipo B ou C.
O IRF530 pode ser substituido pela linha IRF5xx ou IRF6xx.
Todos os nucleos de ferrite não são criticos podendo utilizar qualquer conta de ferrite. O nucleo do choque de RF do PA pode ser retirado de fontes chaveadas ou de lampadas economicas ou reatores eletronicos de lampadas flurescentes. O nucleo do transformador de impedancias do PA é um focinho de porco de TV ou retirado de reatores eletronicos para lampadas fluorescentes.
O rele pode ser substituido por um comutador eletronico como do Maritaca.
Um dos trimmers do mixer pode ser substituido por um capacitor de 22pF.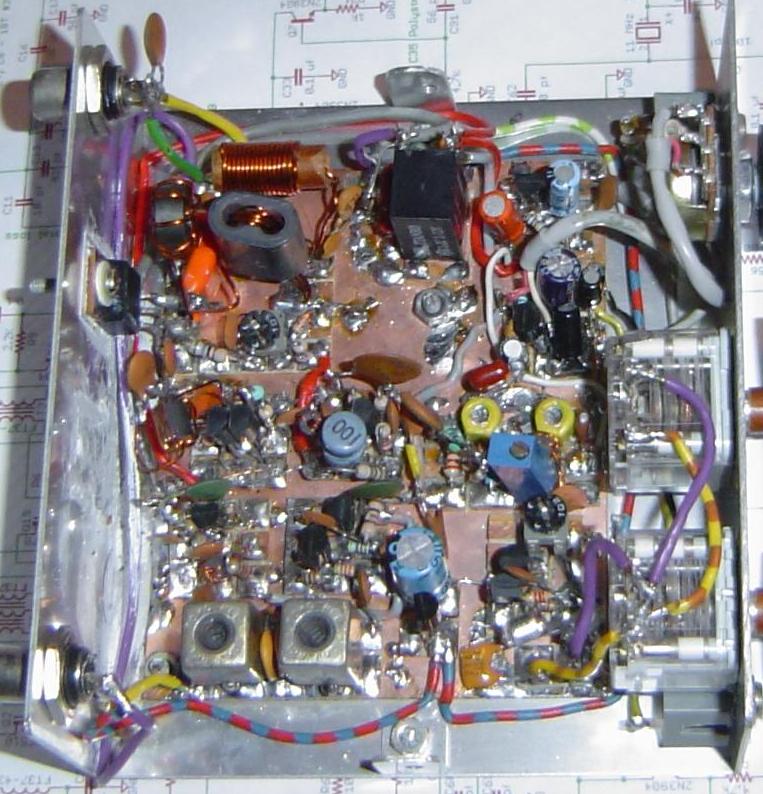 Ajustes
RX
Ligar uma antena de 40m.
Ajuste o trimpot para o amximo de sinal vindo do VFO.
Sintonisar uma estação fraca.
Ajustar o BPF para o maior sinal.
Tx
Desligando a alimentação do PA e ajustando a zero a polarização do PA.
Desligar a conexão do driver ao PA (4n7 no esquema), ligar uma carga não indutiva de 50R. E monitorar a tensão de RF sobre a carga com uma ponta de RF e um voltimetro.
Apertar o PTT sem modular
Ajustar no misturador o trimpot até obter o ponto de menor leitura do voltimetro (utilizar uma escala adequada e ir baixando até a menor escala de tensão).
Retocar com os trmmers.
Caso não se consiga zerar, ajuste o o trimpot vindo do VFO até obter uma leitura de zero volts na menor escala.
VXO a ressoandor não precisamos ajustar.
RESULTADOS
Conversamos com colegas até 1000km durante o dia om uma antena v invertido de 40m, as reportagens foram regulares quanto a sinal e excelentes quanto a modulação.
Comparando com o ARARINHA nas mesmas condições tivemos uma diferença muito grande (10dBs), mostrando que a banda passante do ARARINHA faz toda a diferença concentrando a potencia do sianl.
73 from py2ohh miguel
Maritaquinha or Little Maritaca
MARITAQUINHA TRX 40m 10W DSB
This is the new version of Maritaca, more simple and with the same power and sensibility.
Blocks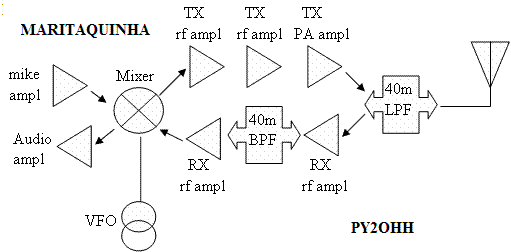 The circuit is simple and derivated from bitx and ararinha designs.
Schematic
The circuit has as high point the diode mixer (BITX modified), which is O circuito tem como ponto central o misturador a diodos , este mixer é usado em RX e em TX sem comutação direta somente pela alimentação.
In the VFO are used a 7.15MHz ceramic resonator, but the use of others VFOs like LC, xtal (7.15MHz) VXO or 3.58 MHz (80/40m) resonator are OK.
The transistors may be replaced by BC547 or BC548 (types B or C).
The IRF530 may be replaced by IRF5xx or IRF6xx.
All amplifiers cores dont are critics you could use a high permeability one or a ferrit pearl. I use some from scrap of economic bulb in the same kind of amplifiers. The core of PA RF chock orPA impedance transformer are also from economic bulb or from a electronic fluorescent reactor or keyed power suply.
The relays may be replaced to a electronic switch like in Maritaca project.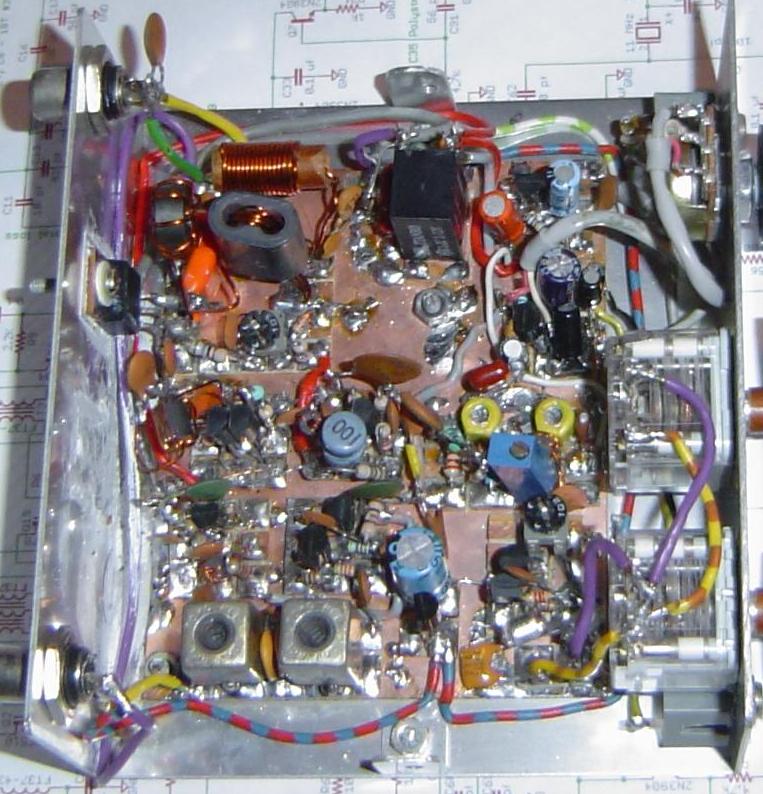 Adjustments
RX
Connect a 40m antenna.
Adjust the VFO trimpot to maximum..
Tunn a weak station.
Adjust the band pass filter to max. signal.
Tx
Disconnect the PA Power supply and adjust the bias to ZERO.
Cisconnect the cap between driver and PA (4n7 in the schematic), connect a 50R resistive load (not inductive) and read the RF voltage over the load using a RF probe and a voltmeter.
Push the PTT - dont speak.
Adjust the mixer trimpot to give the minor reading point (change the voltmeter scale until the minor measurement).
Retouch the trmmers caps.
Case you dont reach the zero, adjust the trimpot from VXO until reach Zero at minor scale.
RESULTS
We made some QSOs up to 1000km at day using a inverted vee antenna in 40m, the reports are regular regarding signal but excellents regarding audio quality.
We find a big diference (10db) in signal when we compare the MARITAQUINHA and the ARARINHA ssb TRX (in same conditions of power etc.) showing that the band pass of SSB concentrates the power and the DSB no.
73 from py2ohh miguel