FOLHA-SECA -----------------------------ENGLISH scroll down
Baseado no projeto consagrado do AA1TJ Rainey "Snow Fake" .
Este pequeno tx voa longe ............
Resolvemos montar uma versão para 40m do "Snow Flake". Utilizamos um 74LS00 e ainda um 74S00 com igual resultado e um cristal de 40m, 7020Khz na subfaixa de CW. Uma adaptação no LPF e alteramo a manipulação para o negativo.
Conseguimos um QSO com o Paulo PY3PR de Xangri-la, RS (749km) recebemos 579 nada mau com 40mW e 11633 milhas por Watt ou 18725 km/W. No mesmo dia a tarde fomos escutados em Macaé, RJ.
Esquema
Foto do prototipo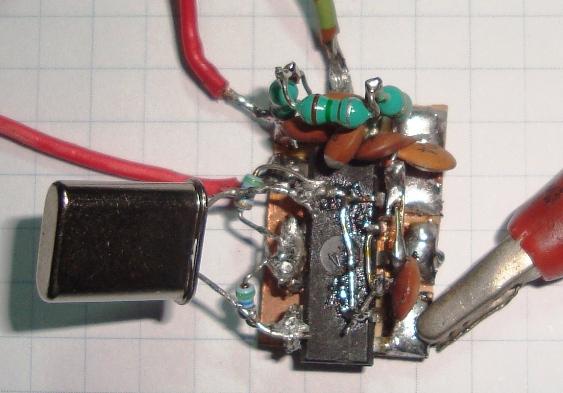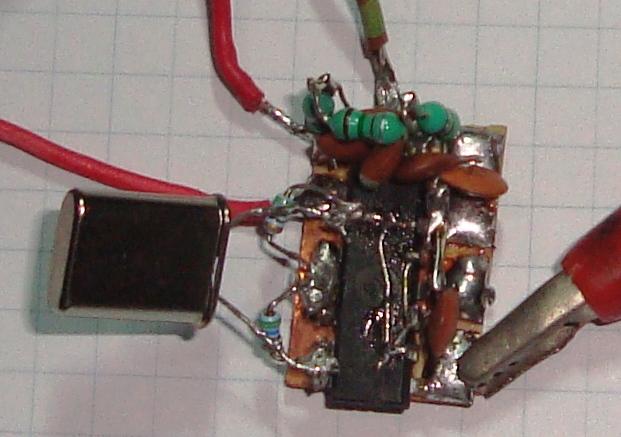 Com 5V tivemos 30mA e 23mW na saida.
Com 6V tivemos 40mA e 40mW na saida.
73 de py2ohh miguel
+++++++++++++++++++++++++++++++++++++++++++++++++++++
FOLHA-SECA "dried leaf"
Basead in the project from AA1TJ Rainey "Snow Fake" .
This litle TX flies far ............
We buit a version for 40m of "Snow Flake". We use a 74LS00 or 74S00 with same results. We use a 40m cristal, 7020Khz CW. We made a adaptation in the LPF and change the CW keing to ground.
WE made a QSO with Paulo PY3PR de Xangri-la, RS (749km) received 579 not so bad for 40mW output and 11633 miles per Watt or 18725 km/W. In same day in Macaé, Rio de Janeiro State a ham listened me.
Schematics
Foto do prototipo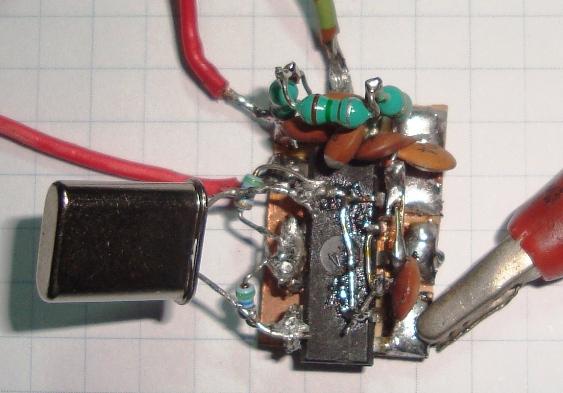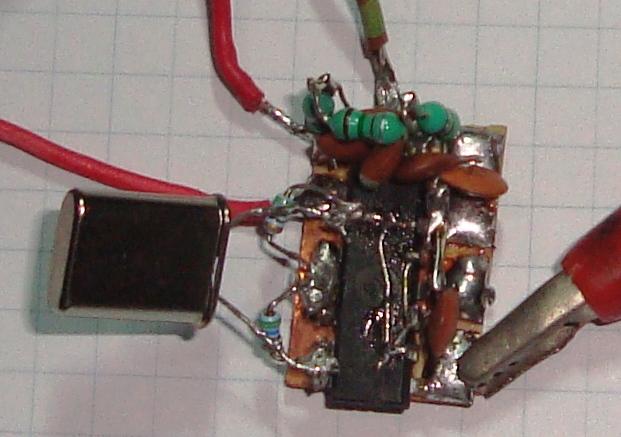 With 5V @ 30mA => 23mW output.
With 6V @ 40mA => 40mW output.
73 from py2ohh miguel