ENGLISH TEXT: PLEASE LOOK AT BOTTON
FILTRO ATIVO PARA CW
Foto do filtro montado
Montamos o filtro que esta na pagina do Gomes PY2MG (para acessar a pagina do Gomes entre no Google e digite py2mg).
O resultado foi muito interessante e resolvemos montar em definitivo pois será de grande utilidade.
Como utilizamos material de sucata na montagem e não dispunhamos da chave de 5 polos 2 posições mencionadas pelo Gomes, resolvemos montar um chaveamento eletronico simples a diodos (apesar que temos um CI cmos 4052 que tambem faria o trabalho).
Esquema
Montagem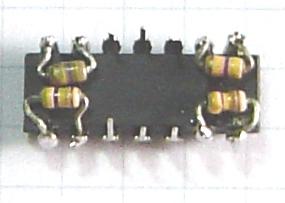 Soldar resistores de 470k
Jampear pinos 3,5,10 e 12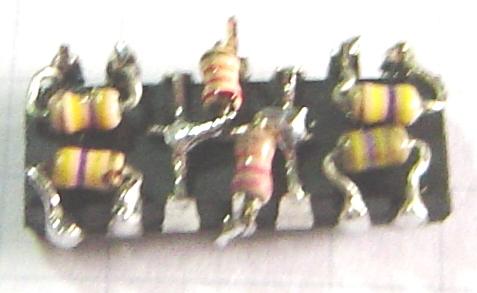 Soldar 22k entre jumper e pino 4 e entre jumper e pino 11
Soldar capacitores 2n2 e resistor de22k em cada celula
Soldar eletrolitico de 47µF entre jumper e terra - pino 4 e os resistores entre celulas de 220k.
======================================================
Nota
Nas fotos aparecem capacitores de disco, eles funcionam mas com capacitores de poliester ou poliestireno funcionam melhor.
Fizemos duas montagens uma com capacitores de disco (foto) e outra de poliester (caixa)
======================================================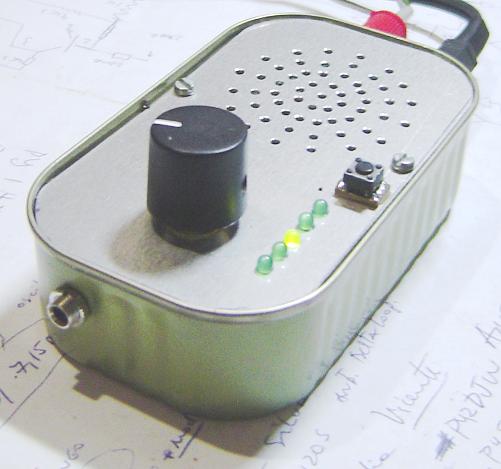 Utilizamos uma lata de sardinhas e como havia espaço sobrando incorporamos um auto falante de computador que tinhamos alguns na sucata, e tambem colocamos uma saida para um autofalante ou fone externo.
73 e bons qsos
py2ohh miguel
ACTIVE CW BAND PASS FILTER
I builded it in a sardine can
We build the filter as it is in the PY2MG web page (to acess it use a search engine looking for py2mg).
The final result was very interesting and we build it in a box because it will be a great use in cw QSOs.
As we build using scrap material and we dont have a switch with 5 poles 2 positions, like Gomes used, than we design a simple electronic switch using a CD4017 counter IC and diodes.
Schematics
Building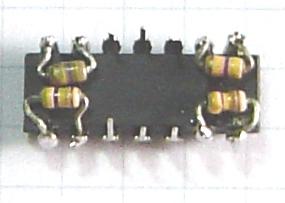 Solder 470k resister.
Jump pino 3,5,10 e 12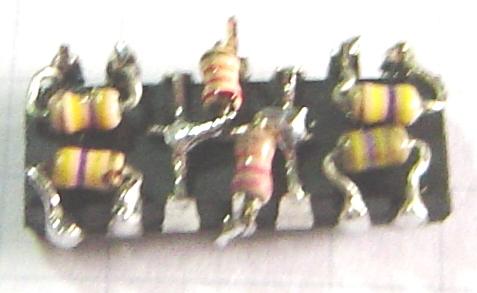 Solder 22k resister btwen the jumper and pin4 and juper and pin 11.
Solder 2n2 and 22k resister in all Oamp.
Solder the 47µF electrolytic cap between the jumper and ground - pin 4 and the 220k resister wich couples the oamps.
======================================================
Note
In the pictures sohows disc caps, they work but polyester or poliestyrene work better.
We made two filters one uses disc cap and other polistyester type (boxed).
======================================================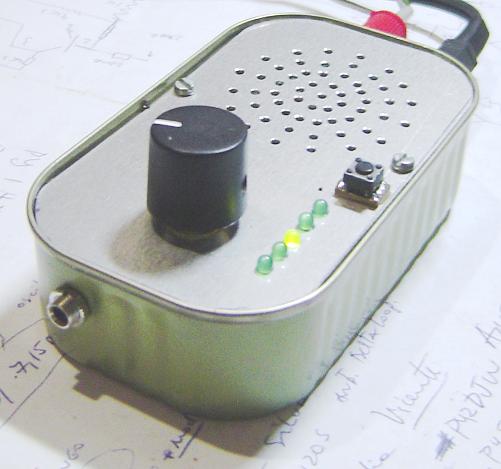 We use a sardine can to built in the filter and there was some space remaining, so we put a PC speaker inside with a output for external phones or speaker
73 es gud cw qsos and dx !
py2ohh miguel