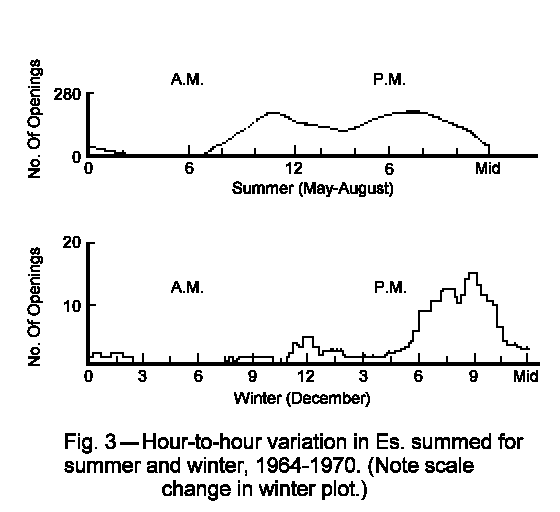 During December, while the peaks occur at about the same local time as they do during the summer months, the latter period is well beyond sundown and into the hours of darkness. This December peak may be due, at least in part, to increased meteor activity associated with the Ursids shower which occurs during the middle of this month.



Solar Cycle Variation
Figure 4 presents the year-to-year variation in Es for the 1964-1970 period. Es was very high during 1965, at a time when solar activity was very low. Es was very low during 1969, when solar activity was at its peak. This might imply some sort of inverse relationship between Es and solar activity, but this is upset by the high level of Es which was observed during 1968, when solar activity was near maximum. According to this study, there is no clear cut relationship between Es and the solar cycle.
DX Heard and Worked
During the seven year study WA5IYX heard or worked 48 of the 50 states via 50 mHz Es propagation. Only Delaware and Alaska were missed. Hawaii was worked just once on what seemed to a 3 hop Es opening, although it could have been an F2 layer-Es combination. The following foreign prefixes were also heard or worked during the study period:

CO2, CO5, FG7, HI8, KP4, KV4, TG9, VE1, VE2, VE3, VE4, VE5, VE6, VP7,
XE1, XE2 and ZF1.
In covering so large a span of time it is difficult to pick out only a few highlights. During June of 1965 there was a four day period of Es during which openings occurred on three days which lasted more than 800 minutes each - a level nowhere else found in this study. One afternoon the rare spectacle of simultaneous reception of the states of Washington and Massachusetts was made - from Texas this was double hop to each coast!
June 1968 saw the shortest Es opening, 280 miles, between Big Springs and Austin, Texas. The longest single Es opening of the study came on May 30, 1970 with onset recorded at 7 A.M. and final fade out of signals at 1:45 A.M. on May 31, or nearly 19 continuous hours. On November 8, 1970 the longest multihop Es opening was observed (though some claim it was a combination of F2 and Es), with KH6 signals at close to 4,000 miles roaring in.



Conclusions
This seven year study of Es propagation brings up to date similar studies made previously in the 50 mHz amateur band by Ferrell, the Monroes, and others. It further confirms the diurnal and seasonal behavior of Es, but still leaves unanswered the relationship between this mode of propagation and the solar cycle, if any.
These is still need for further, perhaps more specialized long-range Es propagation studies. Perhaps similar studies in the future will establish some sort of relationship with solar activity, or point more positively in the direction of those phenomena which might be responsible for producing this sporadic ionization.
There is now general acceptance in the scientific community of the wind-shear theory of Es formation.4 However, as yet there remain several points which have to be resolved. Long-range studies of signals in the 50 mHz band conducted by radio amateurs, particularly in cooperation with professional scientific investigation such as was carried out with ESSA a short time ago,5 may hasten the answers to presently unresolved questions concerning this theory.
The author would like to express his gratitude for the valuable assistance, comments, and encouragement received from many fellow amateurs during this study - in particular: George Jacobs, W3ASK; Morgan, K7ALE, and Dorothy Monroe, K7ALF; Bob Cooper, W5KHT; Mel Wilson, W2BOC; Bill Smith, KØCER; and Lorn Matheson, WAØEKO.

____________________________________________________________________________
*  P.O. Box 27376, San Antonio, Texas 78227

1  Monroe, M., and Monroe, D., "50 Mc Propagation Effects",
   CQ, June, 1962, p. 37.

2  Monroe, M., and Monroe, D., "50 Mc Propagation Effects",
   CQ, Nov., 1964, p. 82.

3  This section provided by George Jacobs, W3ASK, CQ's Propagation Editor.
   See also Jacobs, G. and Leinwoll, S., "V.h.f. Ionospheric Propagation,"
   CQ, Nov. 1969, p. 37.

4  Wilson, M.S., "Midlatitude Intense Sporadic-E Propagation - Part I,"
   QST, Dec. 1970, p. 52.

5  "Radio Amateur Volunteers Needed for 6-Meter Propagation Research,"
   CQ, May, 1970, p. 31.


---
Home Page created: March 1, 2000
since: May 8, 2011