OFFER MAY NO LONGER BE
VALID
****************************************
EXTERNAL RDS READER
This add-on device provides a neat solution for those requiring RDS read-out from an existing receiver.
By simply plugging the RDS Manager into your radio, tuner or even your amplifier's audio output, station information can be displayed. The user can switch between the following:
+ Station identification

+ Text - this is scrolling text containing further information -

could be programme details or station catch-phrase

+ Local time

+ Programme type eg, Pop, News etc.

+ A list of alternative frequencies carrying the same service
The unit requires an external 9 - 16 volt dc supply. Size - 11 x 4 x 8cm.
RDS requires clear, interference - free reception in order to function.
The RDS Manager has been tried in conjunction with a selection of hifi tuners and quality portable radios and works just fine. Some scanners with filtered audio outputs do not allow the RDS signal to pass and so decoding is not possible. For instance, the unit operates when used with an Icom ICR2 and ICR7000 but not with the Yupiteru 7100.
If you purchase an RDS Manager and find it incompatible with your receiver, just return it, boxed and undamaged for full refund of the purchase price.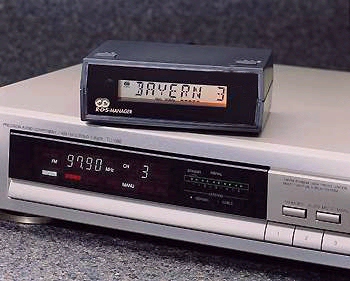 The RDS Manager costs £25 including postage (UK/Eire only).
Please scroll down for ordering information.
*******************************
*******************************
To order, please send your cheque, payable to Martin Peters, to :
11 Filbert Drive,
Reading,
RG31 5DZ
Please Email me if you need further information.
OFFER MAY NO LONGER BE
VALID