Welcome to PE1RAH
"Holliday / DX-expedition through Europe"
<![if !supportEmptyParas]> <![endif]>
At the summer of 2001 Dirk (ON1DLL) and I, we made the long trip through Europe as planned before. 
On this webpage I will show some very interesting pictures about the station and the interresting locations where we made contacts via the amateur satellites.
About the station :
Below you can see an picture of the equipment that is used. In the middle you can see the YAESU FT290 (2m all mode) and YAESU FT790 (70cm all mode). Both transcievers I have "upgraded", by removing the internal battery pack and place an power amplifier module instead. The PA-module cisrcuit is self-made.
Above the transcievers the 12V/7Ah battery is visible. The black box on the left is an 95...260V ac+dc input to 12Vdc output switching power supply. This unit is used when we were staying in an hotel, to charge the battery and/or use supply the transciers. On the top there is an flexible solar panel, this was used to charge the battery when we were staying on an camping place. All the power sources were connected via the little box next to the battery. This little box also include overload, short-circuit, and battery over-charge protection. Everything is designed to be plug-and-play, and low chance of failure.
At the right (between the rigs and portable antenna) you can see the portable packet, and 10m to 70cm RX-convertor. The portable packet box is used to make packet contact with home. The 10m-70cm rx-convertor is used to work the sputniks.
<![if !vml]>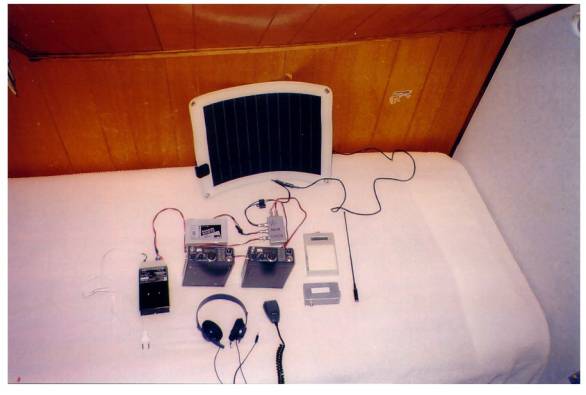 <![endif]>
This complete satellite station was located inside my back-pack, as you can see in the picture below. The transcievers were places above the rest of my payload (clothes, towels, gas-cans, camping-food etc). The rest of the equipment (battery, AC pwr-supply, 10m convertor...) was placed on the bottom, to keep the centre of gravity low. My back-pack has also an entrance at the bottom, what was an great advantage.
<![if !vml]>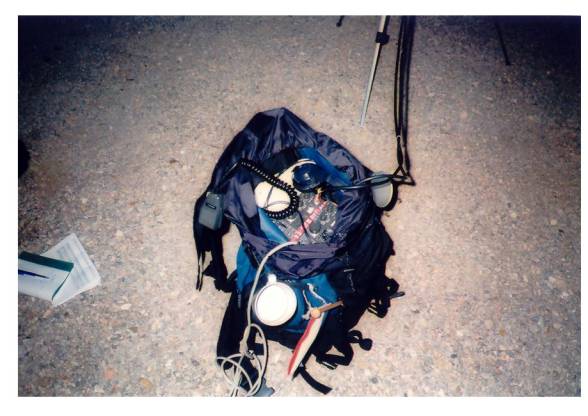 <![endif]>
The antenna we used, is an self-made handheld OSCAR antenna, like on the picture below. The antenna looks like an ARROW, but it is smaller in size when disassembled, and has even one more element on 2m. This antenna is specially designed to be used with back-pack travelling. On earlier travels by train, I discovered that train corridors are very narrow, and that payloads sometimes have to outstand, above normal, mechanical force. (think of heavy bagage placed on the back-pack, or people put there feet on the antenna by accident)
Because of this the antenna had to have some features :
<![if !supportLists]>- <![endif]>Small in size when disassembled : The antenna would give no extra problems, and less chance to get damaged when walking through narrow doors.
<![if !supportLists]>- <![endif]>Thick elements : Mechanical strong. Less chance to break an element when somebody put his feet on the antenna (by accident)
<![if !supportLists]>- <![endif]>(protected) Gamma match : The SWR can be tuned maximum, and an open dipole is possible. An open dipole can be disassembled in two smaller peaces.
<![if !supportLists]>- <![endif]>No extra tools needed : The elements have screw-thread to have fast assembling of the antenna without extra needed tools.
<![if !vml]>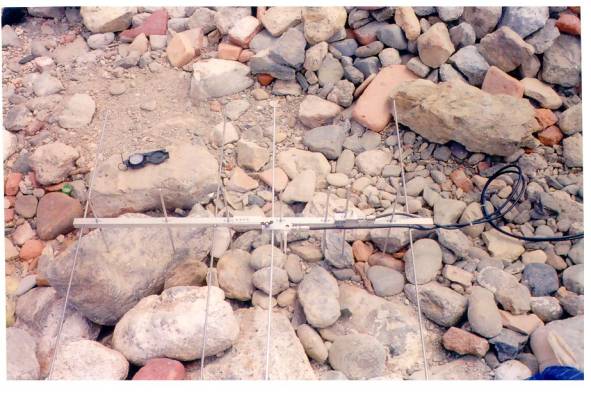 <![endif]>
To make contact with my father (PE1MDG) at home I have made an portable 1200bps packet system, see the picture below. The system is an TNC2-C, with an self-made terminal. The terminal works with an 2*16 charcter LCD, and an flat keyboard with 25 keys. The terminal is also self-made and uses an 89S8252 uController. 25 keys were not enough to have acces all possible characters (immediatly). Therefor I used an special system, with multiple pressing (like sms on cell-phones). It takes some more time, but it is better than an notebook. It is cheaper, less power needed, smaller in size etc etc J
<![if !vml]>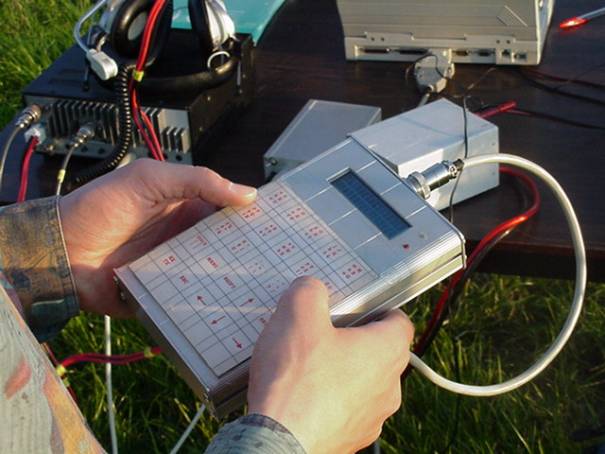 <![endif]>
<![if !supportEmptyParas]> <![endif]>
AMSAT-Fieldday (the first test) :
It took about one year to think out and to make the complete station ready for use. All the parts were tested several times, but they were never tested during an long period of time. Another unknown thing was the battery life. I was not sure if the battery could supply the station for enough time to make qso's before beeing recharged again.
About one week before we would leave on holliday there was the AMSAT-Fieldday. This was an great option to test the station for an continue time period of 24h. Dirk and I we were qrv as ON5LL. We were located on an huge grass field, about 5 minutes biking to the QTH of Dirk. Dirk included his IC821 with laptop, and some car batteries to have an second station. Now we could work two satellites at once, and also the pacsats.
During the day it was very sunny and I was able to use my solar panel. It had power enough to supply my station and charge the battery at the same time. J  After the fieldday (24h beeing qrv) I still could use the station !!!! And I made some contacts /M while driving back home, to Holland. J This was an proof that the battery was powerfull enough to keep the station alive for an long period of time.
<![if !vml]>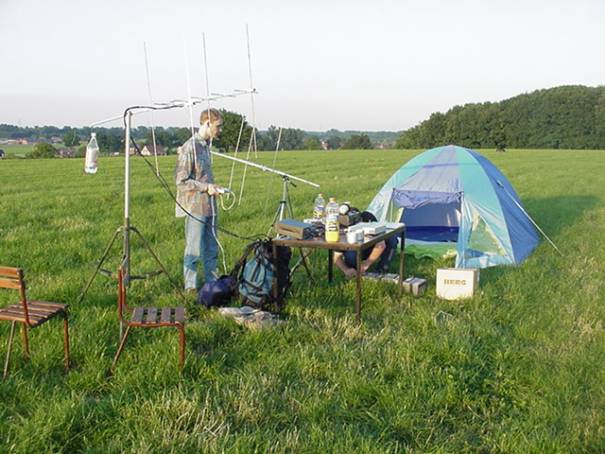 <![endif]>
Dirk (ON1DLL) behind the table. Myself standing, with packet system in my hand.
The EU-Trip :
It will be an to long story to tell the whole trip in detail. I will show some very interresting pictures we made during our hollidays, that are related to our DX-pedition part of the trip.
<![if !supportEmptyParas]> <![endif]>
<![if !vml]>
<![endif]>
Checking everything, just after we left by train.
<![if !vml]>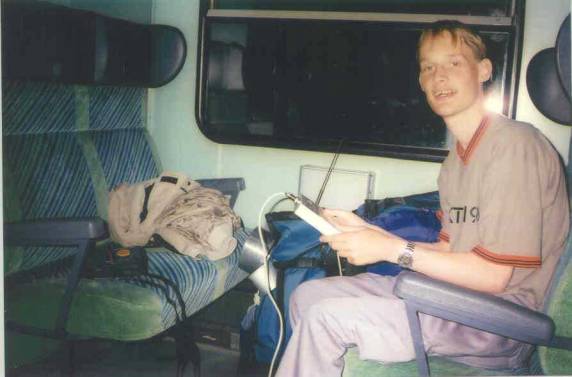 <![endif]>
Just after we left I am trying to get packet contact with my father at home. We connected, but only for 2 seconds L
<![if !vml]>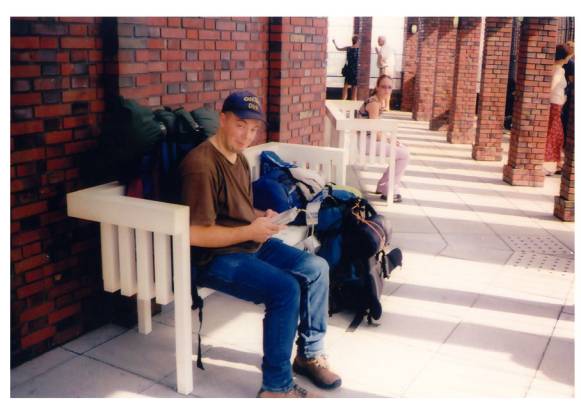 <![endif]>
On an high building in Berlin. Dirk is sending an packet message to home. Just the little portable antenna and 1W was enough J The lady sitting behind, she is trying to locate the strainge sounds (1k2 packet) she is hearing. But she never knew where they came from .-)
 <![if !vml]>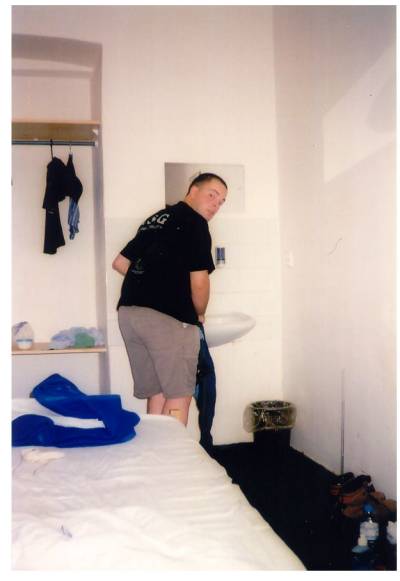 <![endif]>
At the hotel in Prague, Czech-Republic : Washing your clothes is even important as making qso's J
<![if !vml]>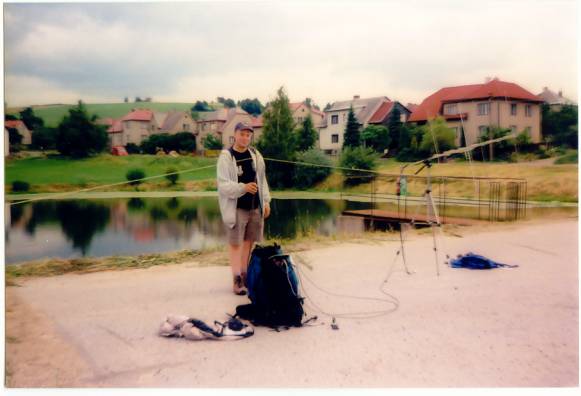 <![endif]>
Working the satellites from Nove Mesto Na Morave in Czech Republic. Dirk is holding the 10m dipole wire antenna while rx-ing the sputniks. Many thanks to Martin OK1MCW, who helped us with transport and this good (open) location.
<![if !vml]>
<![endif]>
An nice picture of the antenna and the landscape of Nove Mesto Na Morave in Czech-Republic.
<![if !vml]>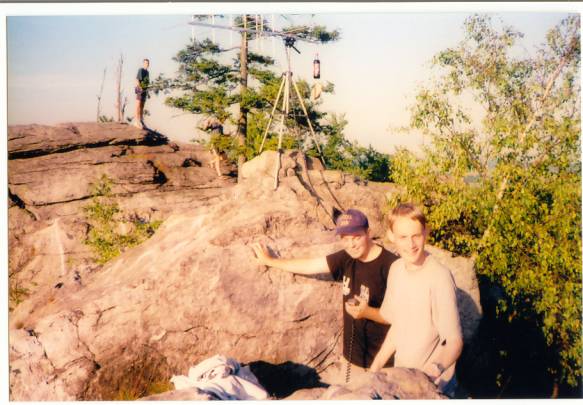 <![endif]>
Making many qso's on 2m ssb from the top of an high mountain (I forgot the name) in Czech-Republik. Many thanks to OK1MCW who joined us, and brought us to this fantastic (HAM & nature) location.
<![if !vml]>
<![endif]>
It was not possible to put the antenna higher J
<![if !vml]>
<![endif]>
This picture is made at the train from Budapest to Thessaloniki. We were located near Sofia and we both succeeded to make two qso's via UO-14 satellite, as LZ/ON1DLL/TM and LZ/PE1RAH/TM  (TM = Train Mobile) J We only used the first part of the antenna, to avoid an collisions with the poles that hold the elektrical train wires.
<![if !vml]>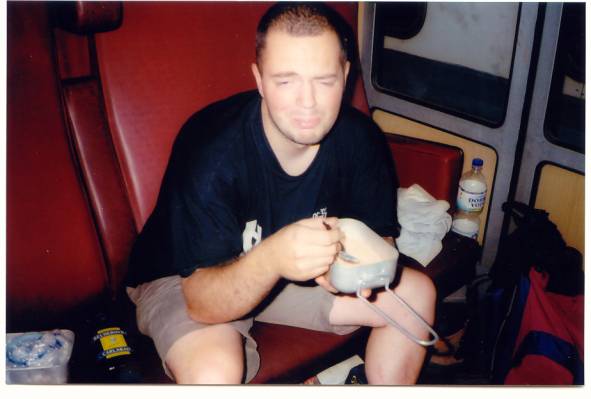 <![endif]>
The train travel took us 38 hours instead of the 15 hours that was told us. There was also no restaurant-wagon, what was told us. The result was that we have to eat what was in our back-pack, tomato-soup and bubble water... something un-eatable...
<![if !vml]>
<![endif]>
When had no food, but still having fun J
<![if !vml]>
<![endif]>
This picture is made in Greece, on an camping-place located on the half-island next to Mount-Athos. (Mount-Athos Republic is special dxcc)
<![if !vml]>
<![endif]>
In the far distance the Mount-Athos Republic is visible. I have tried to make contact on 2m direct with the one and only mounk radio station located on Mount-Athos, but nobody was answering L
<![if !vml]>
<![endif]>
This picture is made in Athens, close to the sea coast. We could make many nice qso's from this location.
Some MP3 records made by PA5RWE of our qso's :
MP1 (122kByte) SV/ON1DLL/P in qso with PA5RWE
MP2 (116kByte) Dirk answering UK station
MP3 (770kByte) Dirk in qso with his father (ON6MP) in Belgium (Speaking in Dutch language).
 MP4 (250kByte) Dirk asking for Italian station.
 MP5 (1025kByte) SV/PE1RAH/P in qso with PA5RWE (Speaking English and Dutch language).
<![if !vml]>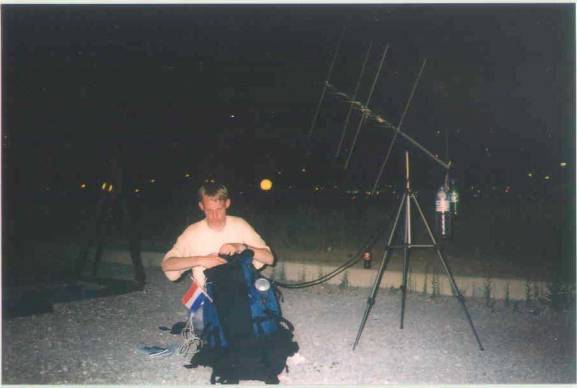 <![endif]>
Making contacts from the sea coast in Athens.
<![if !vml]>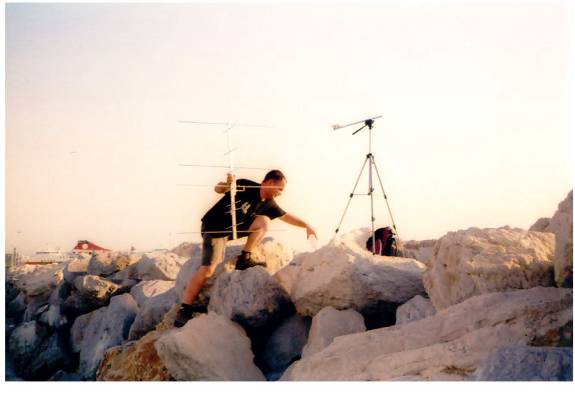 <![endif]>
Making the antenna ready at the sea coast in Patras (Greece).
<![if !vml]>
<![endif]>
The radios are behind the rocks save for the sea water, and no problems with water- noise , and heavy wind.
<![if !vml]>
<![endif]>
Ofcourse we also enjoyed the beautiful sight and fresh air of the sea.
<![if !vml]>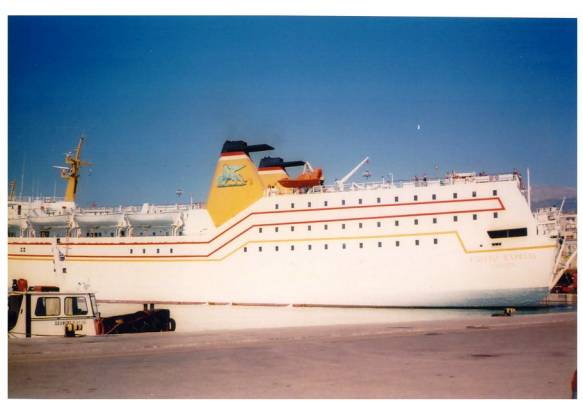 <![endif]>
This is the boat we had to take to across the sea towards Italy. We were able to make several very nice qso's via FO20 , FO29 and UO14, while beeing at sea between Greece and Italy J
<![if !vml]>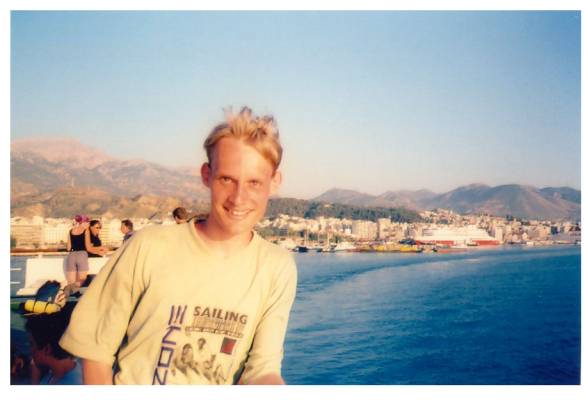 <![endif]>
This picture is taken just after we left the harbour of Patras.
<![if !vml]>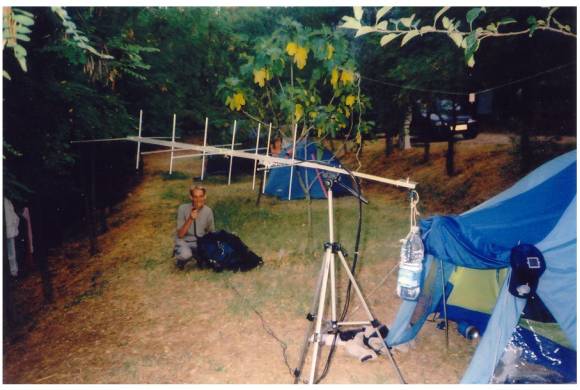 <![endif]>
QRV on the satellites from San Marino, as T7/ON1DLL/P and T7/PE1RAH/P
** In Barcelona my photo-camera has been stolen, and it included some nice pictures of San Marino, Italy and Monaco.
In Monaco we were also be able to work via FO-20, without anybody qrv, and with 5/9 downlink !!!! Via UO-14 we could make some contact and ask hams to listen on FO-29, where I also could make two more contacts J
<![if !vml]>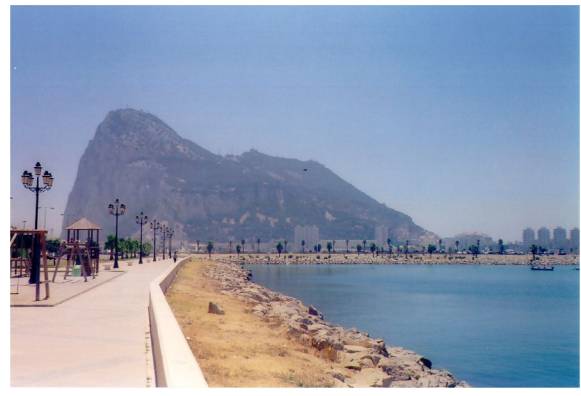 <![endif]>
Many qso's we have made from Gibraltar as : ZB0/ON1DLL/P and ZB0/PE1RAH/P. Unfortunatly I have no pictures of the station.
<![if !vml]>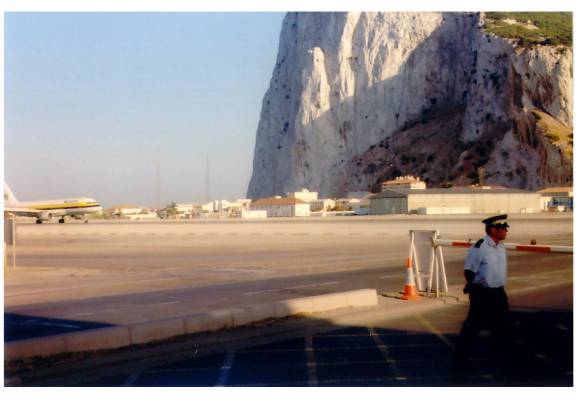 <![endif]>
Please look out for crossing planes J
<![if !vml]>
<![endif]>
The street of Gibraltar. In the far distance you can see Marocco and Ceuta (an little Spanish enclave EA9), we have visited Ceuta and tryed to make satellite qso's. Unfortunatly there were only two low elevation satellite passes we could use. We could hear the sats but we failed to make an qso L After Ceuta we travelled to Lissabon in Portugal where we didn't make any radio contacts. After an short stay we went with an direct-train to Paris.
<![if !vml]>
<![endif]>
An attempt to make an satellite qso via FO-20 from the Eiffel-tower !! J Unfortunatly we were not able to make an qso, even we could hear FO-20 downlink signal through all the tourist noise. The problem was the many people that liked to make pictures, without our antenna in front of their camera, and the lots of noise they all made.
<![if !supportEmptyParas]> <![endif]>
After Paris we went back by train home via Germany. 
I hope you liked watching all the pictures, and maybe this will enspire some more young amateurs to take there equipment and try something like we have done. I enjoyed every minute of the trip, and I will never forget this experience in my life.
<![if !supportEmptyParas]> <![endif]>
For interrested HAMs :
I have also some MP3 records made by ON1DLL in 2000, while I was on hollidays in Czech-Republic. I used the trx of  MilanOK1FYA, without any elevation and only tracking by following the best signal stength J The used satellite was UO-14.
MP1 (313 kByte) OK/PE1RAH calling cq via UO-14
MP2 (367 kByte) OK/PE1RAH in contact with ON1DLL in Belgium via UO-14. (Our contact is in Dutch language)
MP3 (42 kByte) Calling CQ on UO-14.
73 de PE1RAH, William Leijenaar
<![if !supportEmptyParas]> <![endif]>
This page is very new, and the main goal for me is to give technical information, so don't look at my English.
This page is designed and created by PE1RAH.

(William Leijenaar).