Welcome to PE1RAH.
Europe satellite DX-Expedition.
This summer holidays Dirk (ON1DLL) and I planned to make an trip through easter and southern Europe.
We will go by train for a period of 6 weeks, and all our things we carry in our backpacks, included an HAM station !!!
We will take an satellite station with us to be qrv on the amateur satellites from many locations in through Europe.
When and how we will travel:
We will start at 7 juli from Germany, just accross the border with the city Venlo in the south east of The Netherlands where I live.
We have no route in detail, but we want to visit the following locations:
Berlin (DC/ )
Prague (OK/ )
Tatras Mountains in North of Slovakia (OM/ ) maybe we have short visit to Poland (SP/ )
Budapsest (HA/ )
Bucarest (YO/ , we will only pass it by train, dx not planned)
Sofia (LZ/ , we will only pass it by train, dx not planned)
Thessaloniki, Athens (SV/ )
Maybe Mount Athos Republik (SY/ , when we get permission)
Maybe Crete Isl. (SV9/ ) and/or Rhodos Isl. (SV5/ ) , when we have time/money enough.
Italy ( I/ )
Maybe Elba Isl. (IA5/ ) when we have time/money enough.
Monaco (3A/ )
Spain, all along the east and south coast (EA/ )
Cueta, Spanish enclave at north of Marokko (EA9/ )
Portugal (CU/ )
France (F/ )
Luxembourg (LX/ )
Below our trip drawn in an map of Europe: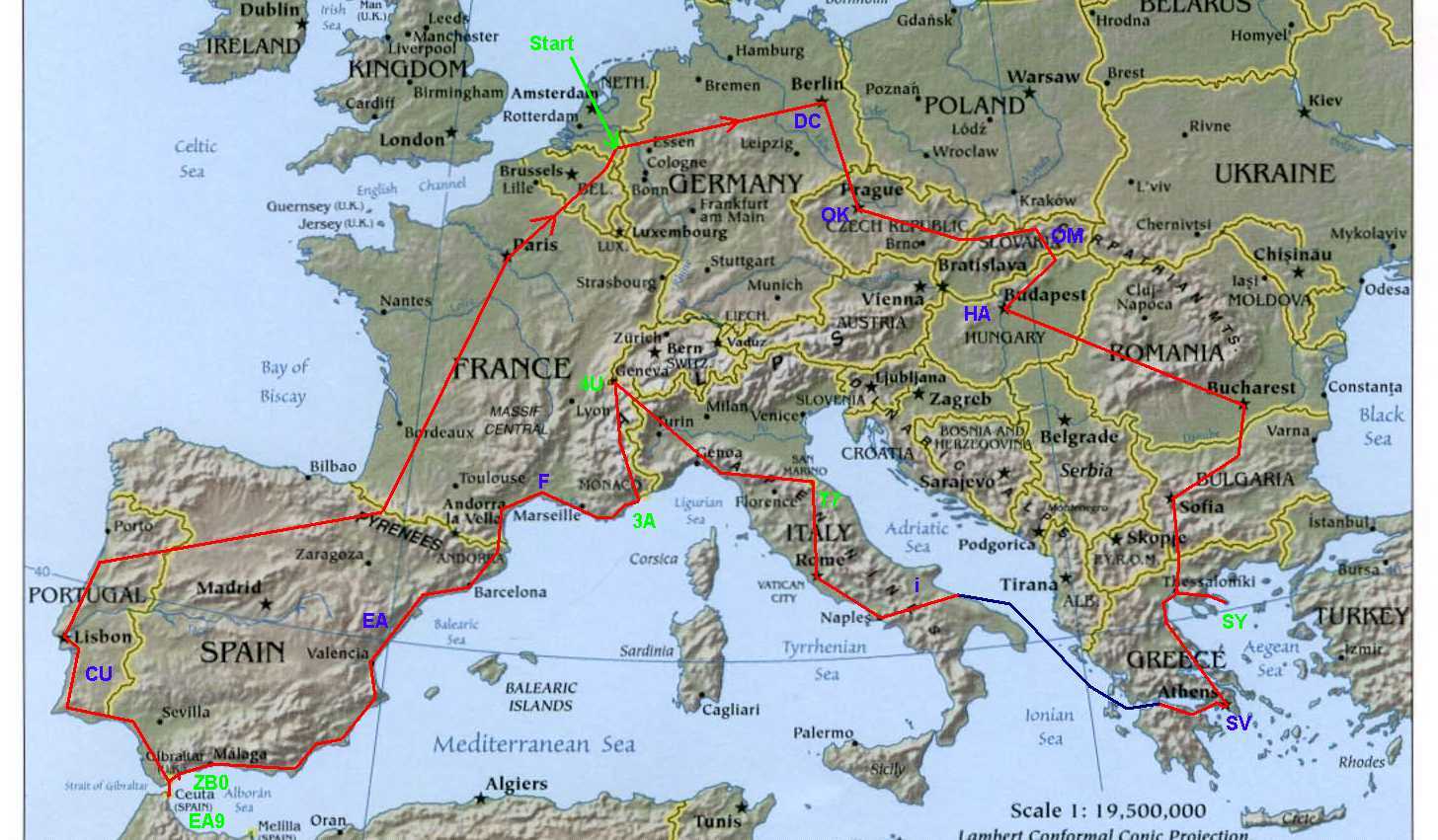 What equipment we have:
Our satellite station is an FT290 (2m all mode) and an FT790 (70cm all mode). These portable stations I have updated with internal power amplifiers by removing the battery pack and install an self-made amplifier. This makes the station much smaller, and less weight to carry. At 2m we have abt. 15W output power, and at 70cm we have 10W.
The antenna we use is an self-made "Arrow"-look a like antenna. Our antenna is even better because it has one more element at 2m, and it is 50% more compact when disassembled. Very important when there is less space in the bagage.
Our station is battery powered, what makes it very flexible. We can work the satellites (in theory) from every location we want. We will charge the battery with an UNISOLAR flexible solar panel. We have also an switching power supply with us to charge the battery at nights, or use it to be qrv when main power (95...264V) is available.
As an extra we have an (selfmade) handheld packet radio station with us. We will use it to send the latest information to DX-clusters or to an packet bbs station. It is very small, and no PC (heavy laptop) is needed.

This picture is taken at the AMSAT-Fieldday 2001.
The station we will taken with us on sat-expedition is in the back-sack. You can see the two coax cables
out of the back-sack (the FT290/790 + battery are inside the back-sack) connected to the front antenna.
The little metal box I am holding in my hands is the packet radio modem.
Below is an picture of the FT290 and FT790 inside the back-sack.
With this rig we have abt 15W on 2m and abt. 10W on 70cm. (both ALL MODE).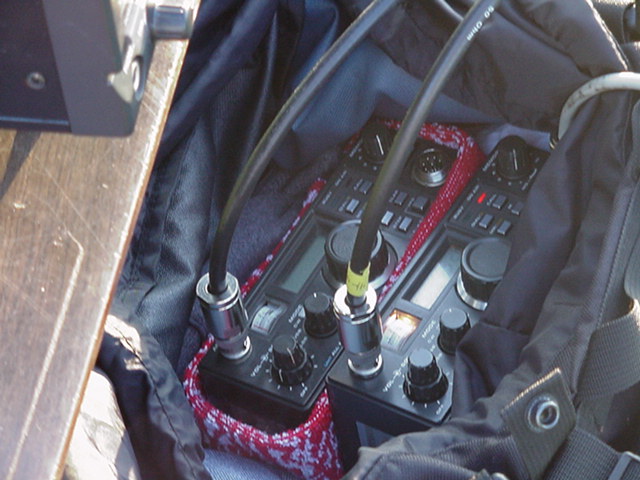 Below an picture of my portable packet station.
It is an TNC2C (1k2) modem with an self-made terminal. The terminal monitor is the 2*16 LCD and
the keyboard has 25 keys, and is mounted with tape on the metal box.
We will use it to keep in contact with home and to give real-time information (when possible) via DX-cluster,
or via mail in packet bbs, or sending email to amsat-bb via an AX25 to internet gateway.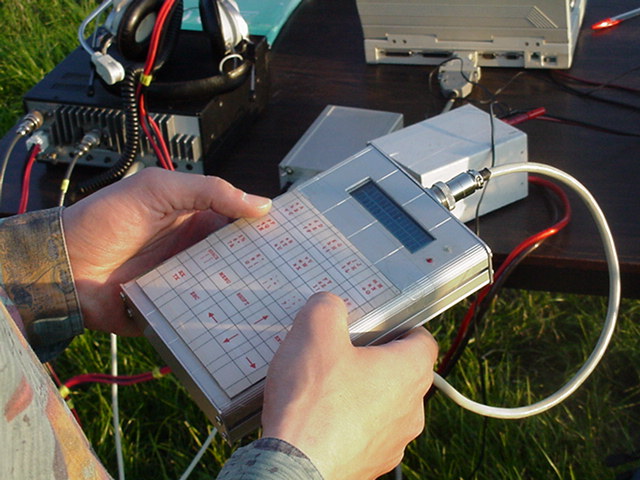 On which satellites you can find us:
With our station we can be qrv on every analog satellite. We have tested it several times with good results !!!
Because we use battery power we will avoid the FM satellites. These one channel birds are very hard to work because of the "alligators" on it. It would take us many battery power to make a single qso, and we will only be qrv on the FM satellites when there are no "alligators".
On the other satellites like AO-10, FO-20, and FO-29 you can find us most of the times. We tested these satellites with very good results. Our main satellite will be the Ao10 because it has more range and less doppler effect.
The FO20 and FO29 satellites are very difficult to work for us because the antenna position changes very fast and doppler effect is also very fast. We hope the amateurs understand.
Because we like to save battery power, and don't want to spend our holidays to much with "cq dx " callings, we prefer to work with skeds. We will also not make long qso for the same reason.
Skeds can be send to my email,
or via packet radio : [email protected]#nrw.deu.eu
73 de PE1RAH & ON1DLL
International Network of Young Amateurs : I.N.Y.A
This page is designed and created by PE1RAH. (William Leijenaar).