Welcome to the repeater picture site of
PE1RAH.
Frontview: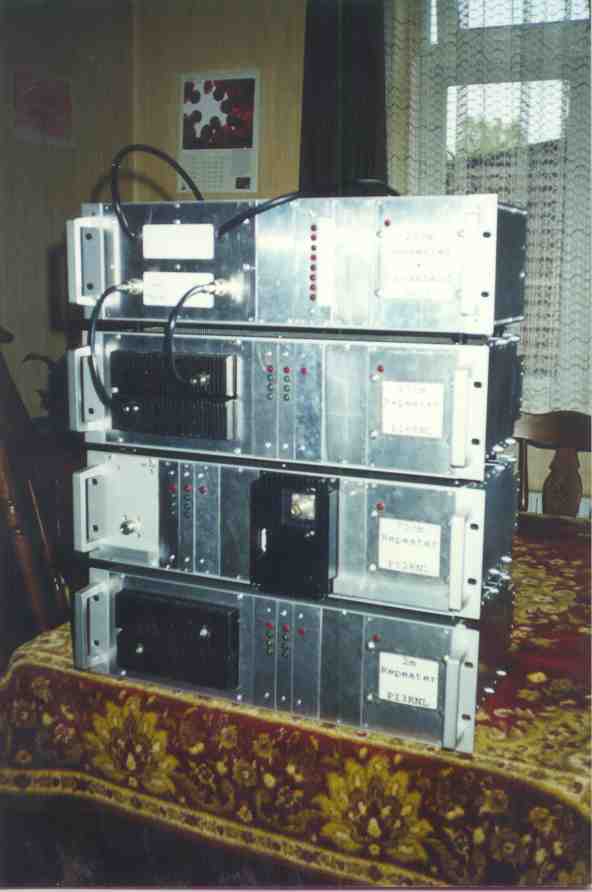 2m repeater PI3RNL at the botom, 70cm repeater (PI2RNL) one up, 2m IF for 2m/23cm convertor.
At the top the 2m/23cm convertor and crossband unit.
Left part is 2m/23cm convertor, the right part (row of LED's) it is the 3 BAND crossband unit.
Backview: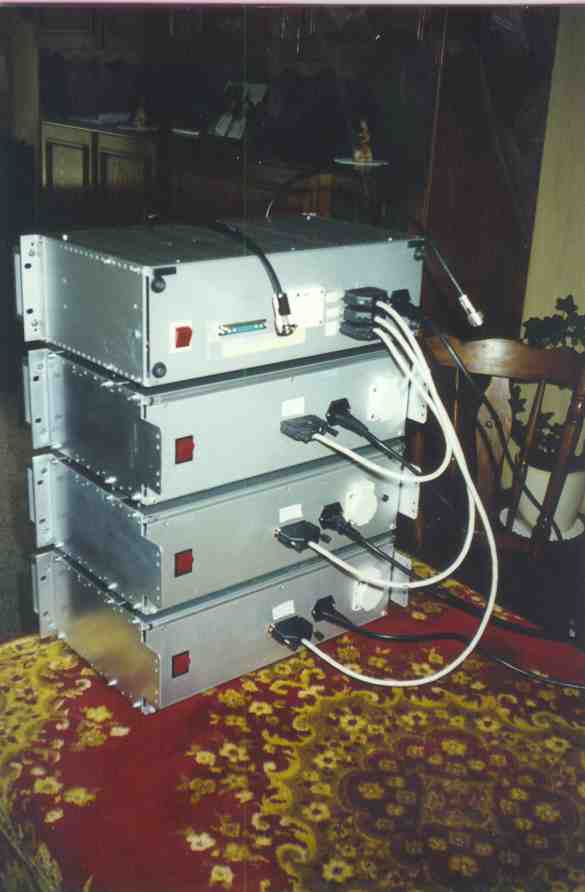 All repeaters have separate power supply and can work all stand-alone.
You can see that all repeaters are connected (via white cable) to the top unit to make the 3 band crossband mode.
Lokation at flat building: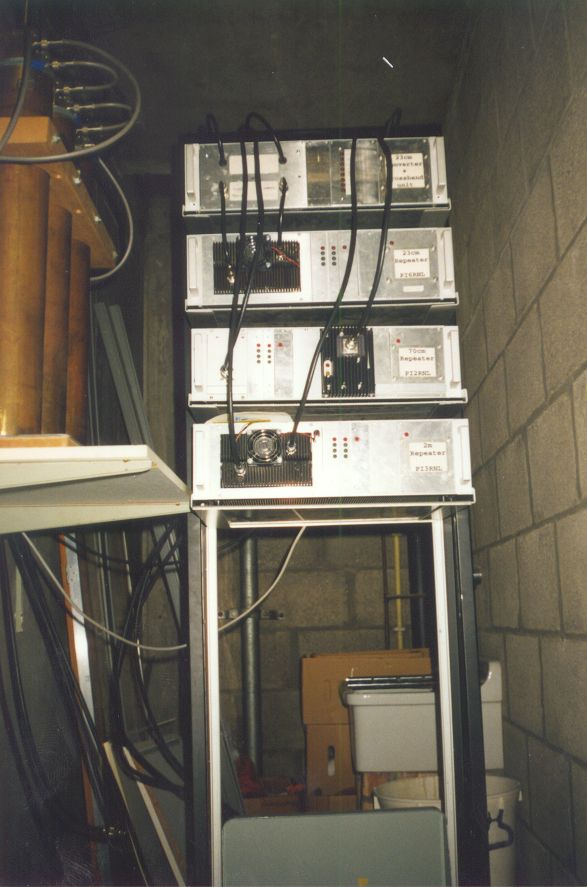 The complete station is placed on an special rack that can be rolled away.
On the left side the 2m cavaty filters are visible from the previous 2m repeater.
These cavaties are not used anymore.
<![if !supportEmptyParas]> <![endif]>
The inner side: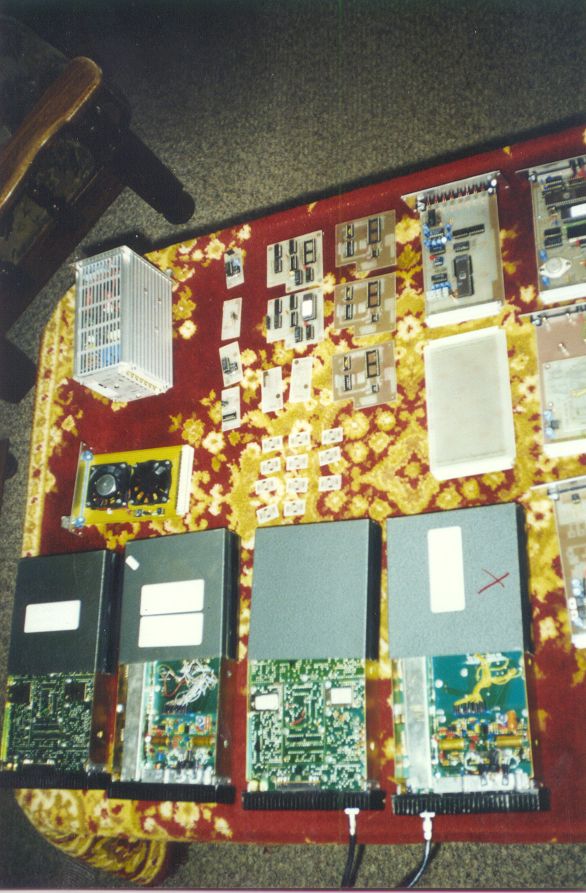 At the top left 220V AC/ 13,8V DC power supply. Every unit has one of these.
At the top right some self made PCB's from controll unit.
At the bottom 4x Teletron T813 (old bus TRX).
The two left are used for 2m repeater, the two at the right are used for 23cm IF (2m)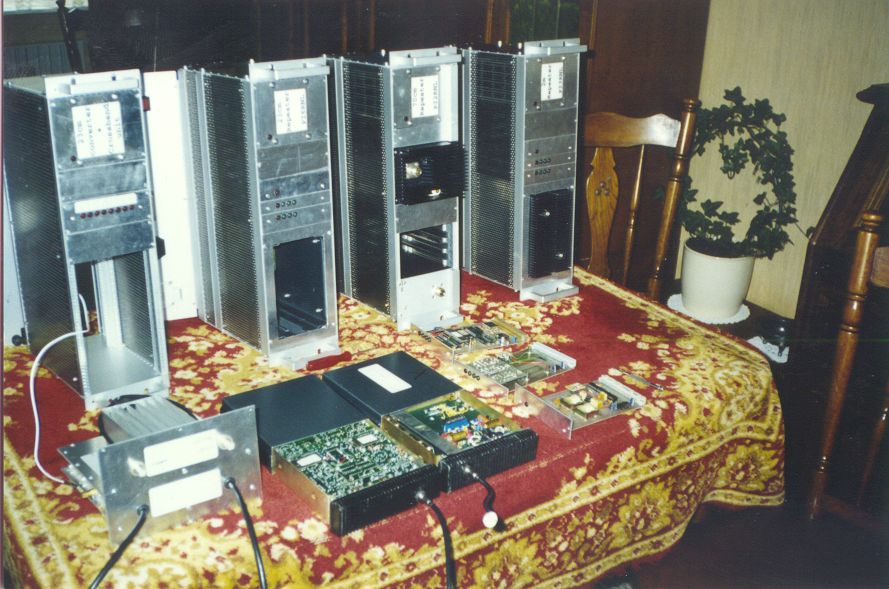 Here all units of the 23cm are visible on the table.
At the bottom left the 2m/23cm convertor.
In the middle the two Teletron T813 (2m IF).
At the right the self made control unit PCB's
Making the PCB's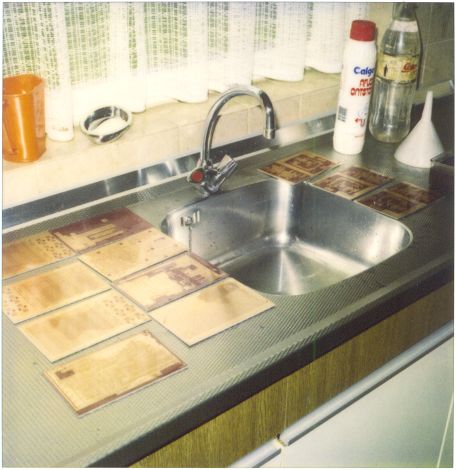 All PCB's are self made !!!!
Pictures from CQ-PA magazine, (I have not original at the moment, I will include them later)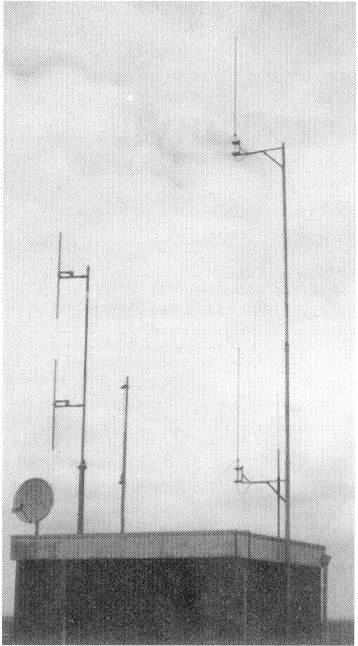 The repeater antenna's are at the right side, two "3 band high gain GP" antenna's exactly above each other to have
minimum interference.
<![if !supportEmptyParas]> <![endif]>
I enjoyed very much with designing, drawing, making, soldering, testing etc etc
I hope you enjoyed watching these pictures :-)
Thank you for your interrest,
73 PE1RAH, William Leijenaar.