Welcome to PE1RAH
10m to 70cm
transmit converter
To get more hams qrv on the Indian HAMSAT there is a need for 70cm ssb transmitters. Unfortunately they are difficult to get or very expensive for many hams in more poor countries. However, HF is mostly available among hams in many countries, and to keep costs low the best option is to use a converter.
To receive the Indian HAMSAT simple 2m to HF converters are available for a relative small price. However to get from HF up to 70cm is a much more difficult task, and only few converters are commercially available. These converters are also very expensive, and most of them use exotic components that are often very difficult to get in poor countries.
To overcome this problem I made some design that is made of simple and none exotic components. This makes the box a little more big, but it is more easy to make and relative cheap in component cost.
At the moment I have only a prototype version available, but in short time I will be able to deliver complete units or in kit form. However I have no idea if there is any interest in this unit, and I first like to know how many interest there is among the hams.
When you are interested please let me know:
<![if !vml]>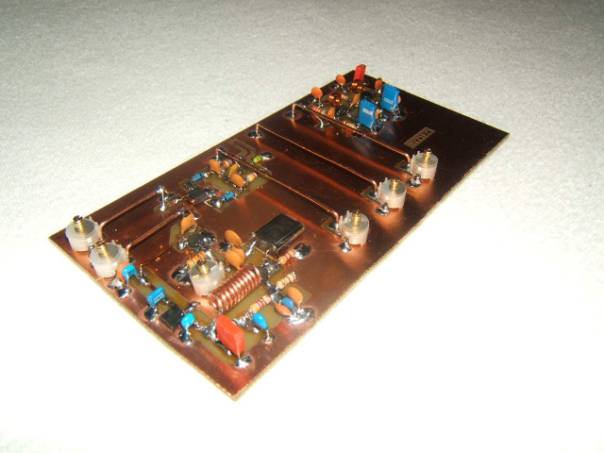 <![endif]>
Picture: Prototype 10m to 70cm upconverter (shown without metal box and BNC connectors !!!)
<![if !supportEmptyParas]> <![endif]>
The features of the complete 10m to 70cm upconverter will be:
* Made on a PCB
* In a metal box (74mm x 148mm x 30mm)
* 407MHz local oscillator build in
* 12Vdc power supply
* 50mW output on 70cm (enough to drive M57716 10W power module)
* 28MHz BNC input, 70cm BNC output
* Unwanted suppression >40dB
* No exotic components
!!! PLEASE NOTE THAT THE PICTURE ABOVE SHOWS THE PROTOTYPE WITHOUT METAL BOX AND BNC CONNECTORS !!!
I can not deliver it for a price less than below:
-------------------------------------------------
Kits                       = 175 USD (+ shipping costs)
Complete build    = 250 USD (+ shipping costs)
<![if !supportEmptyParas]> <![endif]>
!!! Please note that the kit is a complete TX upconverter: included PCB, Crystal, metal box, BNC connectors, instructions etc etc
!!! The only thing needed to be qrv on HAMSAT 70cm uplink is a final amplifier.
!!! Best solution is a M57716 module that give 10W output at the 50mW input.
<![if !supportEmptyParas]> <![endif]>
73 de PE1RAH (William Leijenaar).
This page is designed and created by PE1RAH.

(William Leijenaar).