AIR / 7
Total Route

Route overhead Tongeren ( B )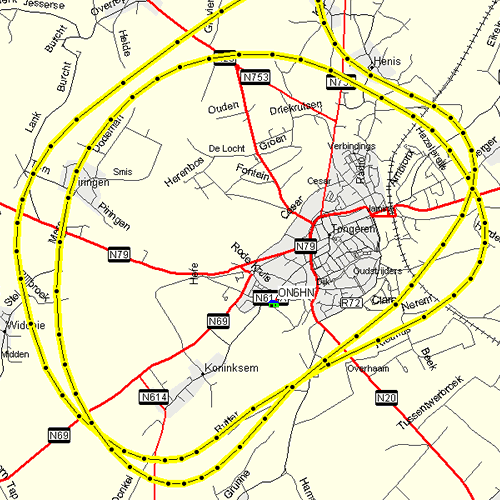 Meeting at Hasselt Aerodrome (Kiewit, Belgium) with
Belgian HAM Miguel ON1AJZ and YL
In the afternoon we had an intermediate landing at Hasselt Aerodrome, which has a grass runway. We had a meeting with Miguel ON1AJZ and his YL. We drunk a good cup of coffee, having a nice chat.

In the meanwhile Hugo ON6HN was changing the antenna from vertical to horizontal polarization in his 28 meters high mast.
He was able to do it very fast because of having an elevator in the construction.
Route overhead Sittard
Some pictures overhead Sittard
Overhead Kollenberg
On the photo above you can see one of my /A QTH ( near the Market ) situated in the upper right corner.
Overhead Kollenberg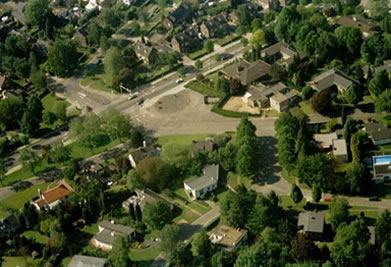 Overhead city center
Market Sittard. In the upper right corner the QTH of PA0DSZ, in those times a well known ATV amateur radio station.


Below a link to SittyWeb, concerning a few WebCams on Market Sittard ( former and second QTH ). Click Here
| | |
| --- | --- |
| A few AIR pictures, 'all photographed by Leon', click Here | |
Remark : this way of photographing is not easy in a smaller plane with unexpected movements ( sometimes even violent ) and a small camera. Also these photographs were made through the windows of the airplane. The door was closed during this flights. Such a window is never 100% transparent, not ideal to photograph. To photograph slantingly through a window : the angle between camera and window can be frequently no 0 or 180 degrees. The thick and fairly untransparent plexiglass delivers bad pictures.
Other people did try also it in the fixed conviction that it would succeed however. Unfortunately it produced only splendid artistic creations ( in most of the cases ).
PH-ASL had a crash, unfortunately. Three people died.

Before that accident PH-SDB had also been involved in an accident which concerned ( successfully ) landing in a pasture.