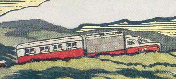 The Gatti-Hallicrafters Expedition 1948
Follow the Gatti - Hallicrafters Scientific safari to the Mountains of the Moon

The Gatti-Hallicrafters mobile radio equipped expedition is now operating via short wave from the heart of Africa, offering new thrills and operating challenges to hams and radio hobbyists all over the world.


Listen to the Expedition's regular schedules, bringing fascinating accounts of jungle adventure to the outside world through the magic of Hallicrafters high frequency communications equipment.


Map, operating data, and other information, inside this broadside.


---
TO THE MOUNTAINS OF THE MOON


Map shows how the Gatti-Hallicrafters Expedition is setting up new short wave radio links between territories like the Belgian Congo and the rest of the radio listening world. The once fabulous Mountains of the Moon (known today under the name of Ruwenzori Range) are partly within the territory of the Uganda Protectorate.


While ranging in this territory the Expedition will use the international short wave prefix VQ5. Suffixes for expedition call letters are made up of various combinations of the letters G, H, and E, standing for Gatti, Hallicrafters and Expedition. VQ5HEG is the Expedition's licence for mobile transmission from the Uganda Protectorate.


The double card shown at left acknowledges contact made during the ascent of the Kilimanjari, highest peak in Africa. Cards are in different color combinations and collections of them will soon begin to decorate the walls of ham shacks throughout the world.

---
How to keep in touch with the Gatti Hallicrafters Expedition
Schedules, Frequencies and technical data.

The highly publicized Gatti-Hallicrafters mobile radio equipped expedition is on the air from the heart of Africa. First contact was established January 25th with the Expedition somewhere in Kenya Colony, East Africa, as the scientific safari took off on its long, romantic trek through the jungles and to the Mountains of the Moon. Contact was established through W9CGC, the Fifth Avenue Ham Club, 4401 West Fifth Ave., Chicago, Ill. W. J. Halligan, President of the Hallicrafters Co., talked by phone to Attilio Gatti, commander of the Expedition, 7,700 miles from Chicago.



The Expedition is combining scientific research and adventure, testing equipment and studying radio phenomena under the most rugged field conditions while at the same time relaying the sounds of the jungle and description of fantastic tribal rituals to thousands of radio hams and short wave listeners all over the world. Present plans call for the expedition to go overland from Mombasa via Voi into the Tanganyika Territory. From Moshi, a party will climb the fabulous Kilimanjaro to make special experiments and communications from the 19,700 foot tip of the largest mountain in Africa. In Tanganyika the Expedition will visit the big game country at Ngorongoro Crater and the Serengeti Plains. The Expedition will then traverse Rwanda, the country of the Giant Watussi from south to north and head into the Western Province of the Uganda Protectorate toward the Mountains of the Moon where it will conduct a month of research. After more research in the Northern Province of Uganda and the Northern Frontier country of the Kenya Colony, the radio equipped safari will head for Nairobi.

EXPEDITION EQUIPMENT

The Expedition station is equipped with two Hallicrafters HT-4E transmitters, Hallicrafters Models SX-42, SX-43 and S-38 receivers and a Hallicrafters HT-18 VFO unit. Hams will remember the HT-4E as the heart of the SCR-299, famed old "radio battle wagon" of World War II. For mobility the transmitters are installed in specially designed trucks as shown in picture at right. Many of the conditions under which the SCR-299 operated with such phenomenal success will be duplicated as the safari moves along tangled jungle trails and through the rough territory of the Mountains of the Moon.
The Expedition's transmitting antenna is a pre-fabricated rhombic for 40, 20, 10 meters. It can be put up or taken down in an hour, adding to the expedition's speed of movement.


In the first 72 hours of operation the Expedition reported contacts with more than 250 hams and other radio operators at widely scattered spots around the world. Thousands of other hams will be shooting for an Expedition contact in the next several months as the exciting journey continues.


FREQUENCIES

The Expedition station, operating under the various call letters described on the next page, uses a crystal frequency of 28.375 Mc for phone operation and 28.050 Mc on the 10 meter band; 14.380 and 14.160 for CW operations on the 20 meter band. Other frequencies within these bands may be employed by use of the HT-18 VFO unit and after making arrangements on the scheduled crystal frequencies. Added schedules on the 40 meter band may be carried out as the Expedition progresses. The present operating schedule is from 1300 to 1500 G.M.T. and 1600 to 2100 G.M.T.
Home base for the Expedition is W9CGC, the Fifth Avenue Ham Club, quartered in Hallicrafters plant at 4401 West Fifth Ave., Chicago. W9CGC to date has been working the Expedition regularly on a crystal frequency of 29.500. It is expected that additional crystal scheduled frequencies will be set up on the 20 meter band at later date if needed.
Last minute information on the Expedition and where and how to best get in touch with them by short wave can be obtained by correspondence with Cletus Wiot (W9TDF) at 4401 West Fifth Ave., Chicago, ILL.



PEOPLE

Commander of the Expedition is Attilo Gatti, world renowned traveler and author, This is his eleventh expedition into the African interior. Next in command is Weldon King, Springfield Mo., former official army photographer at Corregidor. Amateur radio operators, selected from thousands of applicants, are William Snyder (W0LHS) of Fargo, North Dakota, and Robert Leo (W6PBV) of San Mateo. The two operators will be "the voice of the expedition" in keeping it in touch with the outside world, They have promised to QSL all contacts with the cards, described on the inside spread. Two official photographers accompany the Expedition. They are Keith Sisk, Cumberland, Md., and Errol C Prince, Milwaukee, Wis. James D. Powers of the International News Service is with the expedition as correspondent, filing thousands of words weekly on the colorful progress of the Expedition for scores of papers in
this country.


TRANSMISSION TO GATTI EXPEDITION - MARCH and APRIL, 1948

Hallicrafters engineers offer the following data to guide hams in transmission operations to the Gatti-Hallicrafters Expedition. Note that Chicago is used as a basis for calculating time and distance but these figures should provide a general guide for hams everywhere in communicating with the Expedition.
Best contacts between Chicago and the Gatti Expedition in February and March should obtain on the 10 meter amateur band between the hours of 7 A.M. and 1 P.M. Chicago time (13:00 to 19:00 GCT). Contacts may continue with some fading until about 5 P.M. Chicago time.
April performance will probably encounter some fading. Best time will be from 11 A.M. to 1 P.M. Chicago time. Best communications in April should be during the last two weeks of the month.






March Predictions (Calculated from Bureau of Standards Data)

| GCT | Central St. Time | | Optimum Working Freq (Mc) |
| --- | --- | --- | --- |

| | | | | | |
| --- | --- | --- | --- | --- | --- |
| 00 | 18 | 32 | 26 | 27 | 22 |
| 02 | 20 | 24 | 24 | 20 | 20 |
| 04 | 22 | 18 | 18 | 15 | 15 |
| 06 | 24 | 17 | 17 | 14 | 14 |
| 08 | 02 | 16 | 14 | 13 | 12 |
| 10 | 04 | 17 | 17 | 14 | 14 |
| 12 | 06 | 27 | 22 | 23 | 19 |
| 14 | 08 | 34 | 25 | 29 | 21 |
| 16 | 10 | 37 | 28 | 31 | 24 |
| 18 | 12 | 38 | 29 | 32 | 25 |
| 20 | 14 | 36 | 29 | 30 | 25 |
| 22 | 16 | 36 | 28 | 30 | 24 |

BASIC DATA


Approximate positions: Chicago 42° North, 88° West and Gatti 2° South, 30° East


Great circle distance: 7700 mi. (12,400 km.)


Bearings (for aiming antenna):
From Chicago: Gatti is 72° East of true North
From Gatti: Chicago is 46° West of true North

---