WELCOME TO OX2K
EME DXPEDITION HOME PAGE
The Official Home Page Of The Greenland EME DXpedition
29 May - 5 June 2000
QSL cards now shipping
---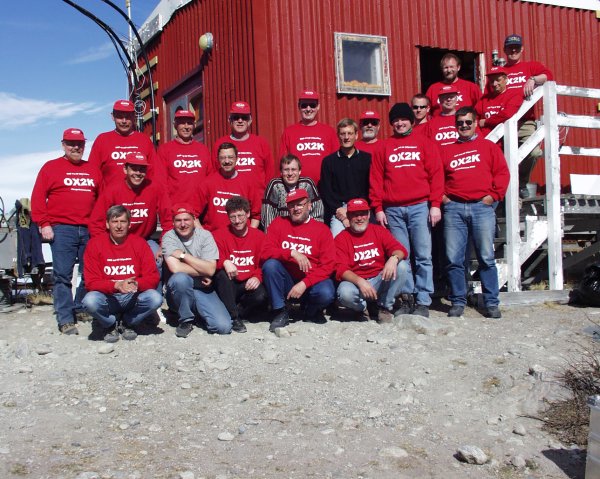 On the stairs: Holger, OX3HI; Steen, OZ2TG; Michael, OX3LG.
Back: Benny, OZ5RZ; Jan, OZ5ZF, Ole, OX3OX; Peter, OZ1CBW, Jørgen, OZ1JSH, Ivan, OZ5IR; Rune; Frank, OZ1FQ.
Middle: Knud, OZ1FIT; Frits, OZ2Q; Uffe, PA5DD; Søren, OZ1FTU; Bo, OZ2M; Peter, OZ1PIF.
Front: Steen, OZ3SW; Bo, OX3LX; Jørgen, OZ1BNN, Kurt, OZ7YK; Ole, OZ7FI.
---
144 MHz - 4 x 17 el, 5 WL - GP47TA
432 MHz- 4 x 28 el, 9 WL - GP47TA
1,3 GHz - the above 32 m dish - GP46MX
50 MHz and HF - GP47TA
CQ Zone: 40 - ITU Zone: 5 - IOTA: NA-018
---
HISTORY
In 1988 Claus, OZ1FDH, and myself, OZ1DJJ/OX3LX, made the first contact from Greenland via the moon (Earth Moon Earth). The idea of making a bigger VHF DXpedition was born after contacts with W5UN and KB8RQ. After visiting the 32 meter dish in Sondrestrom the idea of an EME DXpedition seemed very possible. After talking to Holger, OX3HI, who lives near the dish in Sondrestrom it was evident to us that we could use the dish in some way but not on all band. After Michael, OZ2ELA/OX3LG, a well know HF/VHF/UHF/SHF DXer in 1998 began working at TELE Greenland, the idea of a EME DXpedition took a very fast turn. I will like to give credit to Michael for his enthusiasm in this project. Without him I do not think we would have seen an EME DXpedition in this scale. Thanks Michael, also special thanks to Holger for making it possible for us to come to Sonderstrom. - Bo
OBJECTIVES
The objective of this EME DXpedtion is to make as many contacts via moon on 2 m, 70 cm and 23 cm as possible. We will also be active round the clock on 6 m and shortwave. Also the intention is to put Greenland radio amateur world map and show how friendly and beautiful this country is and hope one day other radio amateur or other travellers can share what we will experience. Another goal is to try to make it easy for other radio amateurs to go on DXpedtion to Sondrestrom in Greenland.
We will have six different station so we are able to be on air at the same time on all bands. The crew is about 25 operators.
---
Kangerlussuaq - also known as Søndre Strømfjord or Sondrestrom - is located 160 kilometer (100 miles) to the east of Greenland's west coast, approx. 60 kilometer (35 miles) north of the Polar Circle.
In Greenlandic, Kangerlussuaq means the long fjord. The fjord is 185 km long, with Kangerlussuaq Airport located at the far end, approx. 60 km north of the Polar Circle. For both international and domestic air traffic, Kangerlussuaq is an important hub.
Some 90% of all travellers to, from and within Greenland pass through Kangerlussuaq. Direct connections currently available include Atlantic route to Copenhagen, FirstAir/Greenlandair's route to Ottawa, Greenlandair's route to Keflavik via Kulusuk and Greenlandair's services to Nuuk (Godthåb), Ilullissat (Jakobshavn), Maniitsoq (Sukkertoppen), Sisimiut (Holsteinsborg) and Kulusuk.
Kangerlussuaq is not like other towns in Greenland. It is an airport area nestling amid scenic surroundings. Administratively speaking, Kangerlussuaq Airport falls outside the municipal divisions of Greenland and is a taxfree zone.