Filter performances:
Hereunder the performances of the filters, both measured 'naked', without band switching and with band switching (=final performances of the filter, including the relay switch)
BAND SELECTED
Attenuation dB
80
40
20
15
10
80
-
30
>50
>50
>50
40
30
-
35
>50
>50
20
>50
>50
-
30
>50
15
>50
>50
>50
-
30
10
>50
>50
>50
40
-

BAND SELECTED
Attenuation dB
80
40
20
15
10
80
-
30
38
38
35
40
35
-
30
38
37
20
45
50
-
28
40
15
45
50
60
-
33
10
44
46
60
50
-

Adjacent bands attenuation
Filter only, without band switching
Adjacent bands attenuation
Including dual relay band switching
Construction tips & hints:
The PCB dimensions were determined in accordance with the housing. I used a nice and compact HAMMOND enclosure ref 1455L2201 (h 30 x d220 x w105 mm). Download specs as pdf 260kB here . This box has a sliding top cover , a very handy feature to adjust circuits !
The PCB board was 'etched' with a Dremel tool . As the RF-flux is concentrated inside the tores, there is no need for screening between them. Only the air wound coils must be separated as much as possible, or put at right angles one to the other.
Keep the soldering pad between L2/C2 and L4/C4 small (stray capacitance causes losses) and well isolated from ground (high voltages)
All coils to be mechanically fixed only after adjustment of BPF section, in the final enclosure ! I used for this a kind of synthetic rubber used to repair shoes, it is quite fluid out of the tube, and after drying is mechanically very strong and tough.
How to adjust the BPF sections ?
A spectrum analyser is the perfect instrument for adjusting this BPF. It is not 'a must', but will allow you to check the performances (crosstalk) and flatten any 'bumps' out of response curves...
Adjust the filters without the relay switching circuits in a first phase.
First make C1/L1 - C3/L3 resonant on the centre of the band, while L2/C2 are not yet in place. Resonance can be tweaked by adjusting the L1 and L3 coils 'spread' in the toroids.
Then put L2/C2 in place. Now the filter can be put inline, adjust L2 for resonance in centre of band (or on 10m and 80m, for acceptable adjacent band rejection)
In a third stage, put the filter inline with a transceiver (QRP) and adjust for lowest SWR, tweaking L1 / L3. Check the output power, it should be about 95-90% of input.
For a 5 section filter : only when the above 3 sections are adjusted, add the 2 extra section and adjust with same technique. The output power should be about 85% of input.
Once the filter board is in the enclosure, and the relays are connected (use small section PTFE coax 50 Ohm), the 10m and 15m needs to be checked and possibly slightly re-adjusted.
BPF for 20m during adjustment
Zero level is -10dB line, vertical 10dB/div, horiz 2MHz/div
Some important remarks about the bandswitching relays:
As one can see from above figures, the ultimate rejection figures are very dependent on the quality of the relay band switch. Like in some commercial products (DUNESTAR Model 600 for example), I have used DIL miniature relays, these are indeed very compact and are capable of handling 100w up to 30 Mhz (non switching).
The very best DIL relay for this kind of applications are specially designed RF-Switching relays of AXICOM (click here to download specs as pdf, abt 2MB), they can handle up to 3A (whereas ordinary relays are specified as 1A max).
AXICOM type D2n V23105-A5476-A201
What is the best switching configuration to avoid crosstalk between in- and output ?
I made several measurements and came to following conclusions ...independently of AXICOM or 'el cheapo' versions:
Using one relay for switchover in double-throw, up to 55 dB of isolation (@ 30 MHz) can be achieved. Best results when grounding the NO contact on the input side, leaving the NO on the output 'open' (provides 5 dB extra attenuation). This RF-switching circuit can be used if only one single relay is used, if several relays are used next one to the other, the performance degrades quickly due to the proximity of in- and output lines (the best results measured up to 25 dB @ 30 MHz only !)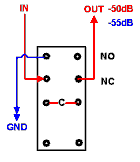 Using one relay in single-throw configuration, up to 40 dB of isolation @30 Mhz can be achieved. The crosstalk between two adjacent NO/NC/C contacts is as well in the range of - 40 dB
Practical circuits for BPF switching
Using only one relay per BPF
(Like DUNESTAR)
Using two relays per BPF,
Provides a very low crosstalk (-55dB)
Hints for construction of performing relay switch:
In order to to obtain a very good isolation, it is important to put a diode over the coils (put in parallel), have a 10 nF condenser over the diode and properly RF-GROUND the cold side of the coil to avoid any crosstalk over the frame ! Avoiding this precaution, I measured only -25dB isolation between I/O instead of -55 dB
As long RF paths must be avoided with higher frequencies (causing high SWR, even in bypass mode), relays should be ganged as in the above picture. The point for IN and OUT of the switch is to be located between the blue and red relays (marked T and 10, on the red dots)
The relays are remotely controlled through a DB-9 chassis plug. I took the same pins as DUNESTAR, using positive switching logic (=their default, see model 600 brochure).
The bypass relay is providing 'NC' circuits. It is activated whenever another relay pair is powered (all outputs are diode-summed to the bypass relay).
Relay switch control unit:
The relays can be controlled in several manners:
manually : by a rotary switch, 6 positions
automatically:

By TRX 'band data' output : in such case an interface must be designed, in general converting 'band voltage data' to 'control signals'
By N1MM logger : N1MM has the capability to output on the LPT port band data in BCD format, emulating some YAESU transceivers. This can be easily converted to 5 'control signals' by a BCD to decimal decoder (e.g. CD-4028) and a couple of transistors.
Assembly of the filter:
Final assembly stage of BPF (click to zoom)
Where to buy the components ?
It is recommended to use SILVER MICA capacitors, and tores from AMIDON.
I have ordered the components to build from PROFI ELECTRONICS KUHNA in Germany (see http://www.amidon.de) , as alternative several sources on EBAY are available, where I found as well the AXICOM relays.