150w - 2.3GHz band Power Amplifier

I was looking for a PA to run ATV on 13cm band, possibly EME at some later stage ;o) ?
Built the PA around 2 SPECTRIAN boards and a casing I had from an old defective 430 MHz PA and some bits and pieces from my scrapbox...
This configuration offers following specifications:
SPECTRIAN boards offer 75w output @ 26v supply, 18 dB gain, 2.30-2.35 Ghz. Contact Joe RUGGIERI for availability ( jruggieri3 AT cfl.rr.com ) or check on EBAY

The final transistors are XRF (MRF)286: these are rated each at 60w (so total 240w) and can withstand SWR 10:1 at nominal power ;o)) see specs sheet as PDF here

Can be powered from 13.8 to 28v DC (output about 50w on 13.8v / 20A, about 150w on 28v / 35A)

No tune required, linear operation suited for SSB

PA is enabled (all transistors idling) by external PTT input or front panel switch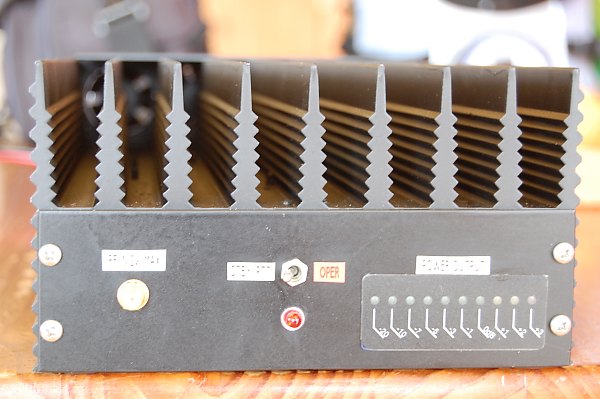 The LED bargraph displays Ic of one final transistor beyond it's idle current,
therefore a relative indication about the output power.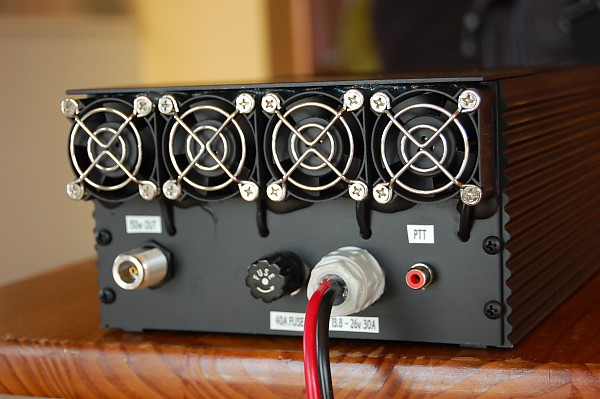 Cooling is very important, as the SPECTRIAN boards are not very efficient.
4 small fans (salvaged from PC power supplies) are triggered by temperature sensor of the VACTRIAN boards
at 35°C running slow speed, at 45° full speed. A thermal breaker shuts off power for t>80°
Click on picture to zoom and see details
The in- and output combiners have been purchased from Jim Klitzing W6PQL www.w6pql.com
On the FAN control board (one dual LIN-AMP) a -12v supply is included (NE555 based) for
supply of the LIN-AMPs of the LED bargraph and temperature sensing circuits.
The low-drop 12v regulator is a LM2940 - this allows the PA to run from 13.8 to 26v.
The 12v is required for LED bargraph, FAN control PCB and SPECTRIAN power enable trigger.