Introduction
A clamp-on RF ammeter is not only useful for antenna experimenters but also as an aid to achieving good EMC in an amateur station. If some of the RF current from a transmitter flows into mains wiring, this can increase the chance of breakthrough problems in nearby TV, video or audio equipment etc. A clamp-on RF ammeter allows this current to be measured, so that steps can be taken to minimize it.
For RFI investigations, you can also clip this meter on to coaxial cables, rotator cables and other wiring in your shack, to find out where the RF currents are flowing, and how big they are. You can also use this tool for measuring currents in wires and radials.
Instead of splitting a ferrite ring in half, RSGB EMC Committee member David Lauder, G0SNO, has been experimenting with various types of ferrite core which are already split, as shown in Fig 1 (below).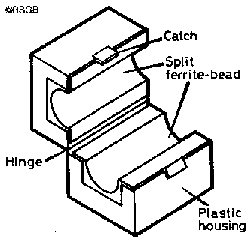 This is a large split ferrite bead with a 13mm diameter hole and a hinged plastic carrier which can be clipped around a cable. Although intended to be clipped on and left, with care it can be opened and closed repeatedly. It is intended for suppression of computer interference but can also be used as a wide-band current transformer. This type of split bead offers better coupling than a ring core and is usable from below 500kHz to over 50MHz.
What's needed for reasonable coupling is a split bead where the length of the hole is about 2.5 times the inside diameter. Make sure that the length of the hole is at least 30mm/1.25 inch for best results. Because most types of clamp-on ferrite core are designed for EMI suppression, the grade of ferrite is generally OK for use as an RF transformer on the HF bands.
There are many sources for these cores. Almost any generic 'flea market' split ferrite bead should be OK, if the centre aperture is large enough to take both the secondary winding and the cable you want to test.