"MUrDuck" VHF "rubber duck" Portable Antenna

RE-A144V1P
de ON6MU
You can make your own 2-meter "rubber duckies" that will likely perform much better than many commercial units. I compared my design with two other "rubber duckies" of the TH215 and ICT7 which outperformed them both. With the "duckie" of the ICT7e as much as 10dB. It does not has a gain compared to a 1/4wave antenna ofcourse, but compared to most standard "rubber duckies" its average "gain" is about 6dB (or more). This has several reasons:
You can tune it for optimal SWR/performance and to the centre frequency you desire (factory duckies are mass-produced and their SWR isn't always good. The TH215 antenna had an SWR of 1:1,4 and the ICT7 dualband antenna was 1:1,6 SWR)
The coil is much much better and has a higher Q (less loss)
The effective antenna length is 24 cm (about 10 inches = 1/8wave)
Performs much better and cost way less then a commercial one!
Can handle more power (isn't that important for HT's, but nevertheless...an advantage.)
Better radiation pattern

You can build a replacement antenna that delivers a lower SWR and more RF output than the one that came with your radio, and you can do it for 10euro or less and a couple of hours of fun! And...It's educational, it's HAM-radio and what's more fun then using your own homemade antenna and to see it out-perform most commercial "duckies" HI.
This design is based on using a maximum applied RF power of 15 W at 144 to 148 MHz.
To test and tune you need:
A accurate SWR/Power meter and field strength meter
A HT or low power transceiver and some coax with the proper connectors
BNC

Half finished

TH215 duckie
Results in practice, tested at five different positions:
Position
ICT7e
ant (10cm)
MUrDuck
1/8 wave
Kenwood 1/4
telescopic ant
A
S 4
S 9+
S 9+6dB
B
S 7
S 9+12dB
S 9+15dB
C
S 3
S 8
S 9
D
S 5
S 8
S 9
E
S 9+6dB
S 9+20dB
S 9+30dB
Transmitter: Icom ICT7e @ 0,5 watt
Location: City, inside building, 1Km
Receiver: Kenwood TM255
Location: City, 2x5/8 comet @ 18mASL
Conclusion: Our "MUrDuck 1/8 wave duckie" performs much better then the standard Icom ICT7e dualband duckie but does not beat a the quarter wave Kenwood dualband telescopic antenna. Although the results between the quarter wave and the "MUrDuck" are very close, the measurements between the factory ICT7e duck-antenna are quite impressive!
Note: the S-readings are not calibrated readings!!!
What you need to build the MUrDuck (RE-A144V1P):
some copper electrical installation wire of 1mm diameter
some "left-over" 3cm 5/8" PVC pipe
a piece conducting material of 25cm in length,
like: thick flexible electrical installation wire, RG58, Aircell+, 5mm(or more)earthwire,...
a male BNC-connector (I used a BNC to Cinch connector)
| | |
| --- | --- |
| | Wind 5 turns of 1mm wire around a coil form of 10mm diameter, keeping the turns about 0.5mm apart. This will fit snugly into the 5/8" PVC tube. |
| | |
| --- | --- |
| | The is coax soldered to the coil and the coil is soldered to the centre pin of the BNC. Solder it to the coax (if you use a coax as antenna): The center conductor and the shield of bothe sides of the coax is connected together. Cut if needed (optimal SWR). Mine was cut to 24 cm. |
To Test
For optimal performance, use a VHF SWR/power meter and a field-strength meter to tune the antenna. If you don't, your
homemade antenna may still work at least as well as the factory antenna. I used a Daiwa SWR meter and a "homebrewed" field-strength meter positioned about eight feet away from the transceiver. Connect your new antenna to the SWR/power meter using the proper combination of connectors.
(A right-angle SO-239 adapter and a PL-259-to-female BNC adapter worked for me.)
Attach the radio's antenna output to the SWR meter's transmitter input with a 60cm (or shorter) length of coaxial cable.
Adjust the field-strength meter's location and its antenna for a mid-scale reading.
Connect your commercial rubber ducky to the SWR/power meter and check the antenna's performance; log your measurements.
Those are the numbers you're going to beat. We're looking for minimum SWR, maximum power and maximum field strength.
Now, attach your homemade antenna to the SWR meter. Check the antenna's SWR and field strength. Gently adjust the
vertical position of the whip until there is an improvement in the readings if needed. Try squeezing the coil turns closer to each other which influences the SWR too. Continue making adjustments until the readings are optimized.
Once you are satisfied, run a bead of glue around the base of the whip. Place
the 3cm 5/8" PVC pipe over the coil, overlapping both ends of the coil form and leaving enough space to push in the BNC connector and room to fill the rest up with glue of a glue-gun.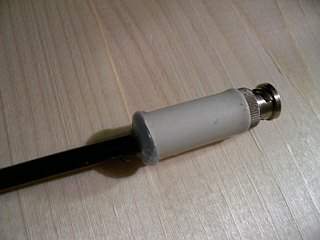 You can see the BNC-connector which is pushed in the PVC-pipe by carefully heating up the end of the 3 cm long PVC 5/8" tube. After checking the SWR it's filled with glue from a glue-gun which gives it the solid-state and durable finish (and watertight).
I've managed to get the SWR to 1:1!

A few last things to note. A small antenna such as a rubber duck antenna (or even a mag-mount antenna) attached directly to a radio will give different results based on the size of the radio, what's connected to it, and the things around it. The reason for this is that the antenna tuning is affected by the "counterpoise", which in the case of a rubber duck is the radio itself. (If the antenna is outside or better isolated from the radio, the readings should be the same.) Since things like rubber ducks won't be the same with an outboard SWR meter connected or the same as an antenna analyzer might show, the only way to know what the SWR is for a particular radio and frequency with a particular configuration of power supply, microphone, people etc, is to read the SWR off the radio. Of course if that's not accurate, you're not getting the right information.
More of interest:
The Telescopic MurDuck
RE-A144V2P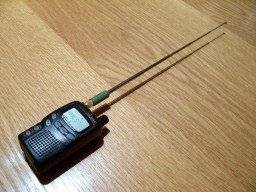 Same principle, but using a telescopic antenna of 30 cm in length. Being telescopic it can be used for more then one frequency. I also put a 3 pF capacitor inside the coil and soldered on both ends of the coil (making it parallel resonant). The "block" frequency lies way out of the VHF or UHF HAM bands. 144...148 or 420...440mc are easily passed through, making it dualband. The frequency that's being blocked is about 290 Mc +/-.
Instead of a BNC connector I used a SMA connector.

Coil dimensions: 6.5 turns, 4mm inside diameter, 0.6mm wire (+/- 100nH)
Inside the coil: a 3pF capacitor
finished
I used a SMA connector for use with my Yaesu VX-1. The included "petite" rubber duck isn't worth much.
This has made a huge difference not only for VHF/UHF, but also outside the ham-bands as this little VX-1 thingy has wide reception.
To test and tune your telescopic dualband antenna the same principles described above (MurDuck) applies here too.
The tank resonance formule: 2*pi*F= 1/sqrt(L*C) => 291 Mc block frequency
Have fun and my best 73"
Guy, ON6MU
http://www.qsl.net/on6mu
Home
www.qsl.net/on6mu