---
Additional TS-570D/TS-570S features and Specifications
The heavy-duty transmitter makes the TS-570D/570S ideal for contesting, mobiling and FSK applications, delivering between 5 and 100 watts in 5 watt increments. The large heatsink and high-capacity cooling fan system designed specifically for this model enables continuous operation under a wide range of environmental conditions.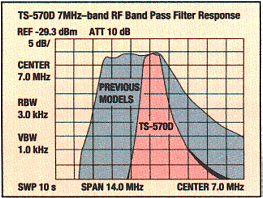 The wide-band receiver covers from 500kHz through 30 MHz continuously with high selectivity and sensitivity. The two built-in preamps (one for each high band and low band) allows you to select better sensitivity or higher IMD performance, and the dedicated 7 Mhz and 14 Mhz bandpass filters deliver improved SW intermodulation rejection.


DSP audio samples of TS-570D/TS-570S
Note: Requires .wav format helper application. File size 200-500kb
NR1 and NR2 Noise reduction Using a weak carrier on USB NR1 is activated then NR2 is activated. White noise is eliminated and the carrier jumps out of the noise.
Beat Cancel Listening to a strong carrier on 40M the Beat Cancel function is activated and the carrier is no longer audible.
CW Auto Tune Used in conjunction with pitch setting the CW Auto Tune function is activated and the receiver vfo changes to preselected pitch.
Speech Processor Speech processor is activated with 25db compression with normal audio response.
TX equalizer function While transmitting with no equalization high boost is activated and then switched to bass boost position.
CW DSP bandwidth control While receiving a weak cw signal the DSP bandwidth is adjusted in steps from 600 Hz to 50 Hz with no ringing.
DSP Slope Tuning Slope tuning high and low cutoff used to enhance SSB signals.
You have the ability to integrate the operation of the TS-570D with a PC via a 9-pin D-DUB and RS-232C interface. The RCP-2 Radio Control Program also allows the HF operator to design and program multiple radios with custom settings while conveniently saving them to a PC file for future use.


TS-570D/TS-570S Specifications
Transmitter Frequency Range
160, 80, 40, 30, 20, 17, 15, 12, 10 meter bands (+6M TS-570S)
Receiver Frequency Range
500 kHz ~ 30 MHz
(500 kHz~60 MHz TS-570S)
Mode
A1A (CW), J3E (SSB), A3E (AM), F3E (FM)

F1D (FSK)

Power Requirement
13.8 V DC ▒15%
Current Drain (approx)
20.5 A (transmit) 2 A (standby)
Operating Temperature
-14░ F ~ +122░ F (-10░ C ~ +50░ C)
Frequency Stability
Within ▒10 x 10^-6 (▒0.5 x 10^-6 with SO-2)
Antenna Impedance
50 Ohms
Microphone Impedance
600 Ohms
Dimensions, projections not

included (W x H x D)

10-5/8 x 3-3/4 x 10-11/16 in.

(270 x 96 x 217 mm)

Weight (approx.)
15 lbs (6.8 kg)
RF Output Power
SSB/CW/FSK: 100 W; AM 25 W
Modulation

SSB

FM

AM

Balanced modulation

Reactance modulation

Low-power modualtion

Maximum Frequency Deviation (FM)
Less than ▒5 kHz
Spurious Radiation 1.8 to 29.7 MHz

TS-570S 50 to 54 MHz

Less than -50 db

Less than -60db

Carrier Suppression
More than 40 db
Unwanted Sideband Suppression
More than 40db
Transmit Frequency Response (SSB)
400 ~ 2600 (within -6 db)
XIT Variable Range
▒9.99 kHz
Antenna Tunable Range
16.7 Ohms ~ 150 Ohms
Circuitry
SSB/CW/AM/FSK
FM

Double Superhetrodyne
Triple Superhetrodyne
Intermediate Frequency

1st IF

2nd IF

3rd IF

73.05 MHz (except FM)

8.83 Mhz (except FM)

455 kHz

Sensitivity


SSB/CW/FSK (S/N 10 db)



AM (S/N 10 db)



FM (12 db SINAD)

Less than 4 ÁV (500 kHz ~ 1.705 MHz)
Less than .02 ÁV (1.705 ~24.5 MHz)
Less than 0.13 ÁV (24.5 ~ 30 MHz)
Less than 0.13ÁV (50~54MHz TS-570S)

Less than 31.6 ÁV (500 kHz ~ 1.705 MHz)
Less than 2 ÁV (1.705 ~ 24.5 MHz)
Less than 1.3ÁV (24.5 ~ 30 MHz)
Less than 1.3ÁV(50~54 MHz TS-570S)

Less than 0.25 ÁV (28 ~ 30 MHz)
Less than 0.25ÁV (50~54 MHz TS-570S)

Squelch Sensitivity

SSB/CW/FSK/AM



FM





Less than 20 ÁV (500 kHz ~ 1.705MHz)

Less than 2 ÁV (1.705 ~ 30 MHz)
Less than 2 ÁV (50~54 MHz TS-570S)

Less than 0.25 ÁV (28 ~ 30 MHz)
Less than 0.25 ÁV (50~54MHz TS-570S)

Spurious Response

Image Ratio

IF Rejection

Others

More than 70 db

More than 70 db

More than 50 db

Selectivity

SSB/CW

AM (wide mode)

FM

More than 2.2 kHz (-6 db)
4.4 kHz (-60 db)
More than 4.0 kHz (-6 db)
Less than 20.0 kHz (-60 db)
More than 12 kHz (-6 db)
Less than 25 kHz (-60 db)
RIT Variable Range
▒ 9.99 kHz
Beat Elimination
More than 40 db
Audio Output Power
More than 1.5 W
(8 Ohm, 10% distortion, with -53 dBm input)
Audio Output Impedance
8 Ohms
---