Converting the Spectrian SCPA1063W amplifier on 13cm (2320Mhz)
---
DISCLAIMER: THESE REMARKS AND DESCRIPTIONS ARE PROVIDED FOR INFORMATION ONLY. THIS AMPLIIFER IS A HIGH POWERED MICROWAVE DEVICE. THE AMOUNT OF AVAILABLE RADIATION WILL CAUSE HARM IF APPLIED WITHOUT CAUTION



Here is my take at converting the Spectrian to 2320MHz, the European 13cm band. I know a lot is on the web (thanks NR6CA), but I also found a lot of stuff not 100% same in my case. This document assumes you have read everything that is on the web regarding this amp, it is just a collection of additional remarks.

---
---

Pictures that may be of some use: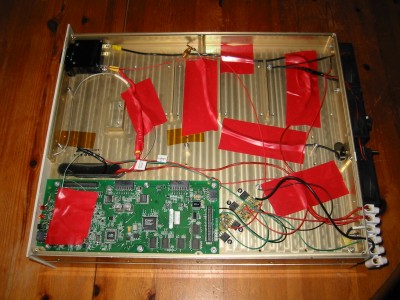 The first picture shows the bottom compartiment, all boards except the digital controller removed. I just use the LEDs of the board, to indicate 26V, 12V and PA enable. 2 DB6NT sequencers are used, one for driver enable (26V) and antenna relay out (to GND), the other one for main PA enable (12V). I run the sample out connector to the driver input, and terminate the sampling line in 50ohms at this side to avoid trouble. Use a piece of semi rigid with attached MCX from the discarded original I/O connector.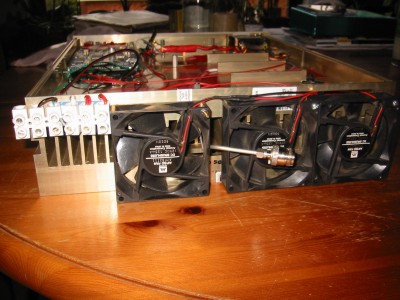 Added homebrew I/O connector as well as three fans. We are dissipating +/- 500W of heat here. I dont like the SMA semi-rigid output line, but did not have space left at the back.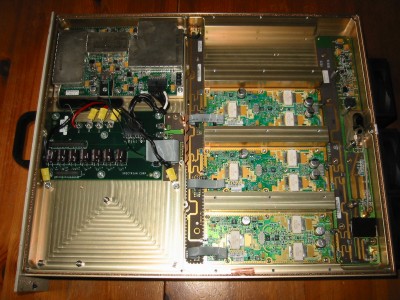 The first RF board (channel selection? modulation?) has been removed, but power distribution and driver board remain used.




Close up of power distribution and driver.
Note:


---
Here is some info on the driver I found on a German site, likely copied form Ebay:



"This is for one very linear Class A RF amplifier which is removed from a new Spectrian high power Amp where it was used for driver for the main PA boards. Output power is 15W without any compression from 2.30GHz to 2.40GHz with a linear gain of 35dB. Great amplifier for ATV or SSB use. This amplifier is also useful from down to 2.2GHz and up to 2.5GHz with a power output of 10W and a gain of 30dB. Power requirement is 12-14V @ 10A and + 24 to +28v bias @ 50Ma. This bias is used for the gate voltage circuit on the power control *FET*. This is easily obtained using a small DC-DC converter (12vin and 12-15V out and putting its output in series with the 12v supply. There is a logic level enable pin which requires grounding to enable power to this amplifier and can be used for a PTT/KEY control. The connector also has a direct temperature output pin with the function 10.0mV/degree F which measures the board temperature close to the 30W RF output GaAs *FET* (*NEC **S2527*-30). Note that the output of this amplifier is protected by an internal 125W isolator! Here are the pin functions for the DC bias connector: Pins 1,2,3,4 are all +12 to 13Vdc @ 7.5 or so amps. Pins 5,6,7,8,10 are all ground. Pins 12,13 are N.C. Pin 11 is Logic level Low enable, normally floats high. This turns on the +12v to the internal transistors. Pin 14 is + 26V bias supply input @ 50Ma. Pin 9 indicates temperature = 10mV/degree F. This board comes mounted on a 1/4 inch thick aluminum heat spreader which has 6 mounting holes for mounting to a heat-sink."



As described above I had to enable the amp differently, but the info is useful nevertheless.



---
Have fun on 13cm, the forgotten microwave band... one cannot say power isn t cheap!

Email

[email protected]

- in case of problems with the qsl.net address, please use

[email protected]



back

---