News
Here under line is informations from my activity during last months.
---
16.05.2005

Sorry for this days I am busy , but RS propagation is very good .


Now I start new pages

(czech lang.) on http://www.ok1jkt.cz or http://ok1jkt.cz . This pages is in construction .
---
13.06.2005

For today I was any works on my QTH and also was QRV . I make QSO with S51ZO and OM3LQ . Also I hear many beacons via rain-scatter . At 17:23 utc Joze S51ZO has very strong signal , at peak 59s + 40dB .
Here is picture from czech radar . Also Joze hear beacon OK0EW , tks fr report .
Boris OK2QW(exOK2UWF) started new beacon on Lysa hora JN99fn . Now with only 10mW (later will be more) , at 10368.960 MHz and HORN 8db direction to west . Thank you Boris .
---
12.06.2005

Today write me Misi HA5NF information about Hungarien beacons on VHF bands . Here is sheet as HG_bcn.xls . Thanks Misi .
---
04.-05.06.2005

During contest I am as OL4A from JO60rn , make about 56 QSO`s
---
03.06.2005

Today I put in repair rotator and I can QRV on 10 GHz . I make few QSO via RS . During contest I will be QRV as OL4A from JO60rn but only on 10 GHz .
---
29.-30.05.2005

I waiting for today any rainscatter . Yes I work with OE5VRL/5 , I4XCC , 9A1Z ,DL1SUN , DK5WMA ,DL1CF , PA0BAT , DL3YEL and DO1CTL . Sunday morning I work tropo DK1KR from JO53hw . I use equipment only on roof , rotator is still bad . If will be all right next Friday rotator put on tower . Here is pictures from 28.May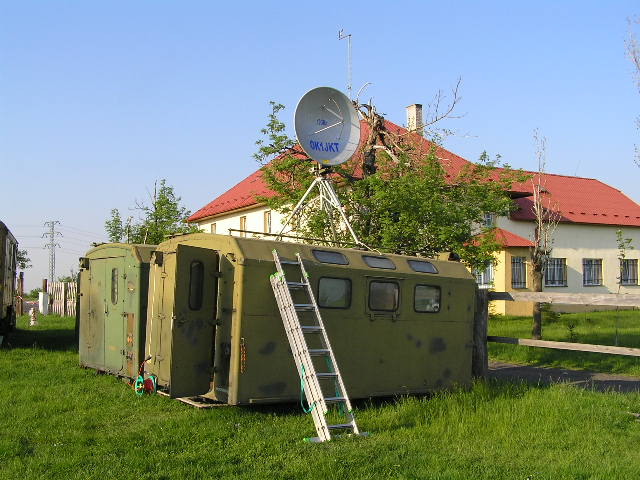 provisory place
clouds - scatter point during work into west
---
27.05.2005

Information from Misi-HA5NF about new beacon on 70cm : Again on the air HG3BUA on the new frquency. QRG is : 432,450 Mhz After asl heigt he gives actual temp. in the tube and beacon power.For example : TEST DE HG3BUA QRA JN96CC ASL 585M 40CI 2,2W
Tks Misi
---
07.-08.05.2005

I start in contest at 1515 utc and worked about 20 QSO . Before contest I help into antennas for 2m . During night come very strong wind and destruct my rotator .
Here is few photos from 08.May :
---
05.05.2005

At (after disease) 6.may I will build 3cm for contest , on 24GHz I can`t QRV sorry . I will be QRV during contest as OL4A from JO60rn .
---
30.03.2005

Please patience , I prepare new web pages ...
---
Archiv olden news
---