Below the explanation of Teruhiko Hayashi's JA2SVZ developed frequency counter replacement KIT to undermentioned YAESU equipments.
That can be ordered directly from Japan,requested by email from Teruhiko JA2SVZ.
---
Text and explanations by Teruhiko Hayashi ( JA2SVZ )
YAESU FT-101Z / FT-107 / Sommerkamp FT-307 / FT-707 / FT-901,902 (later version)
DISPLAY COUNTER UNIT (PB-2086A)
Custom Integrated Circuit (MSM9520RS) Replacement Module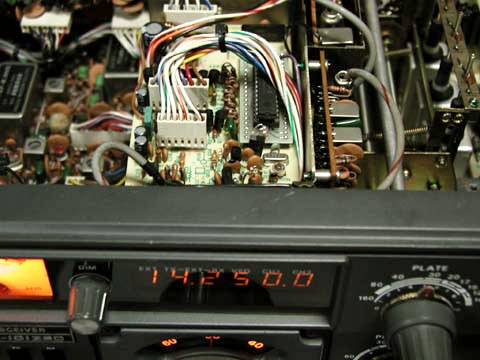 Is your precious, beloved 101Z still displaying the frequency?
"Pre-DSP/MPU era transceivers" from YAESU often made use of a custom integrated circuit (IC), MSM9520RS in their DISPLAY COUNTER UNIT. The bad news is that MSM9520RS is somewhat prone to failures. Since this particular IC was not a standard product but a custom ordered IC by YAESU and its production has been discontinued for long time, there is very little hope to obtain a replacement part for repair, at even world famous TOKYO AKIHABARA!
This replacement module takes advantages of the flexibilities of PIC microcontroller (PIC 16F873) to "simulate" the exact functionalities of MSM9520RS in the DISPLAY COUNTER UNIT: PB-2086A, equipped in FT-101Z, FT-107, FT-707 and FT-901/902. This module restores their frequency display functionality when MSM9520RS fails.
Those YAESU models were designed and produced at the "supreme" of analogue technologies and can still perform "beautifully" when properly maintained. (and with frequency display, of course!)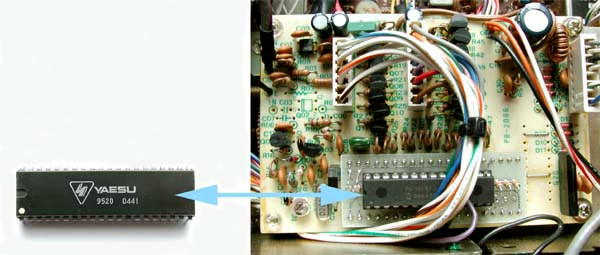 My FT-101Z came from one of my friends several years ago and like many others, the frequency display was nonfunctional: MSM9520RS was dead. Since the entire transceiver except its frequency display was functional and in good shape, I decided to develop this PIC replacement module for myself. It did not take too long for me to realize that many people in the world are desperately looking for MSM9520RS and I started thinking I can be of their help.
Applicable Models
Originally this module was designed for and tested in my YAESU FT-101Z but thanks to other enthusiastic volunteers, the applicability of this module to other YAESU models has been verified and tested. So far, the following YAESU models can make use of this replacement module.
FT-101Z
FT-107
FT-707
FT-901/902 (later version only)
For FT-901/902, the early versions did not use MSM9520RS for its frequency display; therefore the early version is not applicable. The later version can be distinguished with its brightness control knob: "DIM" located on the left side of the frequency display. Also, the DISPLAY COUNTER UNIT is marked as PB-2086A, with MSM9520RS 40 pin DIP IC.
Contents of the KIT
This module is offered as a parts kit form. It contains custom made, double sided printed circuit board for converting 28 pin of PIC microcontroller to 40 pins of MSM9520RS, programmed PIC 16F873, 20.000 MHz crystal (for frequency measurement standard as well as PIC clock generation) and resistors, capacitors and a transistor for modifying the preamplifier circuit on the DISPLAY COUNTER UNIT: PB-2086A.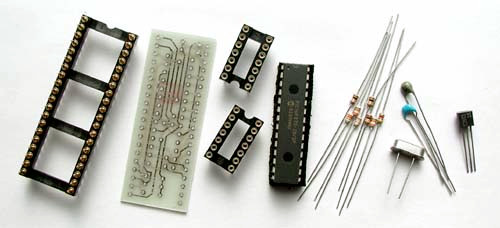 The Assembly and Installation Manual is available for down load from the following link. Please review it prior to the purchase of the kit.
Assembly and Installation Manual (v1.2e)
Prerequisite
It is necessary to unsolder 40 pin DIP IC (MSM9520RS) from the board: this may be a little challenging if you are not familiar to. You need to deal with fine foil patterns on the conversion printed circuit board: routing between 1/10 of inch DIP IC pins. Usually it takes a couple of hours for someone who often conducts transistor/ IC projects as a hobbyist to complete the assembly, installation and adjustments.
Price
US $37 (Shipping cost not included)
1) PayPal ( http://www.paypal.com/ : Credit Card payment is now acceptable through PayPal.)
2) International Postal Money Order
3) Western Union Money Transfer (Suruga Bank)
Shipping cost may vary depending on destination: Approx. S/H cost to Europe, US is about US $13.
Contact
Please contact Teruhiko Hayashi (JA2SVZ) by e-mail: [email protected] for ordering information, S/H cost estimation and for other technical information!