Na snímku nadbývá jezero v serverní části na východ od Kaspického moře. Snímek je mírně zašuměný, protože je na okraji oblasti, kterou ještě můžu přijímat. Na některých snímcích se ještě objevuje i Aralské moře.

There is superfluous lake to east from nothern part of Caspic Sea. The image is little noisy since the Caspic sea is near the edge where I can receive signal. On some pictures appeares Aral'skoe sea, too.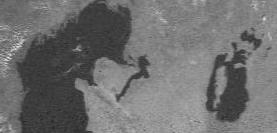 Aralské moře vypadá na mapě taky jinak...

Aral'skoe sea looks different on map, too.