Packet Radio mit einem Dell Axim X5 und einem KenwoodTH-D7
Das Packet Radio Programm ist von Stefan Dambeck, DC7DS .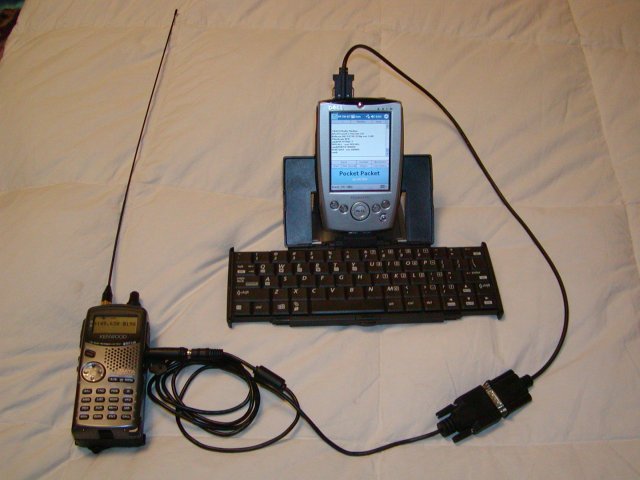 Das Foto stammt von Jerry, N7YGE

Pocket Packet by DC7DS
(A Thank you from N7YGE)
The picture you are looking at shows a functional pocket PC portable packet station. Before I explain the system, I would like to give thanks to a few Amateur Radio operators who helped me bring together a two year quest to have both the capability to use either a packet station or APRS station on the same pocket pc. Yes, it took me two years to bring all the pieces together so they worked together on the Dell Axim X5 Pocket PC. I will mainly address Pocket PC packet radio in this article. I will just make mention that if you are not using a serial CF card, and use the Dell Axim X5 serial cable (not shown); the chip in the cable requires modifications to make it work for APRS. This article assumes a configuration for both packet and APRS going through the serial CF card and using COM port 5 for the Dell Axim X5 pocket PC. Note that other pocket PC's may use a different COM port than COM 5 with a serial CF card installed; COM 5 works for the X5.
First I would like to thank Dr. Werner Furlan (OE9FWV) for helping me get started initially with the DC7DS Pocket Packet software. Then I would like to thank Stefan Dambeck (DC7DS) the author of the Pocket Packet software for taking his valuable time to adjust his Pocket PC packet program so it would work on COM port 5 or COM port 1 and for the English version of the program. I also thank Herb Gerhardt (KB7UVC) and his wife Pat (KC7CYQ) for their time and patience in taking the photo shoot of my equipment for this article.
The equipment in the photo is as follows:
Kenwood TH-D7A(G) with Comet Antenna; your choice of antenna.
Dell Axim X5 Pocket PC running Microsoft Pocket PC 2003.
Dell Folding Keyboard: Part No. 0X379.
RATOC Systems, Inc RS-232C CF Card (CF60) with male DB9 on end of attached cable. This CF card plugs into the CF slot on the top of the Axim X5. The HP 2215 should also work in this configuration. It is too bad Pocket PC manufacturers are deleting the CF card slot from their products and are moving towards a single SD card slot.
Cable with female DB9 and other end with jack size to fit into PC port on TH-D7 (Photo shows an adapter between the TH-D7 PC port female plug and larger male cable end so the male cable plug can transition to fit into the TH-D7 PC port). If you have a cable for programming the TH-D7 on a computer, this same cable can be used here and no adapter is needed.
Pocket Packet by DC7DS Software and the drivers for the Dell Foldable Keyboard.
If running APRS, add a GPS connected to the GPS port on the TH-D7 and the APRS/CE software by Rob Wittner, (WG5Q; former KZ5RW), Version 1.02 (Check http://www.tapr.org/~aprsce/ for updates).
Comments:
With the above hardware connected as shown in the photo and with the Pocket Packet DC7DS software installed, the software was easy to understand without any guidance. Heck, my first version was in German (I only read English and some Spanish) and I still was able to use it as is with no problem. I wonder if my Great Grandfather's name being George Spalinger giving me some genes that made it so easy for me to understand the German version. Stefan was kind enough to take his time to produce an English version for me to use on Com port 5. However, when I removed the folding keyboard and CF card to use the Dell Axim Serial cable plugged into the bottom socket of the X5 (Com1), I had to revert back to the German version in order to use COM1 again. This was not a problem for me since I set up in the running program folder a COM5 subfolder and a COM1 subfolder. This way I can go to the COM port folder I need, copy the program in that folder, and then paste the program over the program I ran last in the running program folder. From this explanation, you can see you need to ask for help if you are not using COM1 which is the only setting for the German packet program version and cannot be changed by the user. Again, Stefan was kind enough to spend his time to do the conversion so the program would run on COM port 5 and in English.
I hope you are able to get your hardware and software configured using this article. I have already had lots of fun with the packet program and used it during Field Day 2004 to pass messages and earn points. Thanks again to all the folks I mentioned above for all their help and making it possible so I can enjoy packet and APRS on my mobile Pocket PC with keyboard attached; mini computer.
Written by: Jerry Escalante DE N7YGE