Net History - Overview:
The New York State Phone Traffic and Emergency Net held its first session on April 21,1952. Meeting on 3.980 MHz and known as the New York State Phone Emergency and Traffic Net. That initial session hosted 47 stations. The net founder was W2GSS, Don Gardner, of Syracuse, N.Y.. The net initially met from 18:00 to 20:30.

The Net's present name came about in 1956; the objective remained, however, providing reliable handling of all traffic as a public service.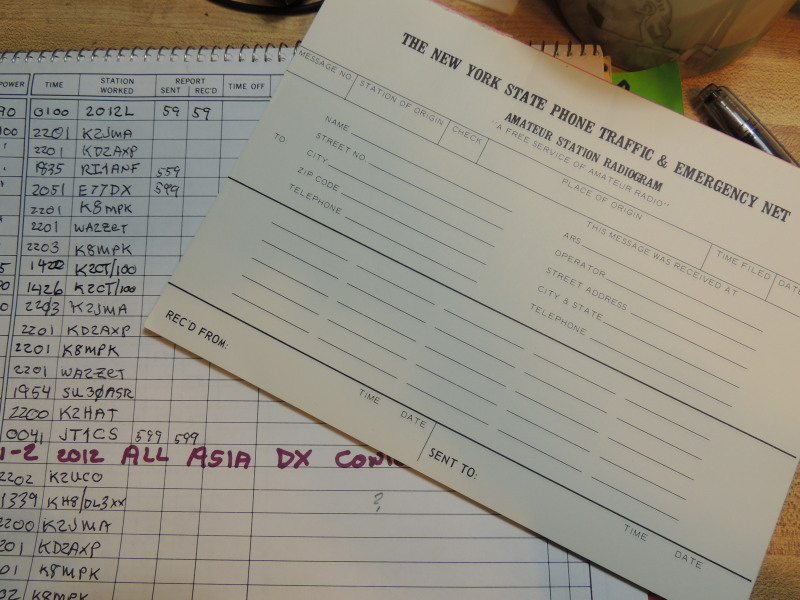 PAST NET OFFICERS


| | | | | |
| --- | --- | --- | --- | --- |
| Year | Net Manager | Asst Net Manager | Secretary-Treasurer | Asst Secretary |
| 1952 | W2GSS | W2VEP | | |
| 1953 | W2GSS | W2VEP | W2UNF | W2ABC |
| 1954 | W2UNF | W2ABC | | |
| 1955 | W2TEP | K2AYQ | | |
| 1956 | W2NJL | K2EHI | W3WQL | |
| 1957 | W2COB | W2BKC | K2IYP | |
| 1958 | W2PVI | W2IEP | K2DXE | |
| 1959 | K2RTN | K2DXE | K2RWV | K2KQC |
| 1960 | K2RWV | K2BBJ | W2BKC | W2PGW |
| 1961 | K2BWK | K2QDT | K2MEF | W2PGW |
| 1962 | WA2HOH | W2QQK | K2TDG | W2PVI |
| 1963 | K2QKK | WA2KZQ | WA2UZK | |
| 1964 | K2HOH | WA2ANE | WA2TUI | WA2RLV |
| 1965 | WA2TUI | WA2JWL | K2MPK | WA2RLV |
| 1966 | WB2HLV | WB2GAL | K2SPO | K2LMS |
| 1967 | WB2QAP | WB2NGZ | K2SJN | K2AAS |
| 1968 | K2AAS | WB2UZK | W2MXH | WB2AEK |
| 1969 | K2SPO | WB2VJB | WB2GAL | WA2ILE |
| 1970 | WB2VJB | WA2ILE | WA2YJB | K2VCZ |
| 1971 | WB2HLV | WB2MWZ | K2YJR | WB2VND |
| 1972 | K2VCZ | W2DBU | WB2VBK | WB2QKQ |
| 1973 | WB2QAP | WB2VJB | WB2HLV | WB2LXC |
| 1974 | WA2RSP | WB2LXC | WA2RFP | WA3QFA |
| 1975 | K2SPO | WB2ASK | WB2DPR | W1UX |
| 1976 | WB2RUZ | WA2IYB | K2TTG | WB2FYZ |
| 1977 | K2OUA | WB2DPR | W2QYT | WB2QOH |
| 1978 | WB2VJB | WB2AEK | K2YJR | W2ISE |
| 1979 | W2GLH | WA2IYB | K2YJR | WA2SPL |
| 1980 | WB2OTC | WB2JVH | K2YJR | WA2SPL |
| 1981 | AA2Y | K2VTT | K2UCO | KD2V |
| 1982 | KA2Q | WB2HKU | K2VTT | KD2V |
| 1983 | WB2HKU | WB2SON | K2VTT | KD2V |
| 1984 | WB2HKU | WA2HWG | K2VTT | KD2V |
| 1985 | W2MTA | KB2VA | K2VTT | KD2V |
| 1986 | KA2YFO/NS2Z | KA2Q | K2VTT | KD2V |
| 1987 | WB2HKU | KC2IW | K2AFE | KD2V |
| 1988 | KA2Q | KC2IW | KA2VCR | KD2V |
| 1989 | KC2IW | WB2IIV | KA2VCR | KD2V |
| 1990 | WB2IIV | WB2HKU | WB2OTC | KD2V |
| 1991 | WB2IIV | WB2HKU | WY2N | KD2V |
| 1992 | WB2IIV | WB2HKU | WY2N | KD2V |
| 1993 | WB2IIV | WB2HKU | WY2N | KD2V |
| 1994 | WB3CUF | WB2HKU | WY2N | KD2V |
| 1995 | WB3CUF | WB2HKU | WY2N | KD2V |
| 1996 | WB3CUF | WB2HKU | WY2N | KD2V |
| 1997 | WB3CUF | N2YJZ | AA2Y | KD2V |
| 1998 | | | | |
| 1999 | | | | |
| 2000 | | | | |
| 2001 | | | | |
| 2002 | | | | |
| 2003 | | | | |
| 2004 | | | | |
| 2005 | | | | |
| 2006 | | | | |
| 2007 | | | | |
| 2008 | | | | |
| 2009 | N2YJZ | K2UCO | AK2E | KD2V |
| 2010 | WB2AXF | K2UCO | AK2E | KD2V |
| 2011 | WA3AFS | K8MPK | AK2E | KD2V |
| 2012 | WA3AFS | K8MPK | AK2E | KD2V |
| 2013 | WA3AFS | K8MPK | AK2E | KD2V |
| 2014 | WA3AFS | | AK2E | WO2H |
| 2015 | WA3AFS | K2JMA | AK2E | WO2H |
| 2016 | WA3AFS | K2JMA | AK2E | WO2H |
| 2017 | WA3AFS | K2JMA | AK2E | WO2H |
| 2018 | K2JMA | WA3AFS | AK2E | WO2H |
| 2019 | K2JMA | WA3AFS | AK2E | WO2H |
| | | | | |
| | | | | |
| | | | | |
| | | | | |
| | | | | |
| | | | | |
| | | | | |
| | | | | |
| | | | | |
| | | | | |
| | | | | |
| | | | | |
| | | | | |
| | | | | |
| | | | | |
| | | | | |
| | | | | |
| | | | | |