Dayton Portable AC Engine-Generator
Model 1W532 1700 Watts 115V 60 Cycles 14 Amps
3600 RPM Generator No. 2M094
with a Briggs and Stratton 3.5hp Model 9 circa 1949
---
The Dayton (House brand-name for Grainger products) generator was originally connected to a Clinton engine with a common endplate and a common crank/drive shaft. When I got the gen-set (thanks to my brother, Robb!) the engine was completely ruined. The previous owner had left the oil plug off and the sparkplug out. Needless to say, the weather took its toll. I was able to cut out the endplate and save it for the front of the generator. Dewey was able to lathe out a bearing holder to replace the tapered bearing that was on the original with a sealed bearing. The field coils in the generator needed to be dryed. I fed the coils with a few volts of AC till they were warm and left that overnight to drive out the moisture. I revarnished and taped the damaged part of the coil.
Soon after that I got the Briggs and Stratton model 9 at the same junkyard that the genset came from. It had sat in a lot of water and damaged the shroud, but the internal parts were like new! So, after a lot of work, it runs beautifully!
I welded up a frame along with casters to make moving the unit easier. Note the mounting base on the generator. I salvaged this from an old electric motor. It was necessary to weld this to the generator frame, as the original mounting was a single shock absorber type mount that would not work without the rigid connection to the Clinton engine endplate. A Lovejoy coupling connects the generator and the engine.
Sound levels are always a concern with gensets. I found the best muffler to use for small engines is the one that Briggs and Stratton have been putting on newer mowers. It is the large rectangular/rounded object on this side of the engine, above the carb. I brazed up an adapter to mount it on the engine.
.
---
Other side view
---
The AC jack on the generator is actually an electrical workbox that I welded to the old mounting plate. The previous box was smashed. There are two big electrical connections on the back of the plate. I thought that they were for battery charging, but upon a closer inspection of the label I found that the connections were for a STARTING battery! Apparently the generator acts as a starting motor when 12 volts is placed across these terminals. Yep, it really works!
---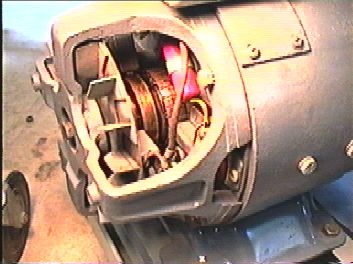 Here are the "innards" of the generator. (Rear shroud removed) Note the AC slip rings (only one is visible), the DC commutator, fan and noise supressor capacitor.