Te-Ne-Ke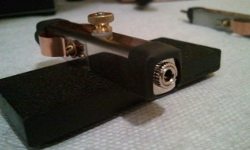 You read about it in CQ...
Dave Ingram (K4TWJ) says:

"The NE KE is the best bet for mobile operations.
A terrific paddle."

Boyd Mason's (NE8KE) Te-Ne-Ke
Have you ever heard of the Te-Ne-Ke?

Read on...

QRP Hikers ... Campers ... Backpackers !!

Take a few minutes to read the excellent QRP Power article by Rich Arland (K7SZ) in the February 2001 QST. (Page 107)

Rich has a lot of good ideas for use on the trail and mentions the Te-Ne-Ke as a good accessory to have. Thanks Rich, for the recognition and for printing the link to this page.

These amazing little iambic key paddles are like nothing you have ever seen or used before. They are an invention of Boyd Mason (NE8KE) "Knee Key" ... Get it? Now there is a perfect vanity call for you...

The idea...
Boyd's original idea was to design a set of paddles to be used while HF mobile. The key head was attached to a strap that went around a persons thigh just above the knee. This provided a perfect resting point for ones hand and held the key in place while motoring down the highway and chatting with CW . The concept soon spread to use while bicycling, boating and hiking. The key heads were adapted to many types of holding devices. Not to be left out, the many hikers who were also QRP enthusiasts, soon picked up on the idea. The tiny keys were mounted to a small block of steel, and there you have it, the perfect QRP set up.

Now you can have one too...
The Te-Ne-Ke is also the perfect set of paddles to use as your main station key as well. It only takes a few QSOs to get the hang of it's effortlessly smooth action.

To get one of these little beauties, just go to our new W8CSO.ORG Website Te-Ne-Key page

Be sure to include your name and address so we will know where to send it.