NEWS & EVENTS
(slowly get deleted from the bottom up)





RACES BADGES THURSDAY 10/17/2019
FOR THOSE QUALIFIED!!!
Tamana M. Ayoob / Human Resources Assoc.
12 SE 1st Street --- **FIRST** FLOOR (new location)







Alachua County Human Resources · Phone

12 SE 1st St Ste 3, Gainesville, FL 32601

(352) 374-5219
| | | |
| --- | --- | --- |
| Dates | Days | Time |
| October 15, 2019 | Tuesday | 10am – 12pm |
| October 17, 2019 | Thursday | 8:30 am – 11:00am |
---
2019NFLHurricaneBunnellSETExercise PDF File
(Non Alachua County folks are kindly urged to use this Section Link: Hurricane Bunnell )


October9MtgAgenda
PossibleAlachuaCountyOct19S-E-T

Efforts to Set Straight the RM-11831 Confusion:
InitialResponseToRappaportMtgWithFCC
D-RATS & Corrections to Multiple Errors
900-mileWINLINKReading&FLDGI/FLMSGchallenge
WinlinkCameFromFBB (So of COURSE it can be read!)
MYTHs about compression



RELEASED TO FCC & ARRL BOARD

Inconvenient Truths About WINLINK and FLDIGI/FLMSG
It is a bit nervewracking to have to explain that not only does the Emperor "have no clothes" but they were apparently BIASED and PREJUDICED in application of a flawed standard as well....



New---Version 1.07
FREE SOFTWARE TO READ WINLINK ON THE FLY USING DRAGON 7400/7800

FREE MANUAL FOR FREE SOFTWARE READING WINLINK PACTOR



---

Now back to our normal stuff......





THIS BOOK IS NOW GOING TO NEED TWO NEW CHAPTERS.....


Amazon Web Site - Paperback
---


CW on a regular Transceiver

JULY 10 Wed NFARC / ARES Meeting
Tentative July Agenda
History of ARES Task Books
Transistor BIASING
AREDN Familiarization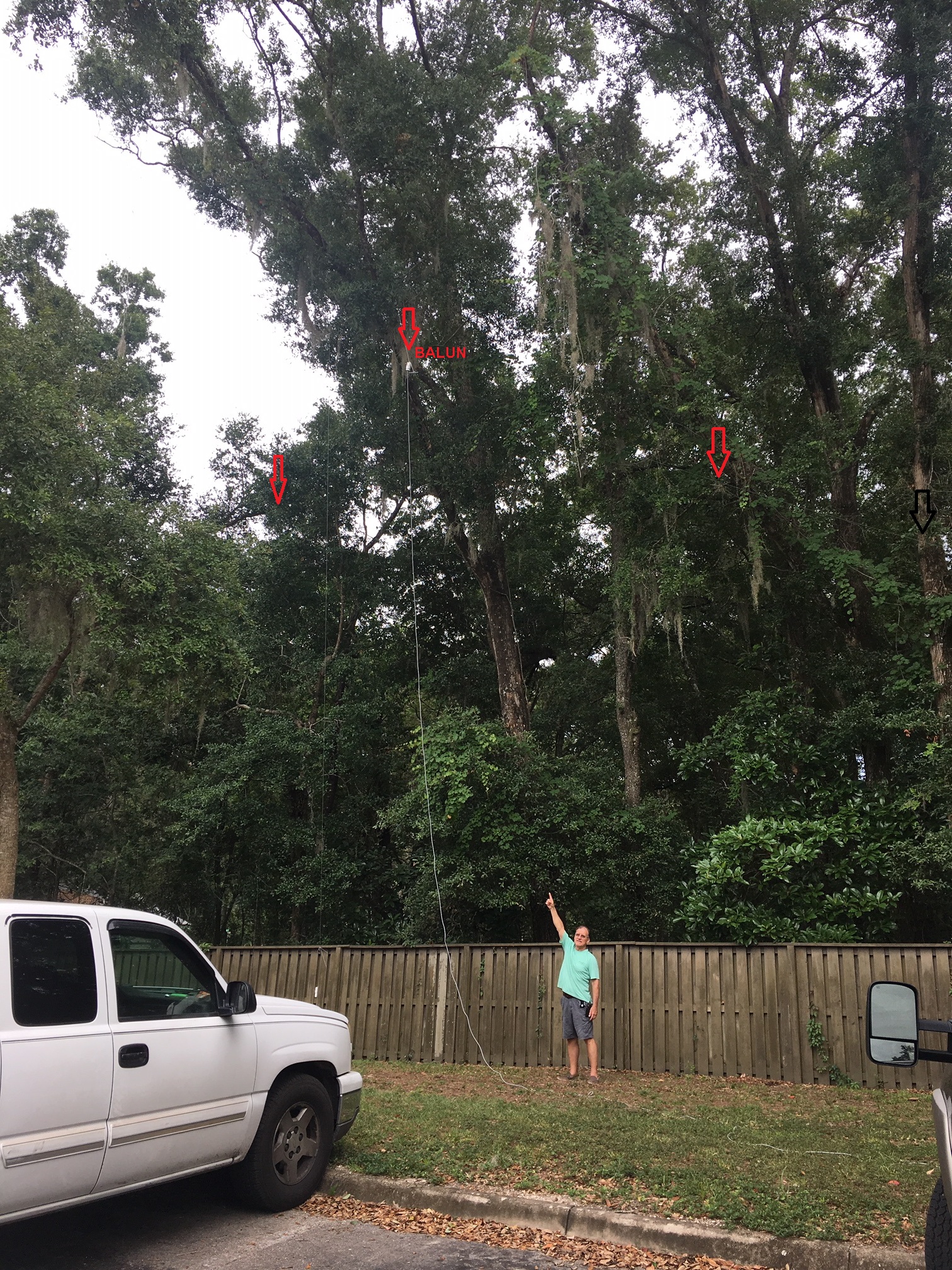 Hear more about this at the meeting.....

Last Month......
Tentative June Agenda
Transistor Amplifer Part 2.0
Cherokee Cty GA NetPractice
Dimensions 4.5 Time Service Download (for FT8, JS8Call)





Emergency Traffic Net Control Practice Handout




PROCEDURAL WORDS OF INTEREST
Handling Back and Forth:

• "Over" A reply is expected, "go ahead."

• "Out" No reply is expected. Do not respond (like "hanging up" the phone).

• "Roger" Received and Understood (NOT "Yes")

• "Affirmative" Yes

• "Negative" No

• "Clear" Same as "Out." No reply is expected.

• "Say Again" Repeat




Getting A Message Across

I SPELL

INITIAL (or INITIALS, as the case may be)

FIGURES (zip codes, telephone numbers, zip codes, or combinations of numbers )

MIXED GROUP (figures and letters)

BREAK (what you say between sections; except Shannon has concluded we should use PAUSE on local vhf repeaters)

AMATEUR CALL SIGN
---
---
---
Volunteer Requirements from State
Updated Hurricane Michael Improveent Plan
Updated 2019 Emergency Conf. Improvement Plan
---
After Action Report / Improvement Plan for Conference Exercise
---
REFLECTIONS
The Science of What Happens On Coax!
Reflections 3.0 will be at the meeting! -- How to add impedances and admittances EASY on the Chart.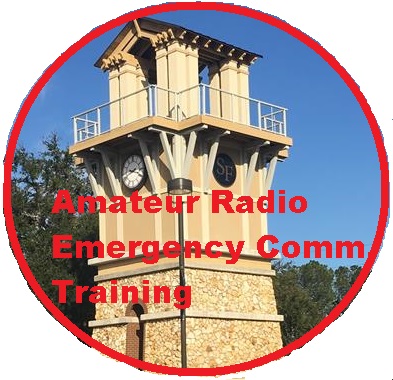 59 Participated!

The 2019 (Florida) Amateur Radio Emergency Communications Conference was a huge success -- scores 4.6/5.0 The Exercise was a smash hit with the participants. 29 Talks / Sessions given -- so many thanks to the speakers! Everyone learned a ton! We attempted to build in better ICS procedures for situational awareness (the Activity Report and updates to documents) -- with slight success.




From duplexers to WINLINK -- we covered as much as we possiibly could about Emergency Communications!



The Exercise After Action Report/Improvement Plan is >60 pages, being reviewed now and will be released soon. It is in HSEEP Format, exactly the format used by city, county, state and federal exercise planners. You can use it to show your officials the caliber of training being accomplished today in Amateur Radio.

It will be a text on Amazon, just like most of our documents, and also available free here.




2019 Amateur Radio Emergency Communications Conference



---
---
---
Solution finally found for reliable two-node relaying, e.g., all the way from Trenton into GNVWLK:
Two-Node Relay Packet Settings
Big CONGRATS to all the successfull Alachua County Hams who made it into the WINLINK Check-In net this week: AC4QS, AA3YB, KG4VWI, KM4DLF, KM4JTE,KX4Z -- great job!!
Being well-rounded, capable of all kinds of modes, bands, techniques -- a strong asset for anyone in emegency communications!
---
---
---
---
New Trenton VHF Packet Repeater Coverage W4DAK-7
Blue area past the green coverage of NF4C-7 (NEWB) is NEW westward coverage for our training/emergency network.
---
ASSETS & SKILLS Form --
---
---
EOCX-012.1 -- Develop volunteer plan for EOC to include Amateur Radio (Human Resources, 9/1/2018)
SHLT-006.2 -- Recruit additional amateur radio operators to staff more shelters (ACEM / CSS , 6/1/2018)
SHLT-006.3 -- Encourage shelter managers getting license (ACEM / CSS 6/1/2019) --

we could provide classes!!


SHLT-006.5 -- ANTENNA PASSTHRUS (ACEM / ACPS 6/1/2018)

SHLT-007 Shelters were in a situational awareness silo, limiting the information known to the shelter staff and the shelterees -- (ITS ACEM CSS DOH-Alachua -- 6/1/2018) ---

We may have a help for that!



SHLT-007.3 -- Increase information shared with amateur radio (ACEM / CSS 6/1/2018) --

We now have a great outlet for increased information!!





Load the document, do a search for "radio" (44 instances) and you'll find a treasure trove of information.



---
---
---
hree bridging stations now connect our
145.070 network of stations to other groups: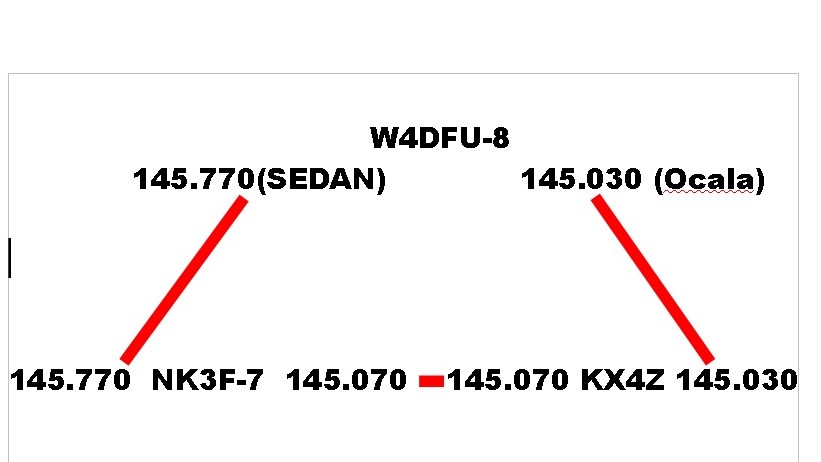 ALL PORTS WILL USE COMMON SCHEME:
Port 6 - 145.030
Port 7 = 145.070
Port 8= 145.770
---