Alachua Cty. Vol. EOP

Alachua Cty. Vol. IPP

IPP: Slide Show

2021 Projects

Training Resources

Volunteer Badging Requirements

Alachua Cty Vol. ICS-205

Alachua Cty. CHIRP Info

Blank Forms

NFARC Club History

NFARC Exercise History

2021 Field Day
North Florida Amateur Radio Club
created to support Alachua County ARES(R)

We are a DYNAMIC and VIBRANT amateur radio club involved in almost every aspect of this incredibly fun hobby, teaching and training as many people as we can, both to benefit them and to increase support for serving our Community through backup radio communications in times of need.
---
2021 Alachua S.E.T. AARIP Draft



Registration for our 2021 EXTRA CLASS COURSE
---
---
ES(R)/NFARC meeting ZOOM
https://us02web.zoom.us/j/89530741792
FIVE SELECTED MAJOR THREATS TO ALACHUA COUNTY THAT NFARC/ARES(R) ARE FOCUSED UPON FOR THE NEXT THREE YEARS



---


Alachua County Shelter Radio Systems Testing: https://qsl.net/nf4rc/2021/MassCareShelterAntennaTesting.pdf
---
Largest Volunteer Communications Exercise In Florida
Whirlwind Boom 2021 huge success thanks to 85+ participants, >>400 messages transferred.
After Action Report/Improvement Plan is Published
(And an error corrected on page 11 & Republished)
FREE WhirlwindBoom AAR/IP Here
AMAZON PAPERBACK / Kindle Version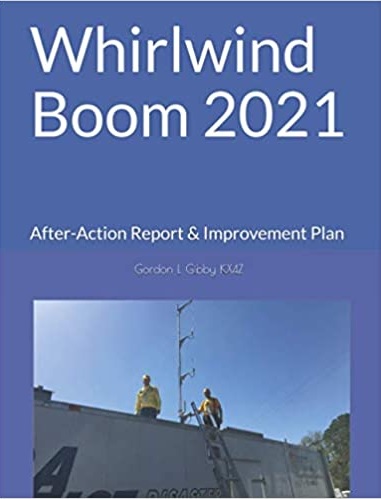 GREAT WORK EVERYONE!! Many new connections were made and much training accompllished.



Leadership in our group is SERVANTHOOD
FCC Licensed Club Callsign:
NF4RC
Contact Information
Trustee
Gordon Gibby MD [email protected]
More information on qrzcq.com



(I have plenty of wood forms if you need one already cut and screwed together.)





Forest Grove NF4RC-7 FireTower station


Beatty Tower dual-frequency station
Our two digital antennas at base of Beatty Towers antenna installation. W4DFU-7/8/9
Art on top of Beatty Towers (164' up!)
---
---