NEWS & EVENTS
(slowly get deleted from the bottom up)

---
Polarity Protector LabNLunch Saturday June 19th

Meet at 12 noon at Burger King I75/39th Avenue for lunch & go over project
OR go straight to Gordon's house at 1 PM
EIGHT persons signed up ; signup is now closed

14 Boards to be Built -- using 56 MOSFETS -- all parts ordered (China, USA)
---
ARES(R) NF4AC FIELD DAY
June 26,27

TENTATIVE NF4AC OPERATOR SCHEDULE

Drawn From The Google Registration Form Above.
We will try to put badged volunteers with
access cards
inside, next badged volunteers, and un-badged volunteers outside to keep the authorities happy. We can use LOTS of people,
more than one at each station for each slot
!! --
y'all choose among yourselves who operates, who logs, what modes, switch it up and HAVE FUN
!!
Just a few minutes up Waldo road from the EOC & you can operate the GARS station also
(Updated as of Thursday 5/20/2021).
UPDATED 6/13/2021

Expect the PIO - 6 Meter operation to be most active from 5PM-8PM Saturday, with possible additional activity earlier in the afternoon -- "sporadic" E means UNPREDICTABLE

We can ALWAYS Flex to accomodate visiting Boy or Girl Scouts and students from
Bob Lightner's contest-savvy club!
Contact Gordon Gibby to make suitable arrangements



THU JUNE 24 7 PM
Zoom Tabletop Review by OPERATIONS -- all Invited
FRI JUN 25 10 AM onward
Live Radio Training - EOC, by Leland Gallup / OPERATIONS
FRI EVENING JUN 25
Copy the Field Day Bulletin
(pubished in digital, cw & voice -- see ICS201 for details.
TIME
Rough ideas of bands
EOC Inside
Station #1
(Badge req'd)
Outside
Station #2
(No badge req'd)

Backup/ 6m / 2m QSO / Winlink

PIO/GOTA
Go-Box Demo Station
SETUP 8AM-10AM

EVERYONE IS WELCOME TO JOIN IN!

Formal Courses
10 AM
Live Radio Training OPERATIONS
Formal Courses
11 AM
SOLAR POWER BASICS
Gibby / Certificate

SolarPowerModule
6m INTRO
TBD
GO BOX TRAINING
TBD
LUNCH @ SONNYS Noon

EVERYONE IS WELCOME!

Last Minute Tests
Dimension 4
1 PM-2PM
Sat 2-4
(great 10M)
Gibby KX4Z**


Susan H. possible


room for more!
Palm K1CE
Tillery K9RFT
Susan KG4VWI
Leland AA3YB
Jeff W4UFL
Sat 4-6 - Still HOT high bands--
moving toward 20M

6m may begin to crank up!
Gibby KX4Z**


Susan H possible


room for more!!
Huckstep W4JIR
Tillery K9RFT
Dean Covey KV4RL
Brett Wallace NK2KW
Amy Woods* KO4IDO
Susan KG4VWI
Leland AA3YB

Expect 6m to open!
Jeff W4UFL
Sat 6-8 PM
Every band imaginable open
Expect some 6 m!
Huckstep W4JIR
Earl Sloan KI4OXD

Mike Ridlon K4MVR
Amy Woods* KO4IDO


Susan KG4VWI
Leland AA3YB
Sat 8-10 PM Dark
80/4/20
20 may be open to West Coast
past 10 PM!!
Sloan KI4OXD
Huckstep W4JIR
room for more!
Fugate KK4INZ
Ridlon K4MVR
Lorilyn Roberts KO4LBS
Leland AA3YB
Sat 10-MN 160 / 80 / 40
20 to West Coast
Huckstep W4JIR


Fugate KK4INZ
room for more!
Ridlon K4MVR
Leland AA3YB
Sun MN - 2AM
160/80/40
Gibby KX4Z
WIDE OPEN
Leland AA3YB
Sun 2-4 AM
160/80/40
WIDE OPEN
WIDE OPEN
Leland AA3YB
Sun 4-6 AM
You'll hear Europe on 40
WIDE OPEN
Possibly: Gibby
WIDE OPEN
Leland AA3YB
Sun 6- 8 AM
Grayline DX! No telling!
WIDE OPEN!
Possibly: Gibby
Gibby KX4Z
Leland AA3YB
Sun 8-10 AM
Higher bands heat up but 80/40 still working
Sloan KI4OXD
room for more!

Huckstep W4JIR

Leland AA3YB
Sun 10-12 Noon
Watch for 20 / 15 /10 openings
Wright KN4TWS
room for more!
Bob Guertin W1GLV
Sloan KI4OXD


Leland AA3YB
Jeff W4UFL
TEARDOWN
Noon - 1 PM
EVERYONE IS WELCOME!!
* = Specifically requesting mentoring
Leland Gallup: able to fill in anywhere
** Will move into the overnight hours as the daylight hours get filled up by other volunteers
Gordon Gibby: available as long as I get some SLEEP

If you want to register and can't figure out the google form, just give Gordon a call. We will work you in somehow. If you want MENTORING, let me know -- not a problem, that's our goal.
---
Excellent May Meeting
THANKS to Brett for his talk on how our planning fits into what the FEMA folks are trying to encourage at every level...

TO CONTRIBUTE TO TRINITY
Get your donation to Susan Halbert within the next week....




FIVE SELECTED MAJOR THREATS TO ALACHUA COUNTY THAT NFARC/ARES(R) ARE FOCUSED UPON FOR THE NEXT THREE YEARS
| | |
| --- | --- |
| No. | Item |
| 1 | Hurricane |
| 2 | Wildfire |
| 3 | Cyber Attack: Infrastructure |
| 4 | Mass Civil Unrest |
| 5 | Electromagnetic Pulse / Coronal Mass Eruption |
We have a significant range of capabilities (skills, assets, strategies) as a volunteer group, that exist and are being improved, which can be called upon at the discretion of the Emergency Manager and/or other authorities.

Backup Communications Planning for the Five Most Important Threats & Hazards
"Integrated Preparedness Plan" - being written in response to informal request from our mentor in the Alachua County EM.

DRAFT VERSION IPP
Brett's Latest Edit of Draft Emergency Operations Plan
Draft Emegency Operations Plan (Volunteer Communications)

DHS/CISA NSTAC Report to the President on Comms Security
Threats / Responses listed in National Security Telecom. Advisory Comm Report



---


Alachua County Shelter Radio Systems Testing Has Begun: https://qsl.net/nf4rc/2021/MassCareShelterAntennaTesting.pdf


Hooray for Col. Huckstep!!
Strong-backed Volunteers Requested.....
CONTACT COL DAVID HUCKSTEP TO VOLUNTEER
Contact Col. David Huckstep W4JIR to volunteer -- you can borrow my Cosco upright/horizontal dolly if you would like.



Shelters on their list that are NOT part of the antenna-installation program: (Hooray Col. Huckstep for spotting this issue!!)
CHILES
ALACHUA ELEMENTARY
HIGH SPRINGS COMMUNITY SCHOOL

Apparently these new shelters were envisioned due to extra space requirements caused by COVID-19. We have our work cut out for us at those locations -- no pass thrus! -- We may be back to the "taking up the threshhold" plan..... More investigation of the possibilities is ongoing....

DO THE BEST You CAN!! We will come up with something. That's what we all do!

---

CALENDAR

DATE
ITEM
Every Monday
Florida Winlink CheckIn Net - Free training!
Every Wednesday
Participate in EOC net check-ins -- contact Leland or Gordon, arrive approx 10:30 or 12:30 . Free training!
Alternate Friday Evenings
3970 kHz NVIS Net (LSB) -- see Reid Tillery

Tue June 15

GARS June Meeting

-- Expect Field Day Planning
https://us04web.zoom.us/j/964853731
Sat June 19.

LabNLunch


to build
POLARITY PROTECTOR kits to keep your precious radio from going up in smoke!!
Burger King I75/39th Ave Noon -- Gibby house at 1 PM.
Thur June 24
7PM TableTop Review of Field Day by OPERATIONS, Zoom Link
https://us02web.zoom.us/j/89530741792
Fri June 25
10 AM and following
Live training on radios / procedures at the EOC by Leland Gallup / Operations
Fri PM June 25
Copy the FIELD DAY BULLETIN for points!
Sat Sun June 26/27
SETUP BEGINS 0800

EOC FIELD DAY -- 2nd Year
Link To Register To Operate 2021 ARES(R) Field Day NF4AC
NF4AC EOC Call Sign
Expecting 2+ Stations
Permission Recieived! And This Year ASO will crank the Generator!
---
Largest Volunteer Communications Exercise In Florida
Whirlwind Boom 2021 huge success thanks to 85+ participants, >>400 messages transferred.
After Action Report/Improvement Plan is Published
(And an error corrected on page 11 & Republished)
FREE WhirlwindBoom AAR/IP Here
AMAZON PAPERBACK / Kindle Version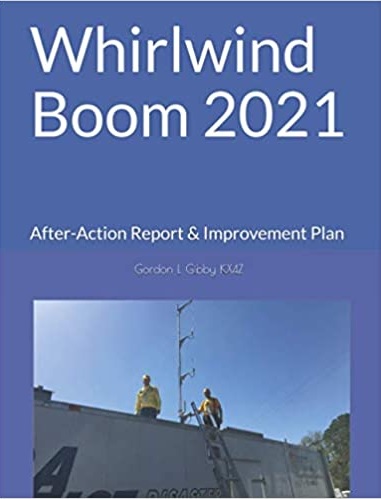 GREAT WORK EVERYONE!! Many new connections were made and much training accompllished.




----------------------------------------
New Zoom Link


I had to get a zoom link to keep Santa Fe CC happy and teach the Tech Class...and it will avoid any hard feelings among our friends -- so here is the trial new "zoom link" information:

Gordon Gibby is inviting you to a scheduled Zoom meeting.

Topic: Radio Training Meetings
Time: This is a recurring meeting Meet anytime

Join Zoom Meeting
https://us02web.zoom.us/j/89530741792

Meeting ID: 895 3074 1792
One tap mobile
+19292056099,,89530741792# US (New York)
+13017158592,,89530741792# US (Washington DC)

Dial by your location
+1 929 205 6099 US (New York)
+1 301 715 8592 US (Washington DC)
+1 312 626 6799 US (Chicago)
+1 669 900 6833 US (San Jose)
+1 253 215 8782 US (Tacoma)
+1 346 248 7799 US (Houston)
Meeting ID: 895 3074 1792
Find your local number: https://us02web.zoom.us/u/kdxi4hkpCh


--------------------------------------



Proposed EOC Comms Levels Tasks


AX.25 Digipeaters/Connections HOW-TO Written by Susan Halbert KG4VWI:
Using UF Packet Station



If YOU need help with an antenna problem (other than towers....) give us a call!


---
---
PROCEDURAL WORDS OF INTEREST
Handling Back and Forth:

• "Over" A reply is expected, "go ahead."

• "Out" No reply is expected. Do not respond (like "hanging up" the phone).

• "Roger" Received and Understood (NOT "Yes")

• "Affirmative" Yes

• "Negative" No

• "Clear" Same as "Out." No reply is expected.

• "Say Again" Repeat




Getting A Message Across

I SPELL

INITIAL (or INITIALS, as the case may be)

FIGURES (zip codes, telephone numbers, zip codes, or combinations of numbers )

MIXED GROUP (figures and letters)

BREAK (what you say between sections; except Shannon has concluded we should use PAUSE on local vhf repeaters)

AMATEUR CALL SIGN
---