A couple of cautions and notes on the operation and settings of the UV-5R.
"Alarm Mode"
The "Alarm Mode" function should be set to "SITE" in Menu 32, AL-MOD.
The alarm mode is activated by a long press on the orange " CALL" button.
When activated the radio begins to emit a siren sound, and the display and LED flashlight flash.
If the radio is in the SITE setiing, you are the only one experience the wildness.
If it is in any other setting, everyone gets to enjoy it, because the radio transmits while doing ALARM MODE!
"DUAL WATCH" (TDR)
The radio is supposedly a "dual watch" radio. But, it takes some settings to make that happen.
The first menu setting is Menu 7, TDR. It must be set to "ON" to make the radio monitor both the A and B displays.
BUT... there is another setting that should be set. In TDR mode, if Menu 34, TDR-AB is set to OFF,
the radio will transmit on which ever receive display was last active. Here is an explanation...
Say you have display A set to your favorite repeater. B is set to primary law. Primary law is heard.
You decide to talk to your buddy across town. You key up and call him... you just did it on primary law!
Here is how to fix it... in Menu 34, TDR-AB, set it to A or B. The display now becomes your "default" display.
In this mode, you can still hear both A & B, but it defaults back to which one you set.
Also note, if the radio is scanning while in this mode, the dual watch is turned off.
There are times you will need to toggle the TDR mode off or on. Do this to change it:
Hit MENU, 7, MENU, set OFF or ON, hit MENU, EXIT.
(NOTE: TDR should be set to OFF when programming.)
A note on programming the UV-5R
If the radio is receiving, the programming software will not function properly. Place the radio
on an unused frequency when programming.
Programming Software
The "CHIRP" software works well with these radios. You will need the latest "daily build" version,
found at
http://trac.chirp.danplanet.com/chirp_daily/LATEST/
. Look for the one with the
latest date in the file name. The "exe" file is best for Windows computers.
You do not need to load cable drivers for CHIRP software, the drivers are built in.
NOTE: If you are in McMinn County TN, here is a CHIRP "img" file to help you with programming
your radio...
http://www.qsl.net/na4it/baofeng/mcarc_uv-5r.img
. Download the file, open Chirp,
set it up and "READ" your radio, open the file you downloaded, modifiy it as you wish, and "UPLOAD"
it to the radio.
If you are having to hold a lot of pressure on your programming cable when it is plugged into your
Wouxun or Baofeng radio, this mod will help. The picture below will show some notches that need to be
cut into the plug so it clears protrusions on the radio case. An X-Acto knife works well, but cut carefully
(and don't cut yourself!).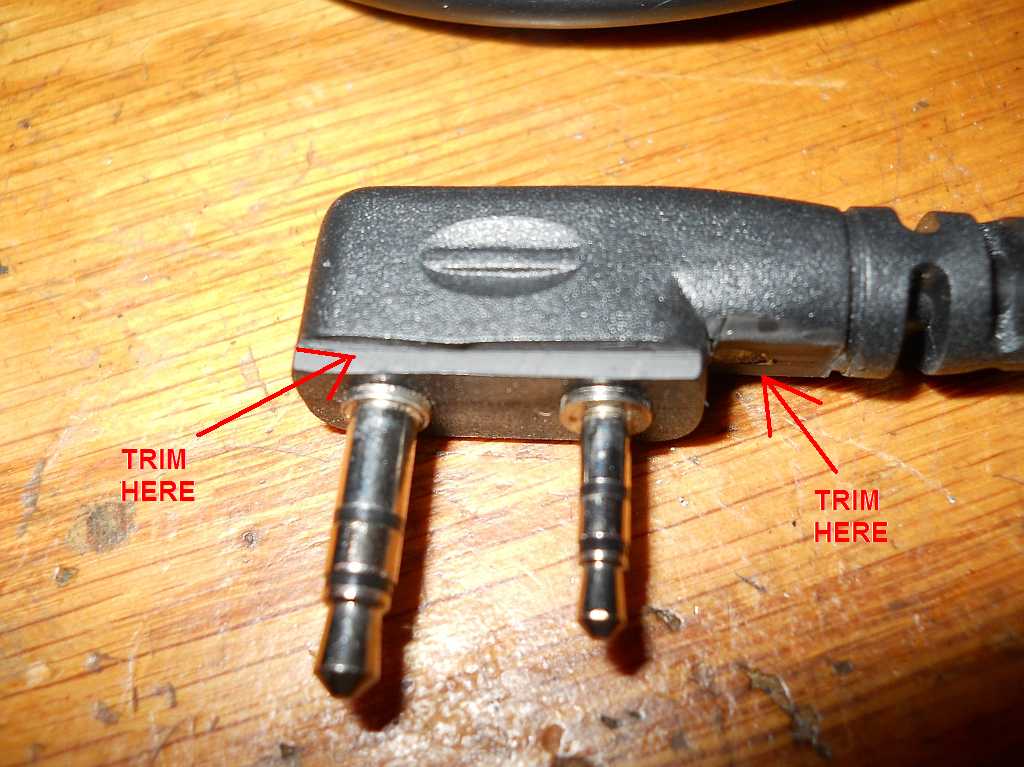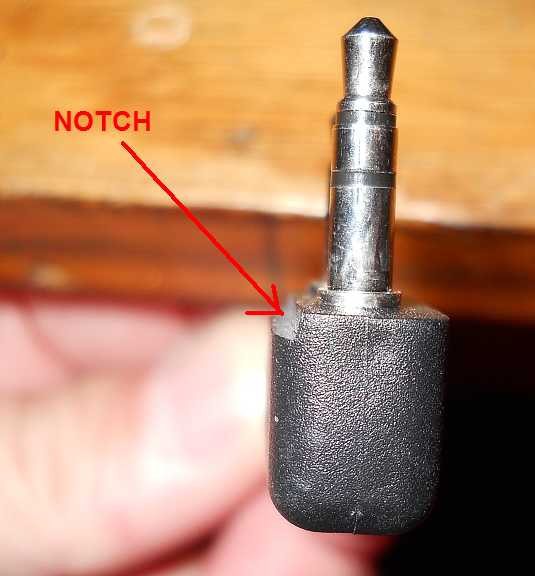 Extended life battery
There is an extended life (larger) battery for the UV-5R (and other radios). It is model BL-5L.
This battery will work on the standard UV-5R radios with no modifications.
BUT, for other models (UV-5R+ and others) the battery case has to be modified to fit.
This picture below shows the points that have to be trimed. A Dermel tool might be best used for this mod.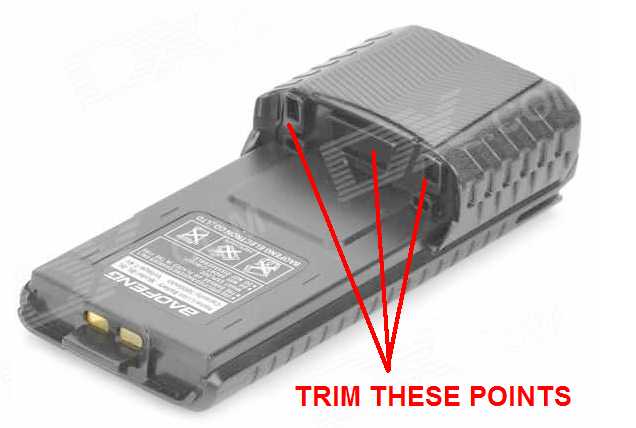 Extended antennas that don't fit well
For antennas the don't "seal" to the radio, just add an o-ring under the antenna. See pictures.
(NOTE: Some folks have asked what antenna I have... it is the
"ExpertPowerŽ 14.5" DUAL BAND 144/430Mhz U/V SMA-F Antenna For BAOFENG"
bought from Amazon. You can search for it there. It was $9.95 + shipping and works well.)
Antenna without o-ring, you can see the connector between the radios and antenna.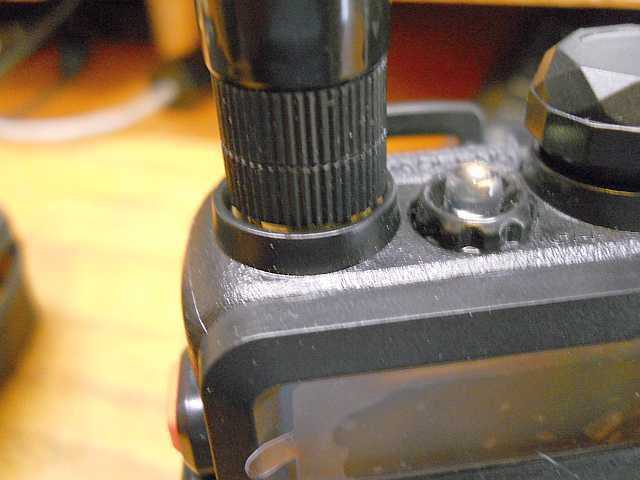 Connector without o-ring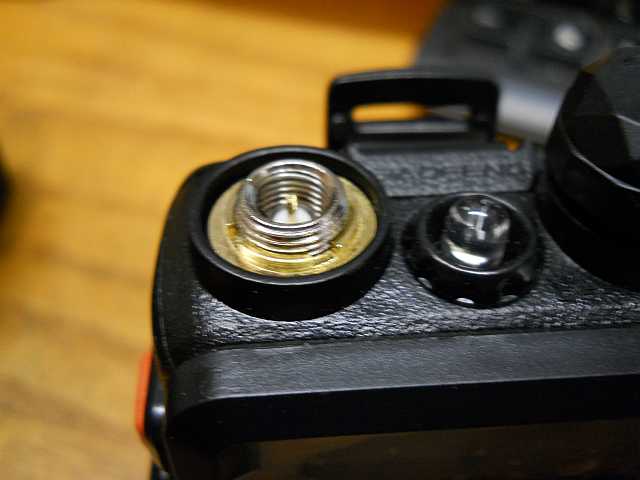 Connector with o-ring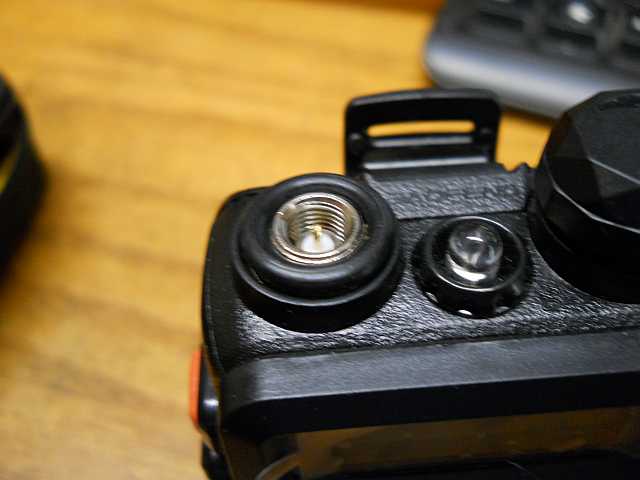 Antenna on radio with o-ring in place
Some links to documents for the Baofeng you might want in your files... (NOTE: I take no credit for these files...)
http://www.qsl.net/na4it/baofeng/Baofeng%20Manual%20Programming.pdf
http://www.qsl.net/na4it/baofeng/Baofeng%20Programming%20Flow%20Chart.pdf
http://www.qsl.net/na4it/baofeng/UV-5R%20Menus.pdf
http://www.qsl.net/na4it/baofeng/UV5RPLUSTIPSHEET.pdf
NOTE AS OF April 2, 2015:
Baofeng UV-5R series radios are becoming harder and harder to program by computer. BE SURE YOU KNOW WHAT YOU ARE DOING!!!
You need to know what exact formare radio you have, and the correct version of software for that version. EXPECT PROBLEMS!
NO, I DO NOT offer help on Baofengs. I suggest you see
http://www.miklor.com/uv5r/
.