Return Loss Bridge
Select a picture for larger image.
---
It is in a old Texscan RCB-3 case. Someone originally transmitted full power through the bridge and destroyed just about every component.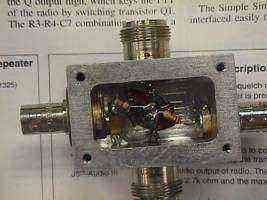 Internal component picture. The little brass springy thing is a variable capacitor.
You get the idea... be sure to keep the leads short.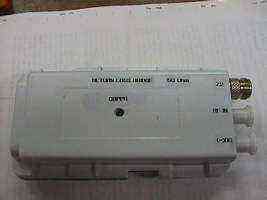 Green Bay Professional Packet Radio version in an old MMDS case.
Insides. The yellow wires are gimmick capacitors used to tune the bridge. This version has a 51 Ohm resistor soldered in for the reference termination.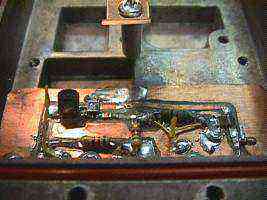 Side view. Note I used 5% tolerance, 51 Ohm resistors, they should really be 1% tolerance 49.9 Ohm resistors. Close enough.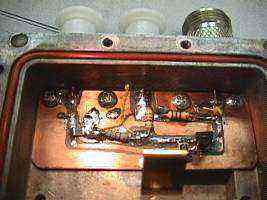 DC out on the left, RF input in the middle, Z2 on the right.