Walker's
Want to join our mailing list(s)? Want the latest on the site, some of the FreeWare programs I use to maintain it, etc.? Simply enter your email address below and join the list today. Your email address will NOT be sold to any other parties!
The SITE
This site was first published on 10 April, 1997 and has been undergoing testing and development ever since!

The first form was a simple "mailto;" comments form on 15 April, 1997. The first form with CGI scripting was also our comments form on 20 April, 1997. Other forms with CGI scripts and Java Script error checking were implemented 27 April, 1997, (we are still working on forms.) The Pirates of the Mississippi Chapter of 10-10 international Net, Inc was the first Chapter to allow prosepctive members to Join on line or to allow members to Upgrade on line (April 29, 1997.)

In June of 1997, we included a Java Script menu function on all pages. We published pages with Java Scripts for special effects and banners 21 August, 1997, on 28 August, 1997 we added the ability to download text versions of many of our pages or forms and on 24 September, 1997 we added frames and a navigation bar to the site.. We are currently working on "pop up help" boxes for several of the forms.
The site was chosen as a Quality Site on May 10, 1997 and as a GeoCities Featured Page on August 25, 1997. (Thanks!)
The site is written using Paul Lutus' Arachnophilia ver 2.5 HTML editor and Erick G. V. Fookes' Super NoteTab Plus ver 2.63e text editor.

Peter Theil's HTML Color Pick ver 1.3, Eric Cario Chiodis' Gradient Color ver 1.0 and Sermin Nurkic's Picasso Ransomizer ver 1.04 are used for special text effects and coloring.

Bill Reid's HTMLPIX ver 1.3 and PlanetView ver 4.0 are utilized for graphics cataloging and conversion.

We use Microsoft GIF Animator ver 1.0 for graphics animation.

Map Maker 32 ver 2.0c is used to creeate the client side image maps used for navigation of this site.

Microsoft Paint95 ver 1.0, Tadahiro Iyama's Tek Gradator ver 1.04.

The author uses The HTML Reference Library ver 3.0 as reference while developing/designing the site.

Once you have that new site up (or while your testing) you might want to try the free service of Doctor HTML which is an on-line validation service capable of detecting errors in structure, tables, forms images spelling and more.

(Many of the programs mentioned above are also available from the Freeware Publishing Site along with other great freeware programs.)
The WALKER's
The family includes Jeanette - KB9LNP (mommy), Jessica (our seven year old daughter,) Johnnie - N9KLH (daddy) and Justin (soup hound) our dog.

Jeanette is an accounting supervisor with Titan Wheel International, (Quincy, IL offices,) Jessica is a First Grade student at Black Hawk Elementary school (Kahoka, MO,) and Johnnie is a licensed Master Electrician.

Jeanette (KB9LNP) has been an Amateur Radio operator since 1996, Johnnie (N9KLH) since 1986 and Jessica continues to show interest, Alex (the dog) only looks at us and the radios oddly.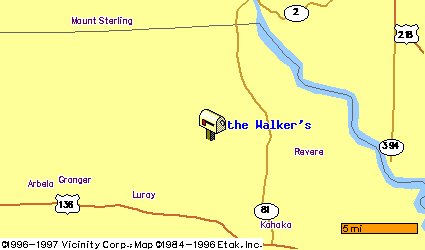 We live where beautiful downtown Chambersburg, MO used to be. We are located 10 miles Northwest of Kahoka, MO, about 11 miles West of the Mississippi and 14 miles West of the Des Moines rivers, roughly 160 miles north of St. Louis, MO, approximately 23 miles Northwest of Keokuk, Iowa.and about 90 miles Northeast of Jefferson City (the State Capitol of Missouri.) Kahoka has a population of roughly 3,000 and is the County seat for Clark County. The area is economically dependent on agriculture.

Johnnie was a member of the armed forces during the Vietnam conflict. He served (admirably?) in the United States Navy and is a member of the Adams County Area Vietnam Veteran's group and the Veterans of Foreign Wars. IF you're a vet ...
Welcome Home.!
Our HOBBIES
Our hobbies include Amateur (HAM) Radio, gardening, recreational vehicles, sports, computers, the Internet, music, outdoor activities, reading and our dog. Johnnie was the Certificate Manager for the Pirates of the Mississippi Chapter of 10-10 International Net, Inc ... The FIRST Chapter to allow 10-10 members to Join on line, and Pirate members to upgrade on line.

This area is under construction...sorry for the mess!
All LINKS last verified
Thursday, September 25, 1997.
Copyright © N9KLH, Johnnie Walker, all rights reserved.
Last modified Thursday, May 27, 1999.