N8UNJ
Amateur Radio

---
---
Slow Scan Television


Probably my second favorite mode (right behind HF Fone) is slow-scan television (SSTV) using the computor's sound card.Although my primary interest is HF, some of us have been working 2 meter SSTV. The biggest differance , other than being shorter range, is the need for an interface to key the rig. Otherwise we have gotten some good pictures. I plan on posting some of them and some more info soon.

---
Here is a pic sent to me on 2 meters by N8ER.
This is a picture of the workbench in his shack.
It's "noisy" because we were on simplex and I did not have a very good antenna.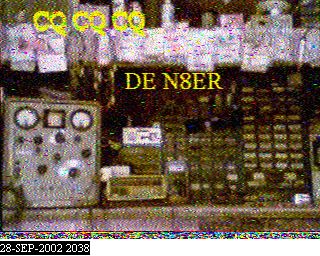 Here is a pic I recieved on 20 meters (14.230 mhz). This pic is a little noisy also but for different reasons.
---
Here's some pictures I've copied off the air.
---



SSTV Links

MMSSTV Exceptional slow scan program and it's FREE!
This is the program that was used for the contacts shown above.

SSTV for Beginners Large site with lots os good info!

CQ SSTV de KB4YZ Another HUGE bunch o' links--including lots for the new DIGITAL SSTV modes!

Another big page from Ham Universe

SSTV SOFTWARE (141) Just what it says (Ididn't count, but I believe that number!)

VK3HJQ's SSTV Page Slow Scan fun from our friends down under

HF-FAX Worldwide Radiofacsimile & SSTV German site (in English)Amazing amount of SSTV webcams(left menu to "SSTV" then "SSTV Web Cams")

RSGB- Radio Society of Great Britian's SSTV page

ALABAMA NAVMARCORMARS Very nice amd simple MMSSTV tutorial from Alabama Navy-Marine Corps MARS !



---
Other Related Links
Slow-scan television From Wikipedia, the free encyclopedia
ARRL's SSTV page Some open to all and some members only
MIR-SSTV Pictures COOL pics from the Russian space station!
Torrance Amateur Radio Association "TARA uses Slow Scan Television (SSTV) to transmit visual information...can be viewed live on screen in the communications center, (or) attached to email to the EOC during an emergency"
---
And now for something totally wierd
---
HOME