Vibroplex Bugs
---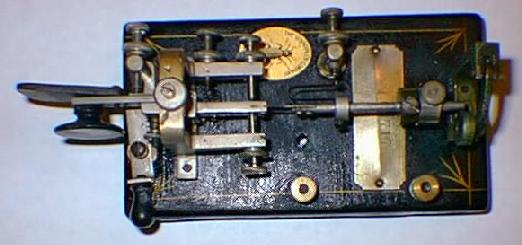 This is a vibroplex bug I recently bought.
From what I can tell from John Elwood WW7P list, it is a early 1919.
The Serial number is 64717--- The decal is like new with all the pin stripping!

Vibroplex Bug SN 140754, 1945 Vintage (Before Restoration)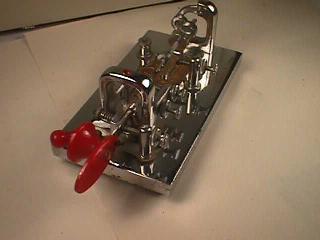 Here is a Vibroplex " Left " handed Original Deluxe, Serial number 160746 -- Custom made in 1948 for Raymond M. Huppee which is engraved down by the damper.
---
Model X
Produced: 1911 - 1923
Patents: 1,042,457 filed July 1, 1911 , issued Oct. 29, 1912
1,043,449 filed Oct. 27, 1911, issued Nov. 5, 1912
Plate types: B2-D2
Base Colors: Black Japan, nickel plate.
Variants: Early (Square pendulum); Improved (round pendulum).
In October of 1911 , Martin filed another patent application. In it, he split the key and pendulum levers. The resulting articulated lever was a more complex arrangement than the previous design., but Martin had achieved his goal of a single contact. This is the version that was produced and advertised from mid-1911 as the "1912 Model " Vibroplex. In his ads, Martin described it as a Single Lever Direct Point transmitter; it soon became known as the Model X. Martin seems to have been proud of his new key; for two years after its introduction he produced nothing but the Model X. It is the only key to carry the type B2 and B3 nameplates. The Model X was offered with the usual black Japan or optional nickel plate base finishes. There are two basic variations of the Model X; althrough there are many differences between them, collectors typically refer to them by the cross-sectional shape of the pendulum. On the early style, it is square. The later style, which appeared in 1919 and was referred to as the "Improved" Model X, has a round pendulum. There are many differences that I wont go into here. This is Serial Number 25851 Mfg 1914, it is complete and in perfect working order!
---
J-36 Signal Corps U.S. Army
This Signal Corp bug was made by Vibroplex Co. Inc, 796 Fulton Street, Brooklyn N.Y. Order number 5702 NY-41 Date 6-6-1941 Serial No. 2033 " #6 Lightning Deluxe--- Many of these bugs were made for the Military by various companies... This one is in perfect shape without a scratch on the black paint, likewise with the chrome, nameplate, and looks like the day it was manufactured.