Japanese Hand Key
---
Japanese Hand Key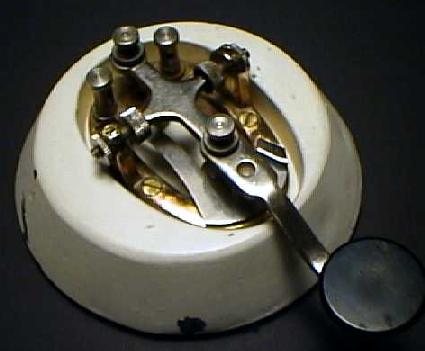 This handkey was made in Japan and appears the base is an original from the factory.
The key fits snugly in the base held by two screws.
The base measures 4 1/2 inch's across and weight about five pounds.
---
Hi-Mound HK-702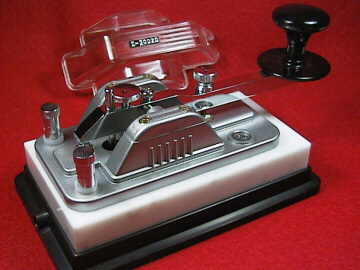 The Hi-Mound HK-702 is a deluxe hand key any amateur would be proud to own. It measures 3.5 X 3.6 X 5.75 inches, weights 2.2 pounds, and has a beautiful chrome and silver mechanism set on a glazed marble base. A rubber cushion is fitted around the base edge for solid "stay put" footing on a desk. The key has silver contacts, easy adjustments for gap and tension, a skirted knob, snap-off dust cover, and a very smooth feel during use.
HK-100
Hi-Speed Hand Key Model: HK-100. The base measures 6" Long X 3 3/8" Wide and almost 1" High. The knob is 1" across and 1" High and has felt on the bottom to help keep it from sliding. I assume it was Mfg. in Japan although someone wrote Korea on the box.