The N6QAB RDF Step Van
(This page may load a bit slow due to the size of the images. Hang in there.)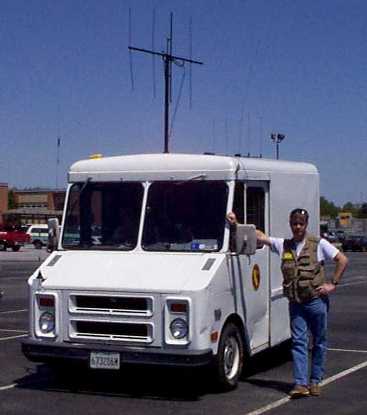 Below is the view from inside my RDF Van (antenna mast removed for photo). The laptop is the centerpiece of the setup. The laptop display below shows the combination of Delorme's Street Atlas 5.0, Tripmate GPS receiver, and ICOM's PCR 1000 computer interfaced scanner. The laptop screen is the actual display we had after circling the Fox during the CQ VHF National Foxhunt weekend.
Below is a screen shot of the laptop display.
The right side of the screen is the PCR-1000 display. The spectrum display is quite useful if multiple transmitters are on the air. In line between the DF antenna and the PCR-1000 is a rotary step attenuator. I use it to reduce the signal to the PCR-1000, allowing the signal strength meter to indicate the proximity to the transmitter.

Back to the N6QAB home page
This page updated on 01/31/99